Our one-to-one sends for Prompt allow you to automatically send videos on special occasions in the lives of your clients. Your relationships with clients will thrive when you work to build personal connections — and when you remember important dates in their lives, they remember you!
Watch the video to learn how to create one-to-one sends for Prompt or keep reading below.
If you'd prefer to read, here's a step by step:
Step 1: In the Prompt tab of your BombBomb account, click on One to Ones in the left panel.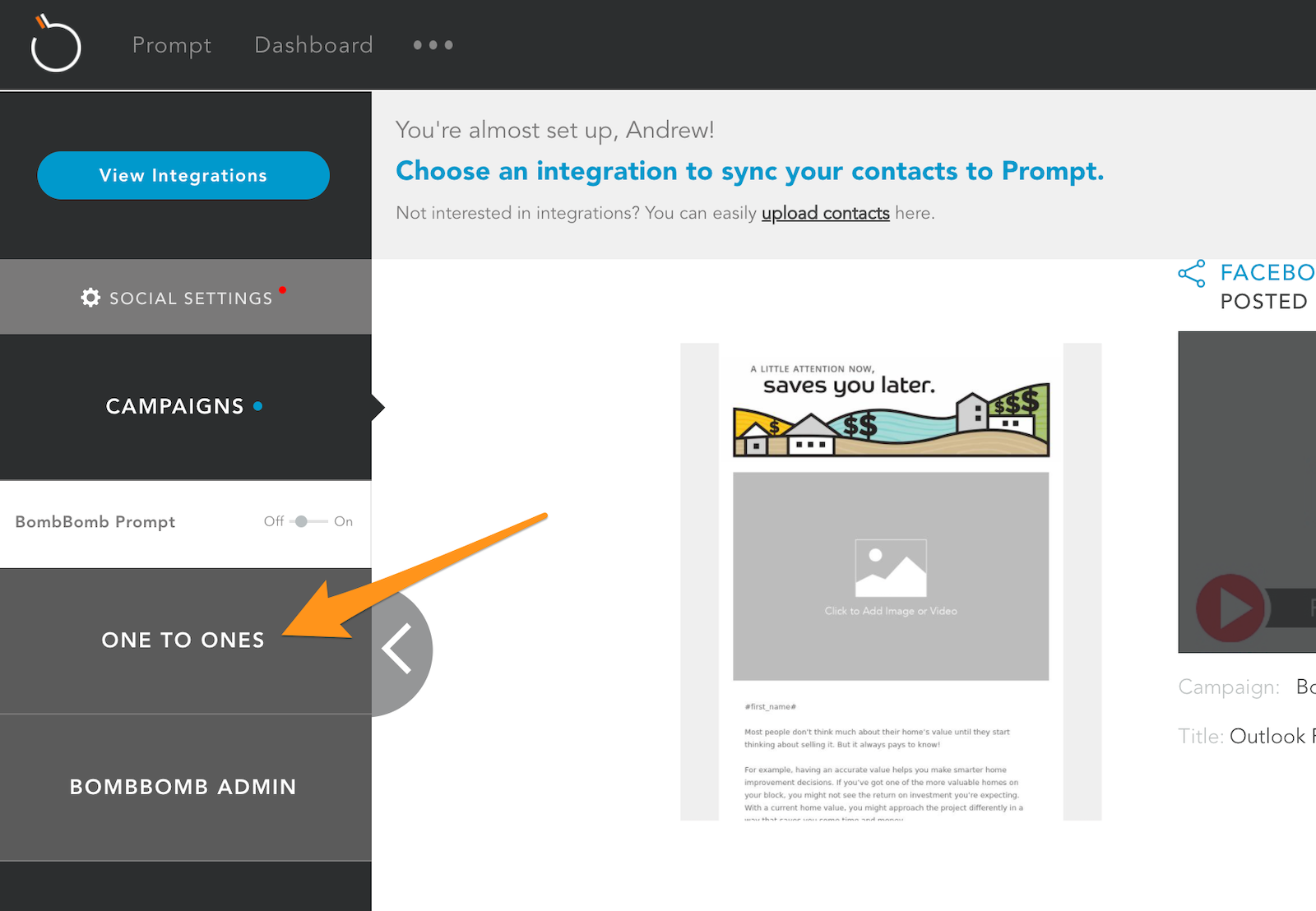 Step 2: You'll see that Birthday One to Ones are automatically provided along with a blank-slate One to One campaign that you use for a different event. Click on the Gear icon to make edits to or manage your campaign.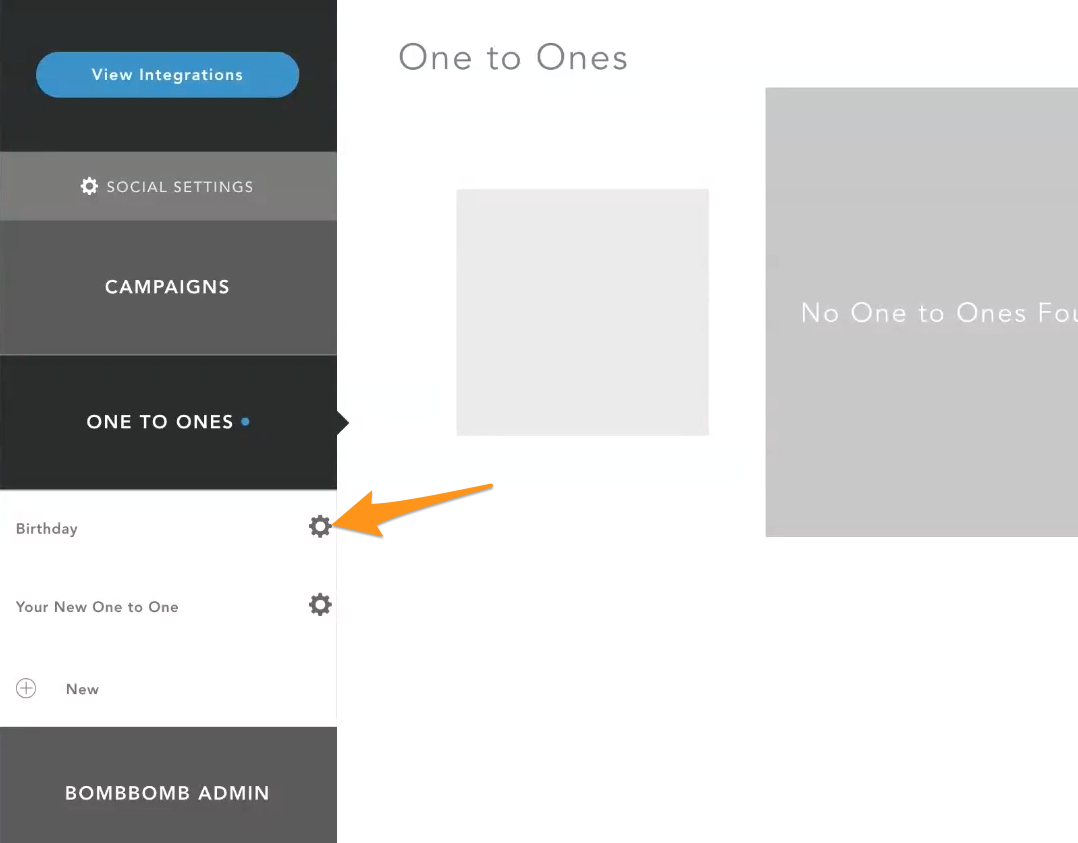 Step 3: You have the option of recording a new video or choosing a video from your library. Click "Record Video" if you'd like to record on the spot.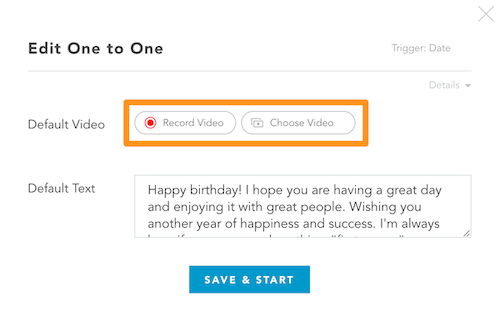 Step 4: Click the red Record button at the bottom to begin filming. Once you're finished, click that same red dot to stop recording. You'll see the options you usually have after recording a video in BombBomb: play the video back, re-record the video, choose a thumbnail or add a Call-to-Action banner. Once you're satisfied, click "Save & Use."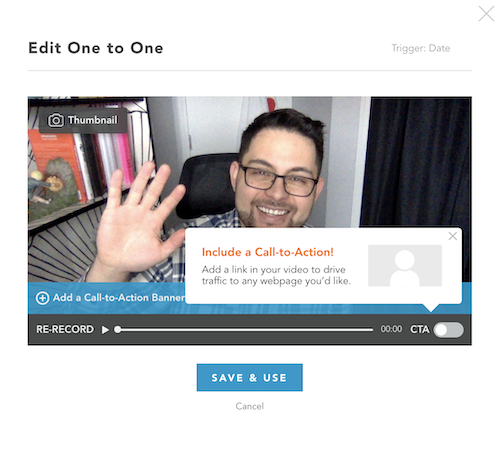 If you'd prefer to choose a video from your library instead, click the "Choose Video" button. Click the checkmark next to the video you'd like and click "Insert."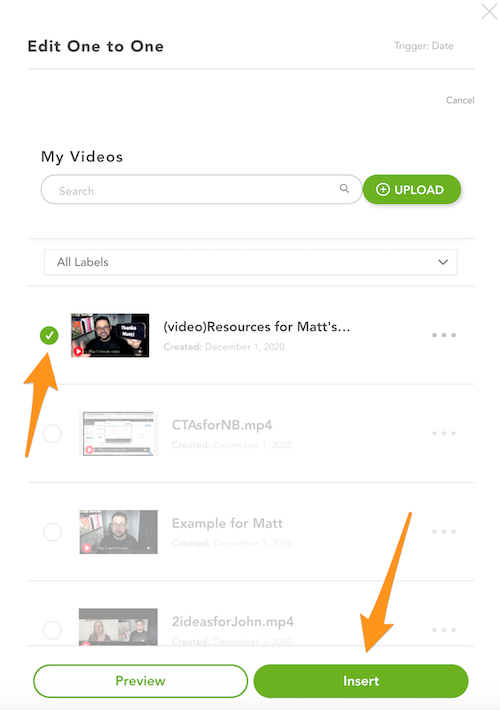 Step 5: Once you've chosen a video, click the "Details" dropdown. From here, you can choose what Contact List you'd like to send to, edit the One to One name and subject line, and choose an email template. "Event" will select which field the One to One is drawing from in your Contact's information.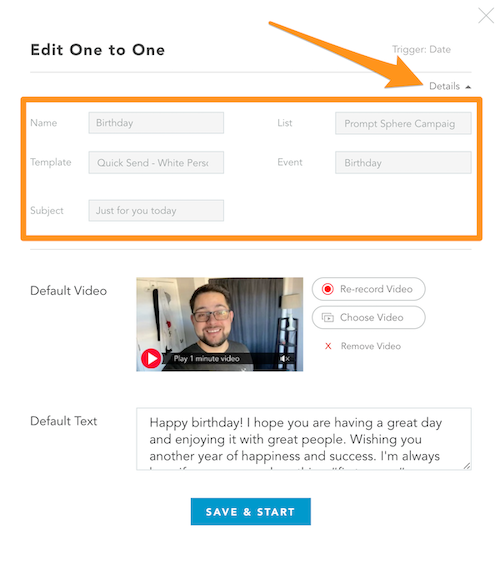 Step 6: Edit your email text, if desired. Once you're satisfied, click the "Save & Start" button. Your One to One is now activated and your contacts will begin receiving your message on the event date!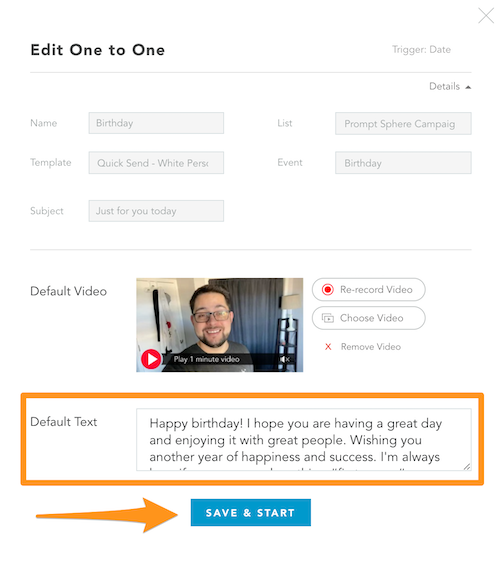 Creating your own One to One
One to Ones aren't limited to birthdays or home anniversaries. You can create your own for any event that is date based, such as wedding anniversaries.
Step 1: The first step is to create a Custom Field for the event. Go to the Forms tab, and click "Custom Fields" at the top.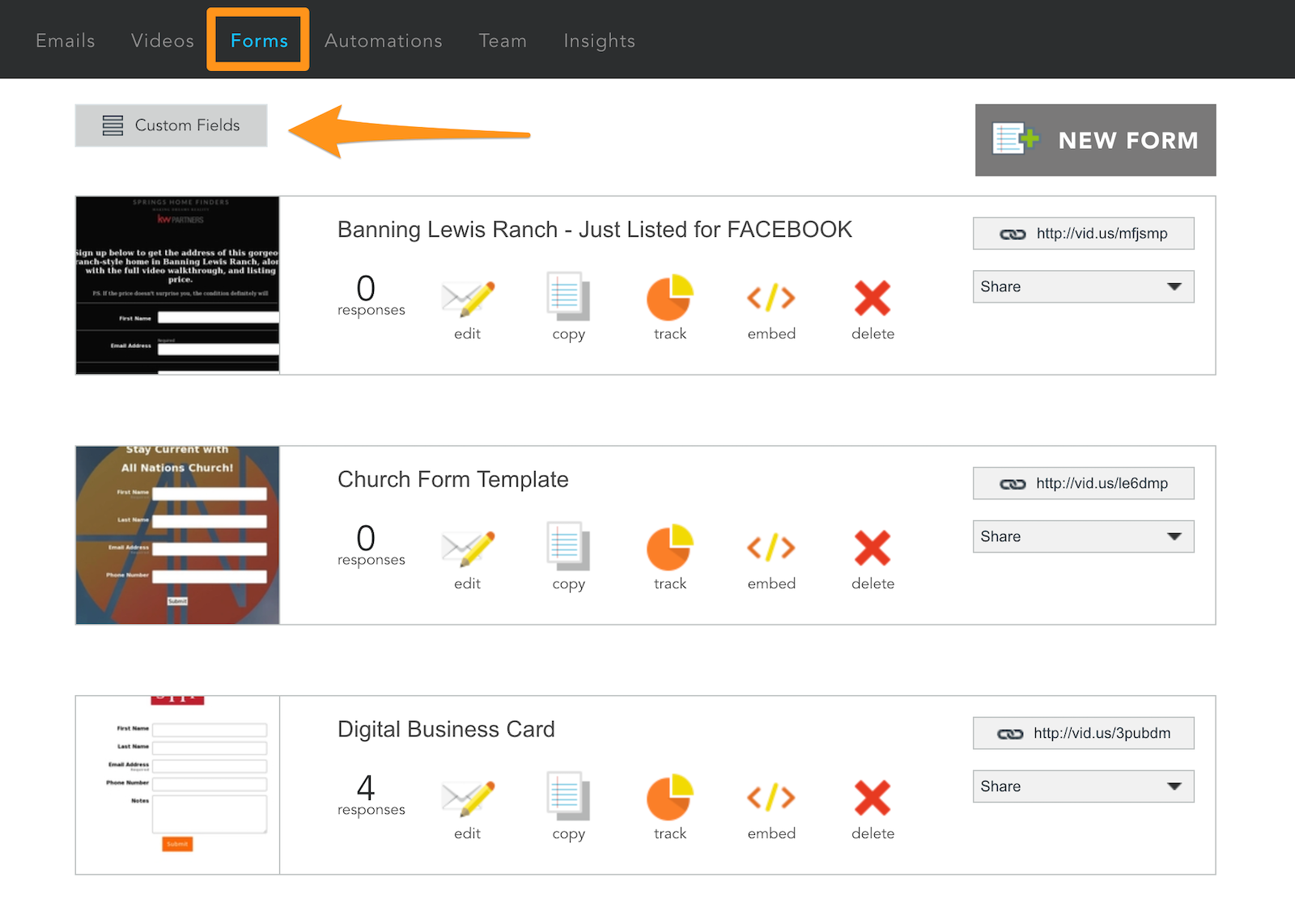 Step 2: Scroll to the "New Custom Field" section at the bottom. Enter a field name, change the "Field Type" dropdown to "Date," and then click "Create New Field."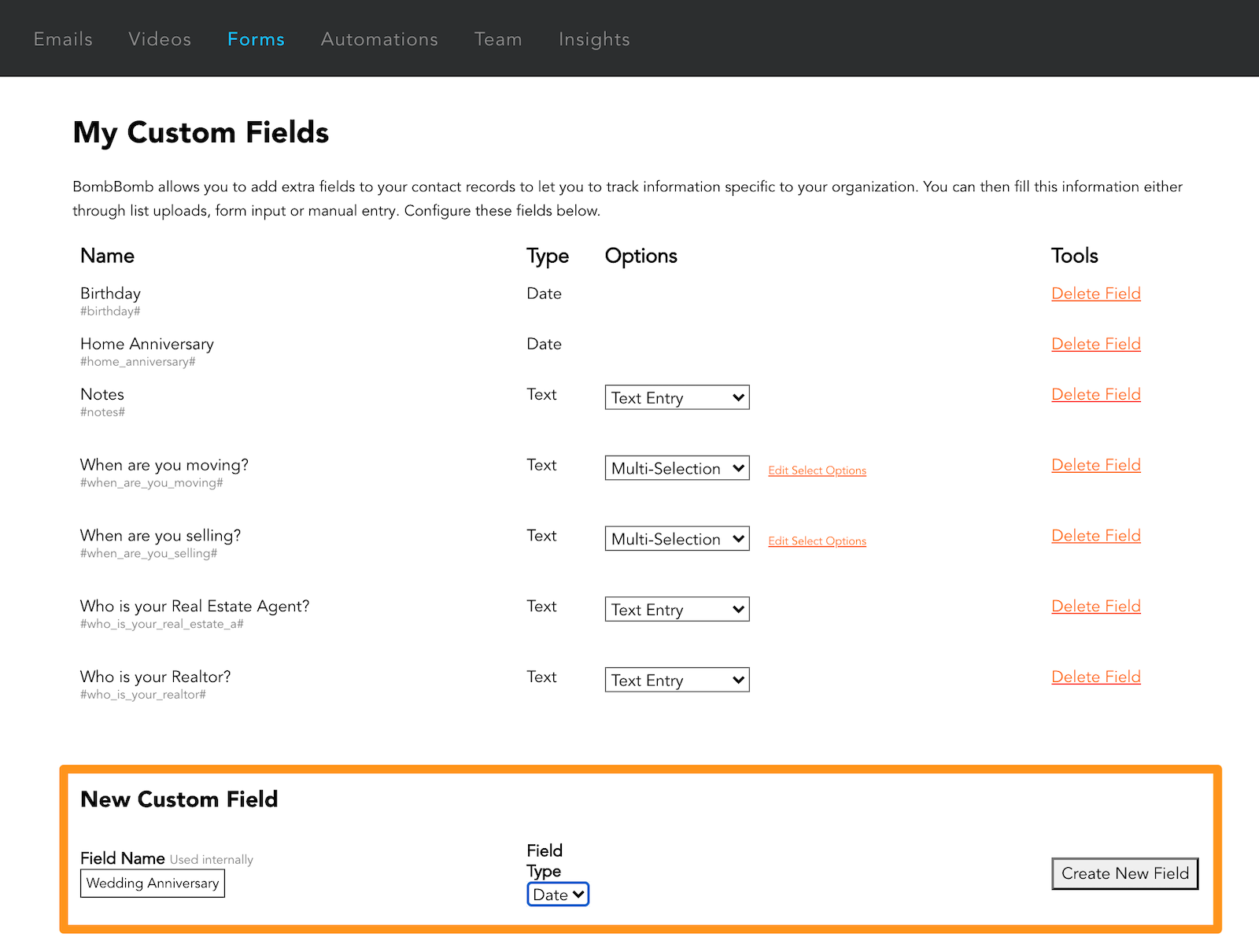 Step 3: Head back to the Prompt tab and click the "New" button under One to Ones.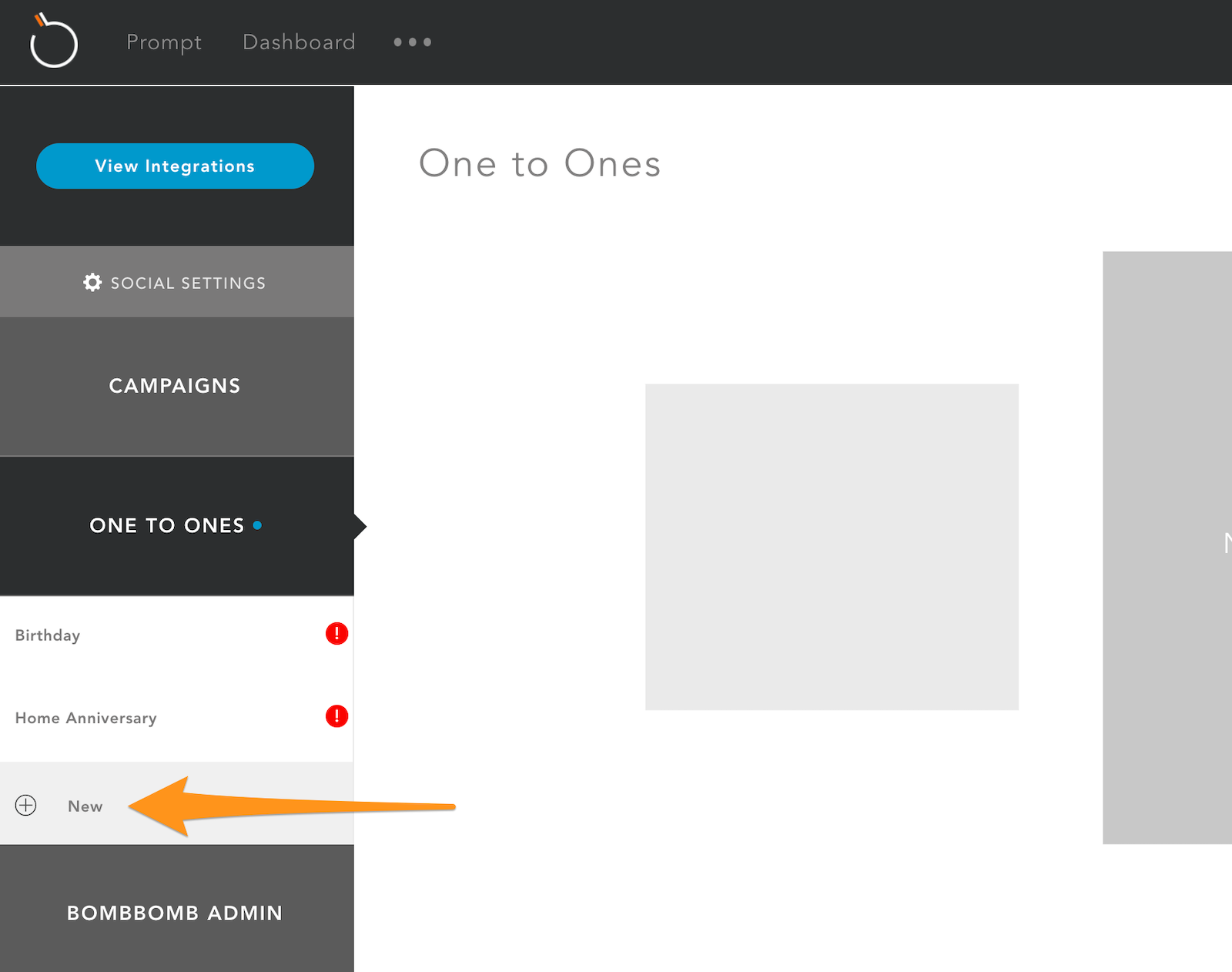 Step 4: Follow the same steps as on the previous example. In the "Event" dropdown, select the Custom Field you have just created. Once you're finished, click "Save & Start."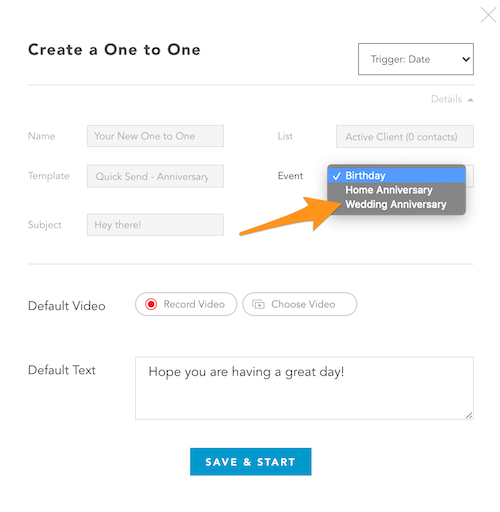 Step 5: The last step is to add the wedding anniversary, or other event dates, to your contacts' information. To do this, click the Contacts tab, then select the Contact List and email address of the contacts you'd like to receive this One to One.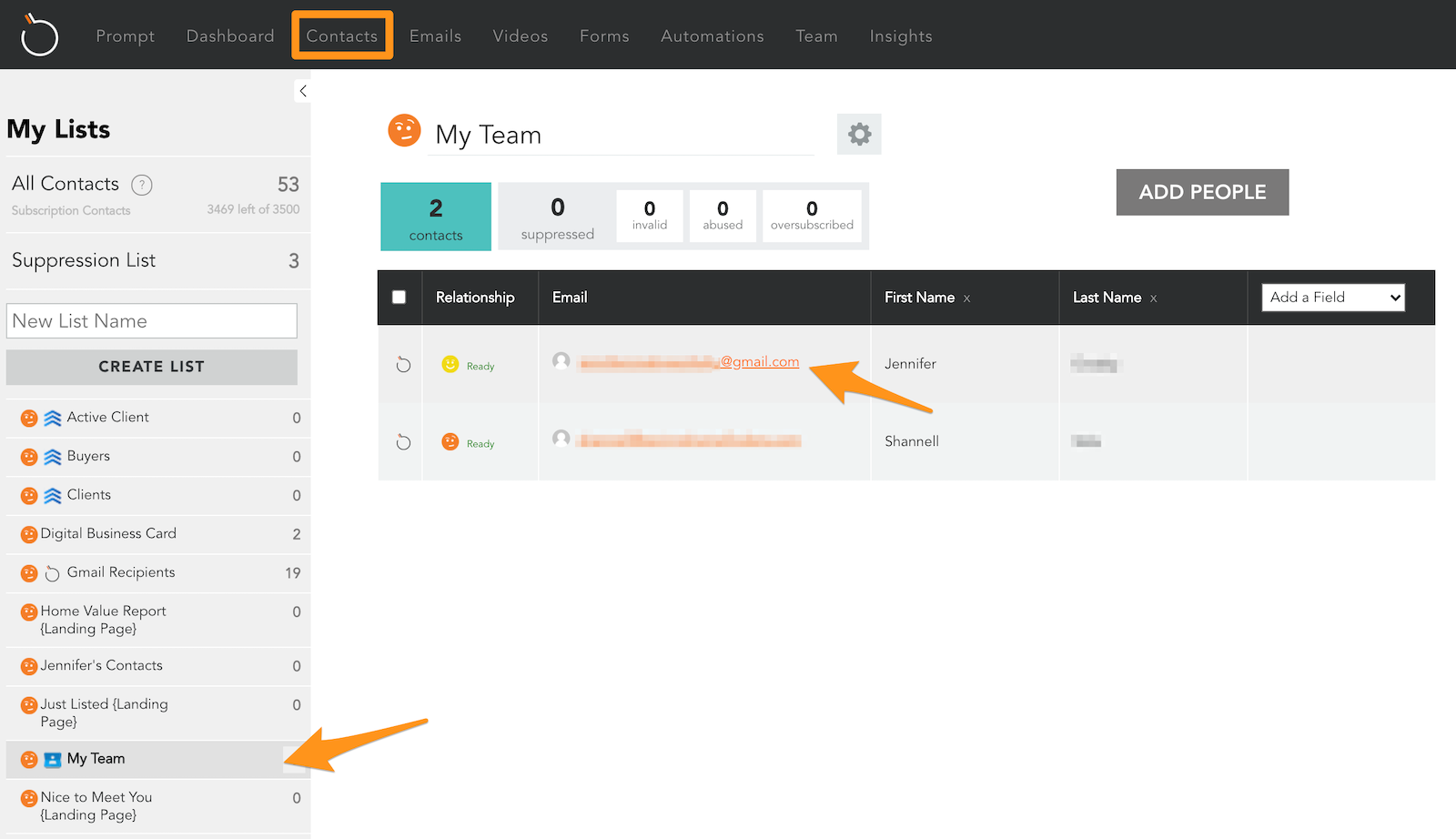 Step 6: In the contact's details, scroll down to Custom Fields. You should see the field you just created. Enter the date, and your contact will begin receiving your messages!