BombBomb's Gmail integration enables BombBomb to send emails and sync your Google contacts through your Gmail account. With the integration enabled, emails created and sent in the BombBomb app are sent through your Gmail account, which improves the deliverability of these emails and helps ensure their placement in your recipient's inbox.
In order to connect this integration, you will be asked to allow BombBomb access to a few Google and Gmail features. These permissions are exclusively used to identify your account, send emails, and sync contacts.The BombBomb app is secure, and we do not use, sell, or take any information from our customers.
Here are the four permissions that will be requested, and what each of these does.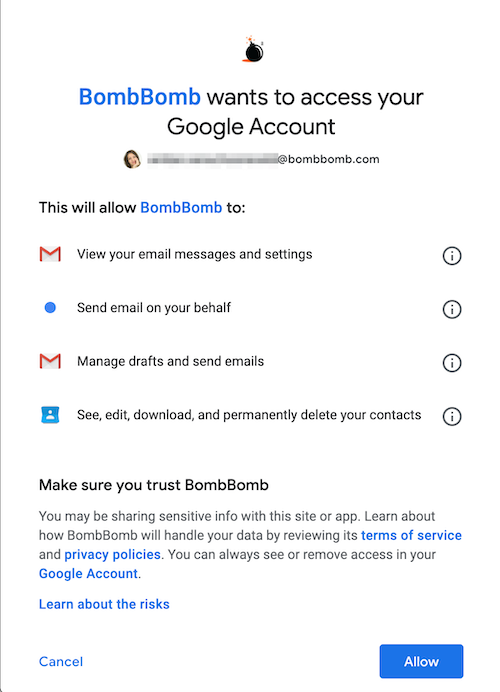 View your email messages and settings
This authorization allows access to view your email messages, search your email messages, and view your email settings.
Send email on your behalf
The Gmail Integration will enable Bombbomb to send email from your BombBomb account which appears to have been sent from your Gmail email address. This helps your emails be delivered in the recipients' inbox rather than spam.
Manage drafts and send email
This gives BombBomb the ability to view and manage draft email messages and well as send new emails.
See, edit, download and permanently delete your contacts
This allows BombBomb to view and manage your Google Contacts. After setting up the integration, if you click on your Contacts tab inside of your BombBomb account, you will have the option to sync your Gmail contacts into BombBomb.