When you send a video, BombBomb takes the first three seconds of your video and creates a GIF thumbnail that's played on a loop inside your email. Compared to a static play button, this animation has been shown to result in a 50% higher engagement rate!
But what if your GIF thumbnail doesn't look quite right? What if you have a brand image you'd prefer to use, or there's a frame in your video you'd like to have as your thumbnail instead? Well, BombBomb gives you the option to change your video thumbnail, and it's super easy to do.
Watch this video or keep reading below to learn how. 
Changing your BomBomb video thumbnail
First, head to the Videos tab to the workspace in your account. Next, click the "Pencil/Edit Video" button next to the video you'd like to change the thumbnail for. 

From the edit video screen, expand the thumbnail option by clicking the drop-down arrow.

Within the thumbnail options you can choose between "Animated" and "Static."  Animated is the GIF thumbnail that is automatically created from the first 3 seconds of your video.  "Static" gives you the option the upload an image that's already on your device or take a picture now.
To replace the GIF thumbnail with a different image: Select the static option on the right. Then, select "Upload" or "Take Photo" depending on how you want to provide the new thumbnail.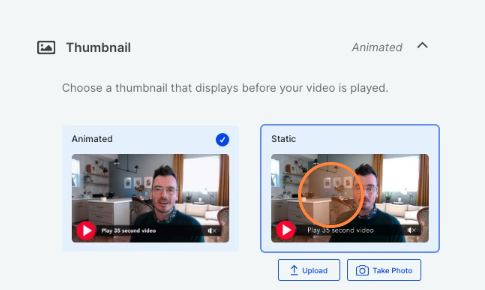 Note: The maximum size of the image you can upload is 20MB. In addition, it must always be in JPG format. If your image isn't a JPG, search for a JPG converter online to convert your image.

After you click open, the file you select will automatically upload.  Once your picture has been saved/uploaded you're all set and that video will send out with the new static thumbnail.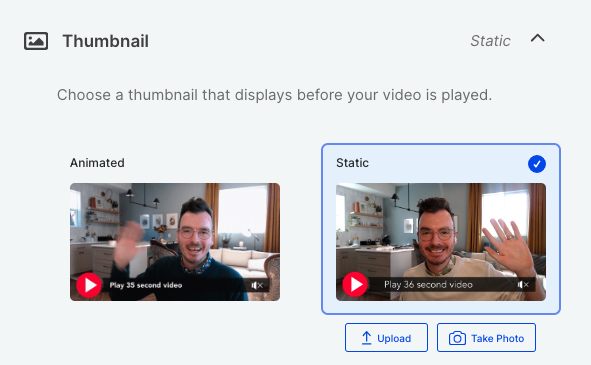 Pro Tip: If you want to use an image from your video, watch it! When you find something you'd like to use as your thumbnail, hit pause, take a screenshot, and select that image from your computer when replacing your animated preview.  

Finally, you do have the option to come back and change it back to the original GIF thumbnail by selecting "animated" again.  This will override your static thumbnail for recipients of this video, past and present.