While most webcams will work right away with BombBomb, there are a few factors and steps sometimes needed prior to recording your first video. 
Right off the bat, you will want to make sure your camera is working properly on your computer before launching it in BombBomb. Search your computer for your native camera app and launch it to make sure the camera is able to turn on and record. Once this is working successfully, you will be able to start the set up of you camera on BombBomb.
We recommend using Google Chrome as a browser for BombBomb. If you find your webcam is not working the way it should, even if you prefer a different browser, downloading and installing Chrome for these steps is a good way to take care of this.
Check out the video above to see how to properly set up your camera and microphone settings in Chrome for the best BombBomb experience!

Follow the steps below for your camera and microphone setup in Chrome:
*Note: It's recommended that while working through these steps that you make sure other programs that may be using your camera are not running like Skype, Facetime, etc.
1. It is important to make sure that your internet speed can support the encoding process of videos. Search for the website speedtest.net and select "Go" in the middle of the page. In order for a video to properly encode, you will need at least 20 mbps download and 3.5 mbps upload speeds. Anything lower than this will cause encoding failures and should be addressed with your internet provider. 
2. When opening up your webcam for the first time in BombBomb, the pop-up below will appear asking you to allow the website access to your camera and microphone. Make sure to select allow.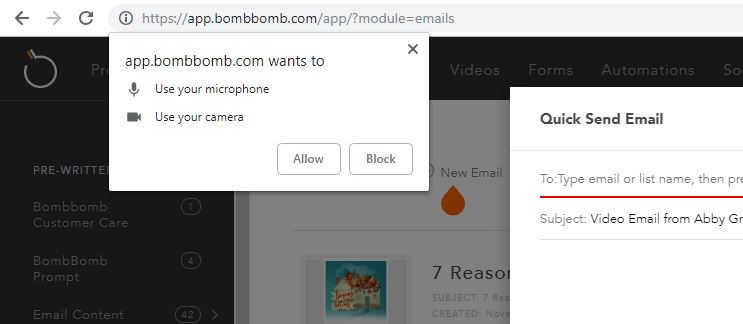 3. If the message above does not appear, you will want to look for a small camera icon in the top right corner of the URL bar. From here, click on this icon and make sure to select the option to always allow BombBomb access to the camera and microphone. Then, refresh your screen.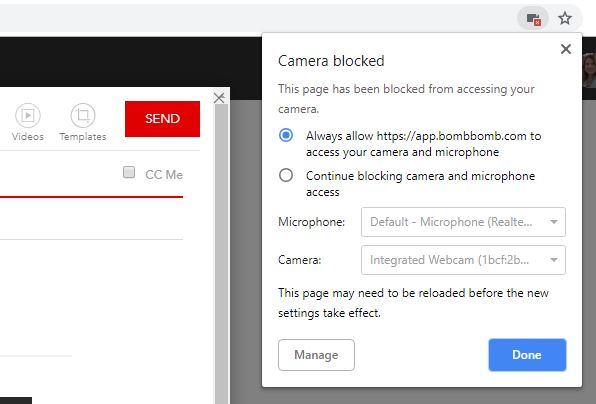 Advanced troubleshooting

If you are finding that your camera is not pulling up on BombBomb or on your computer, it could be that the computer drivers are outdated or not installed. For audio drivers, watch this screencast to check for any audio driver updates: https://screencast-o-matic.com/watch/cD6w3MjKnP
If you find you need an update, check out this article to see how to uninstall and reinstall audio drivers.
Please contact our Customer Care team at support@bombbomb.com if you are still running into trouble setting up your camera and microphone. We will be happy to help you!