With BombBomb, not only can you connect with others through video emails, you can also track engagement with those emails!
With email tracking, you will know who has opened your emails, played your videos, and clicked your links, so you know exactly how and when to follow up with your connections.
Check out the video to learn more about email tracking or keep reading below.
There are a few places where you can find your email tracking. We'll go over each of them.
Email tracking on your dashboard
When you log in to your BombBomb account, you'll be able to see both video and email tracking in the tracking panel on the right of your dashboard. Here, you'll be able to see email opens, clicks, and plays. You can scroll, search, or use the filter on the right to find the email you're looking for.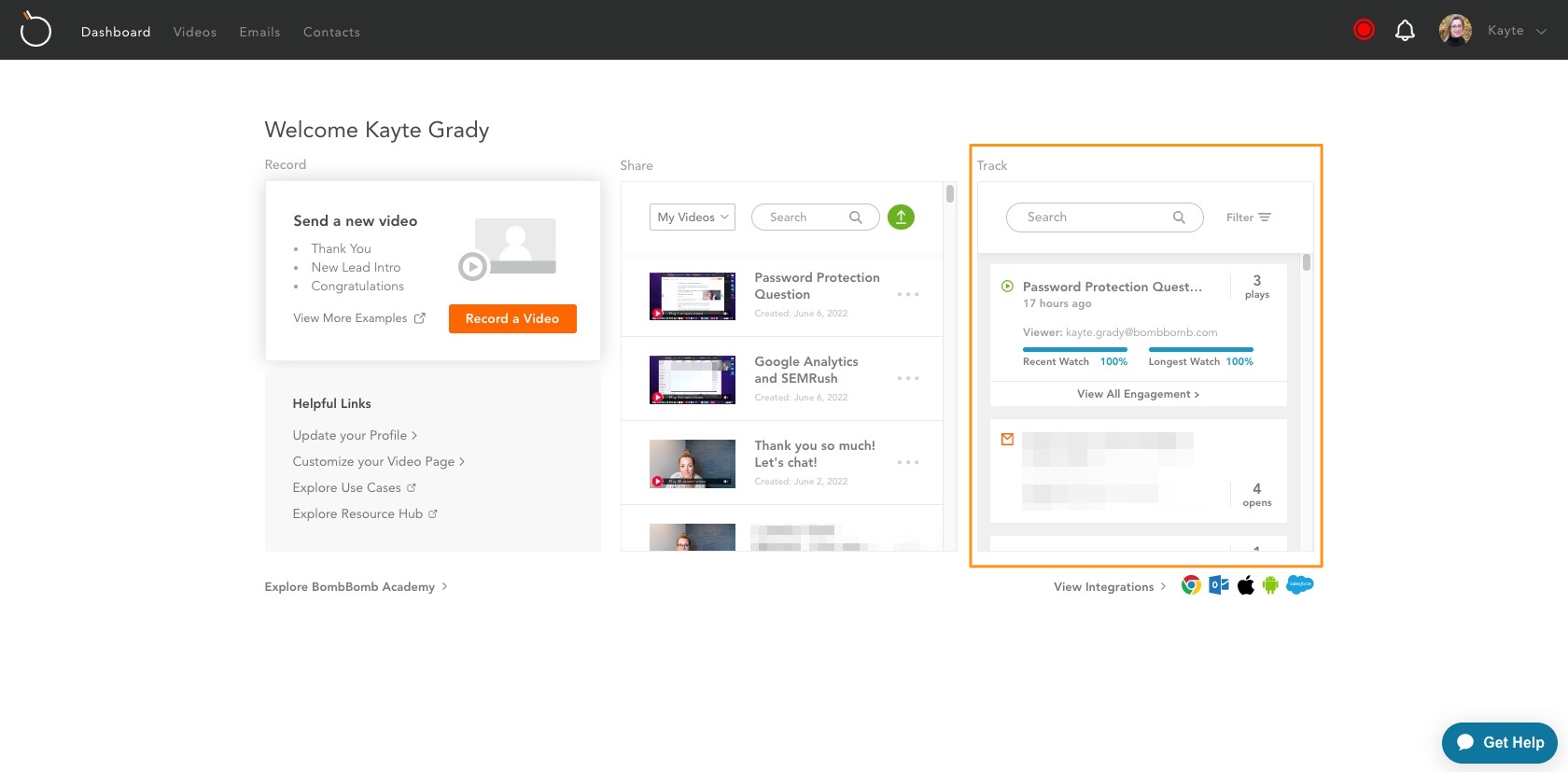 Sending history
The second place where you can see email tracking is in the Sending History in your Emails tab. To navigate to this, click the Emails tab and then "View Sent History" at the top left of your screen.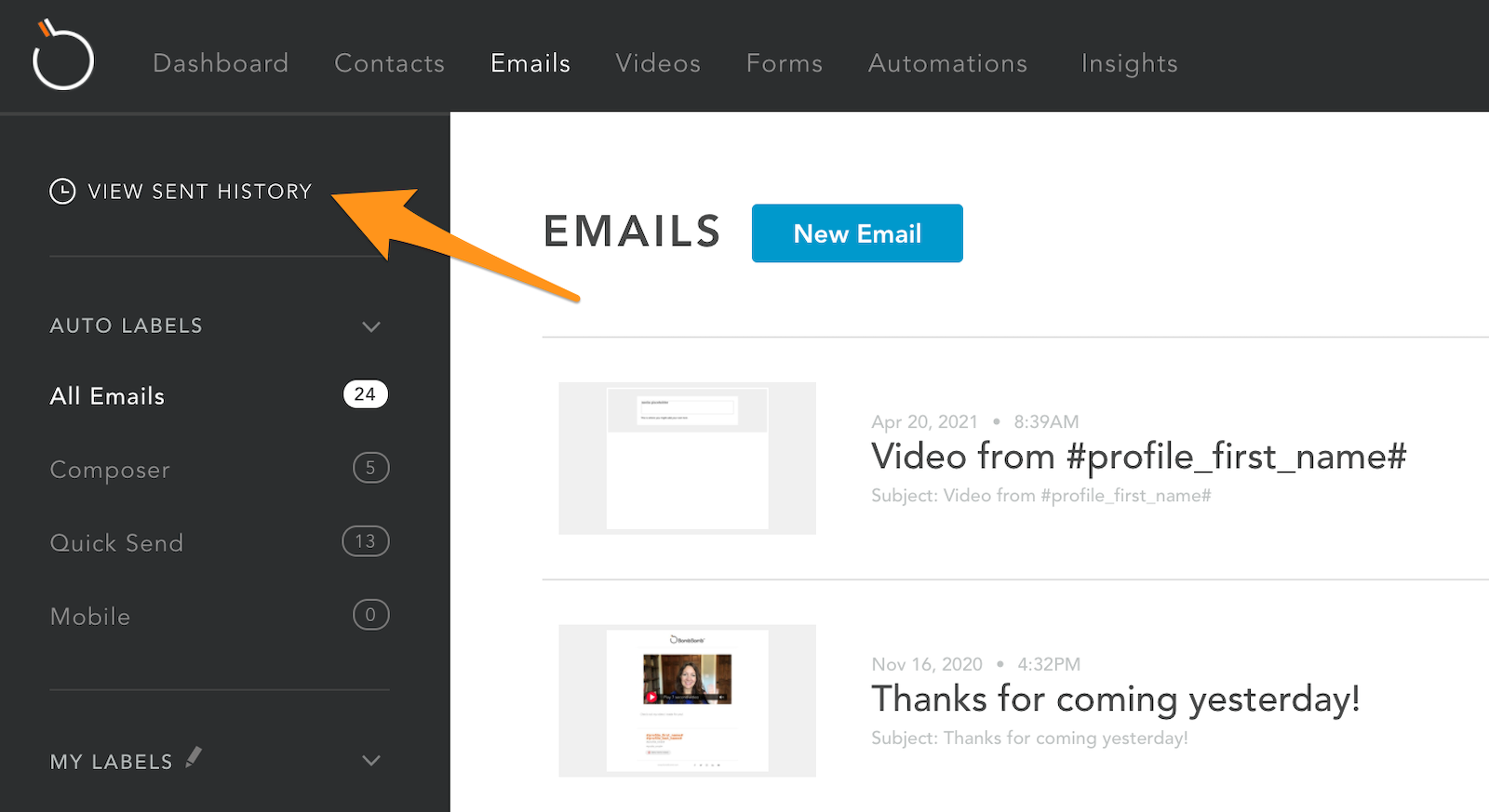 Here, you will see the tracking for all of the emails you've sent in the last 30 days. If you sent an email more than once, the various sends will show separately. You will be able to see the number of delivered emails, opens, clicks and plays. If you'd like to export the data into a spreadsheet, you can click "Export," or if you'd like to see all the tracking for that email, you can click "Track."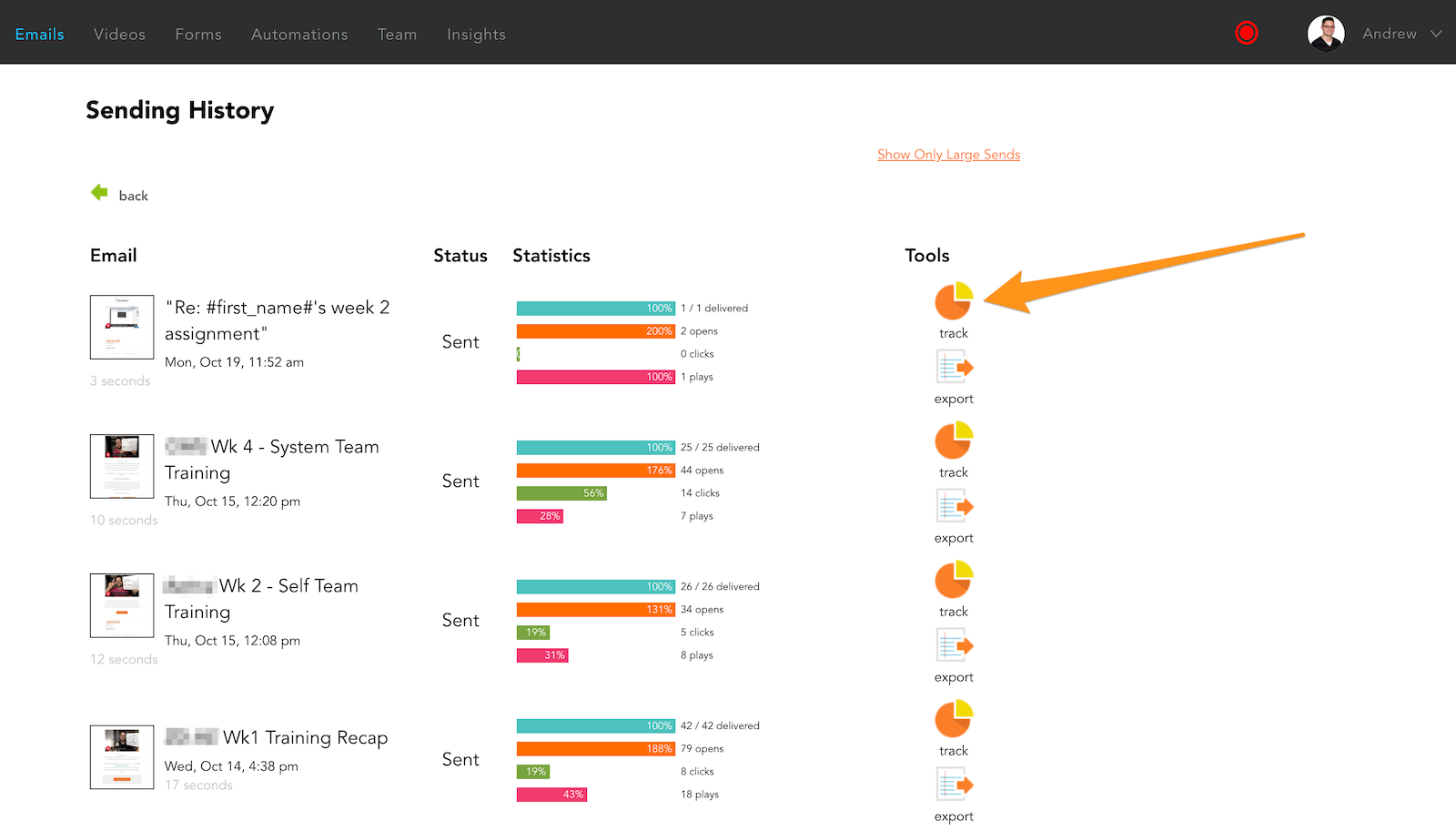 Email tracking page
To get to your tracking page for individual emails, go to your Emails tab, then click the "Track" icon next to the email you'd like to view.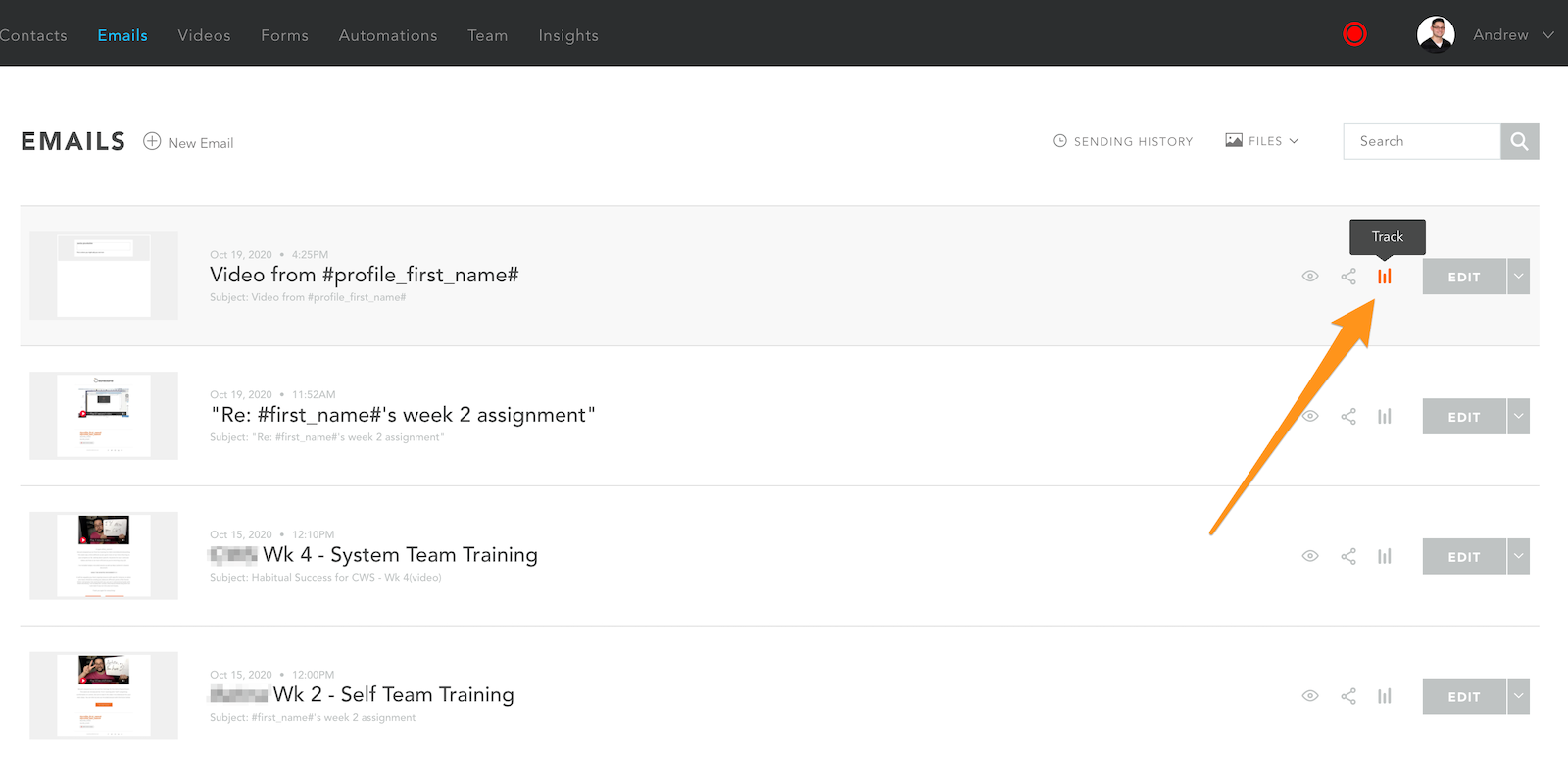 To view tracking for different send dates of that email, click the arrow next to "All Sends" in the top right of your screen.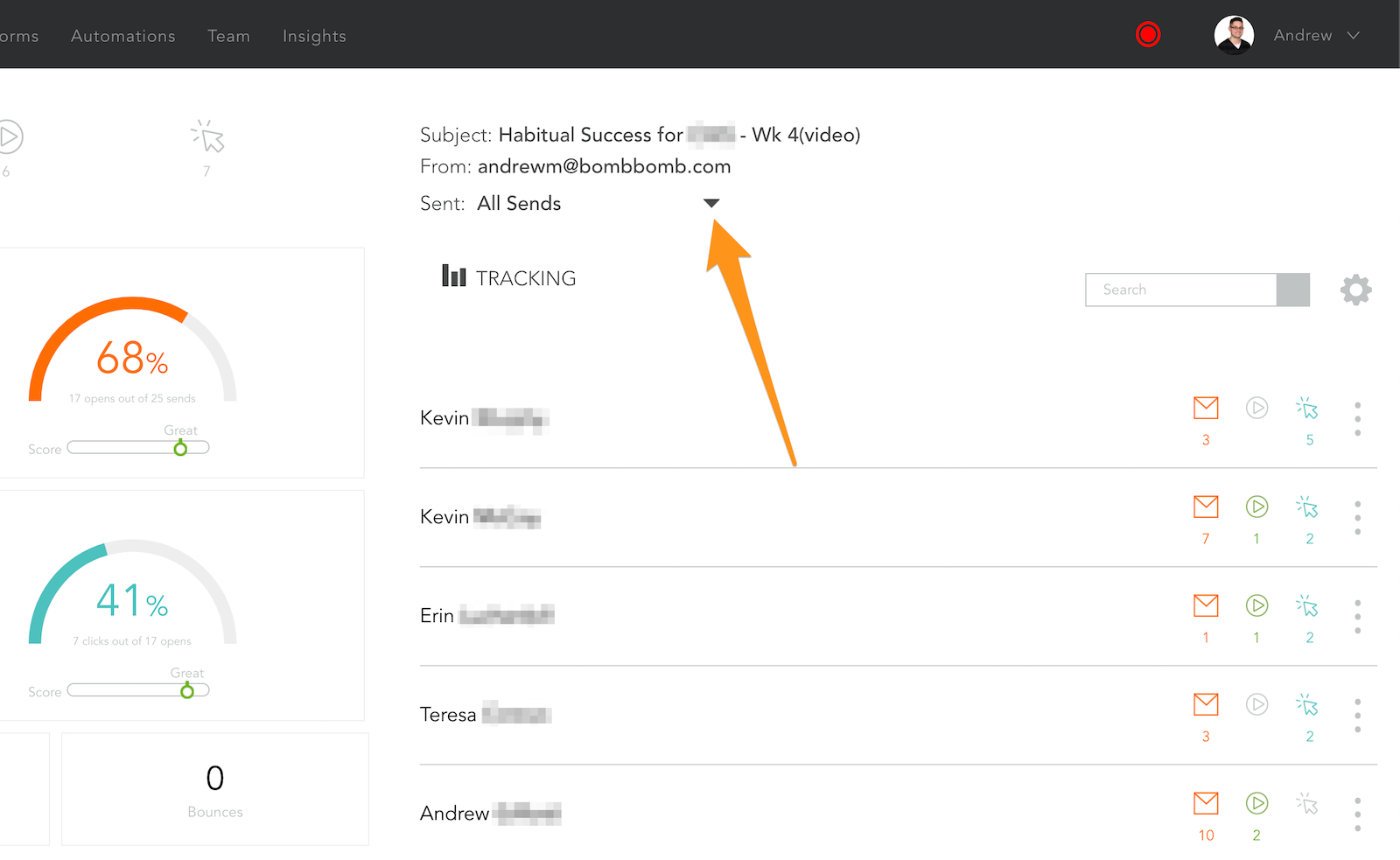 On the right, you'll see how specific individuals have interacted with your email. Those who have interacted the most will appear at the top. You can see how many times they opened your email, played your video, and clicked a link in your email. If you hover over each of these, it will show you how long ago they performed the action.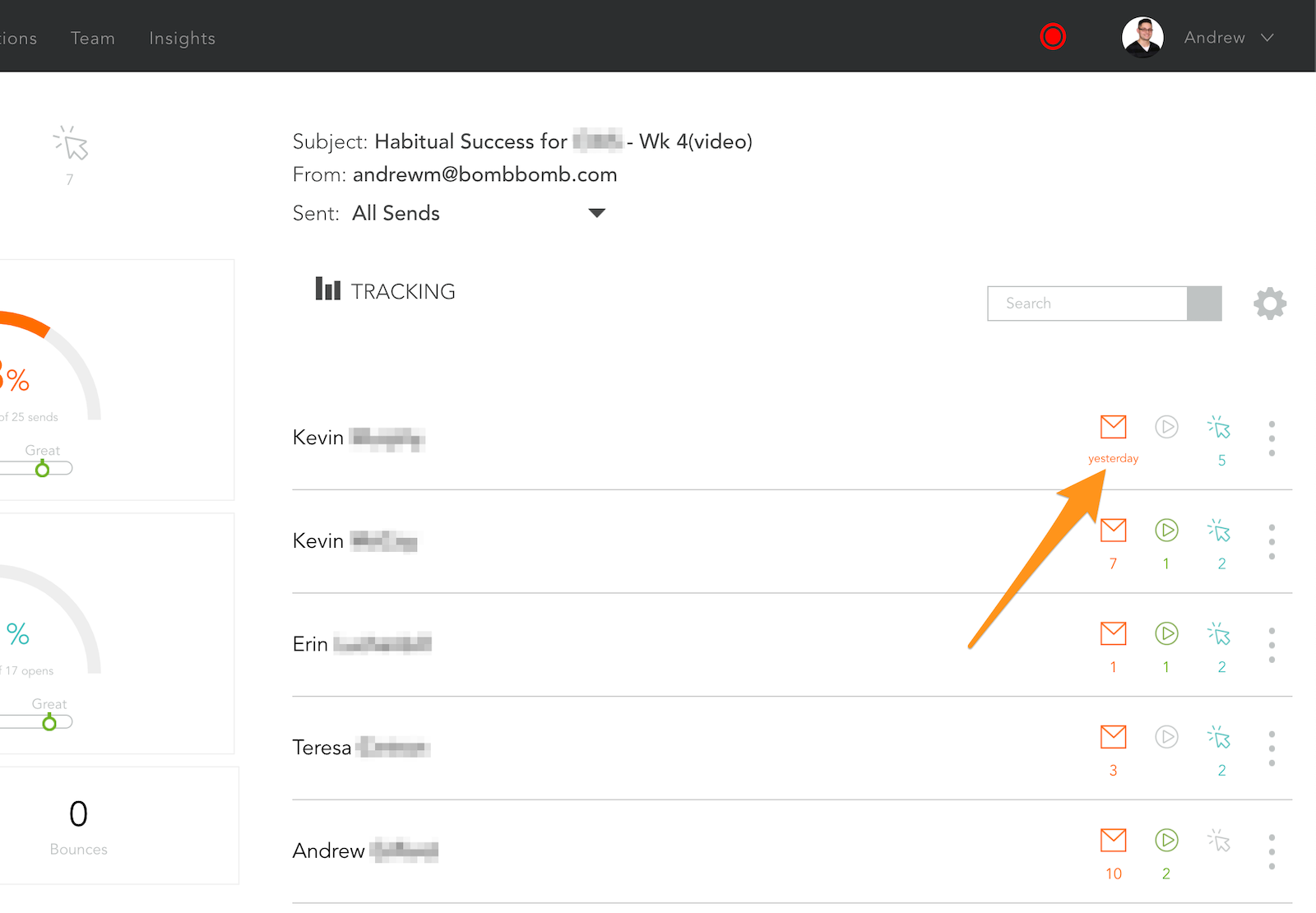 If you'd like to follow-up with a contact right away, click on the three vertical dots to the right of their name. This will display a Record icon, which will open a Quick Send email to your recipient.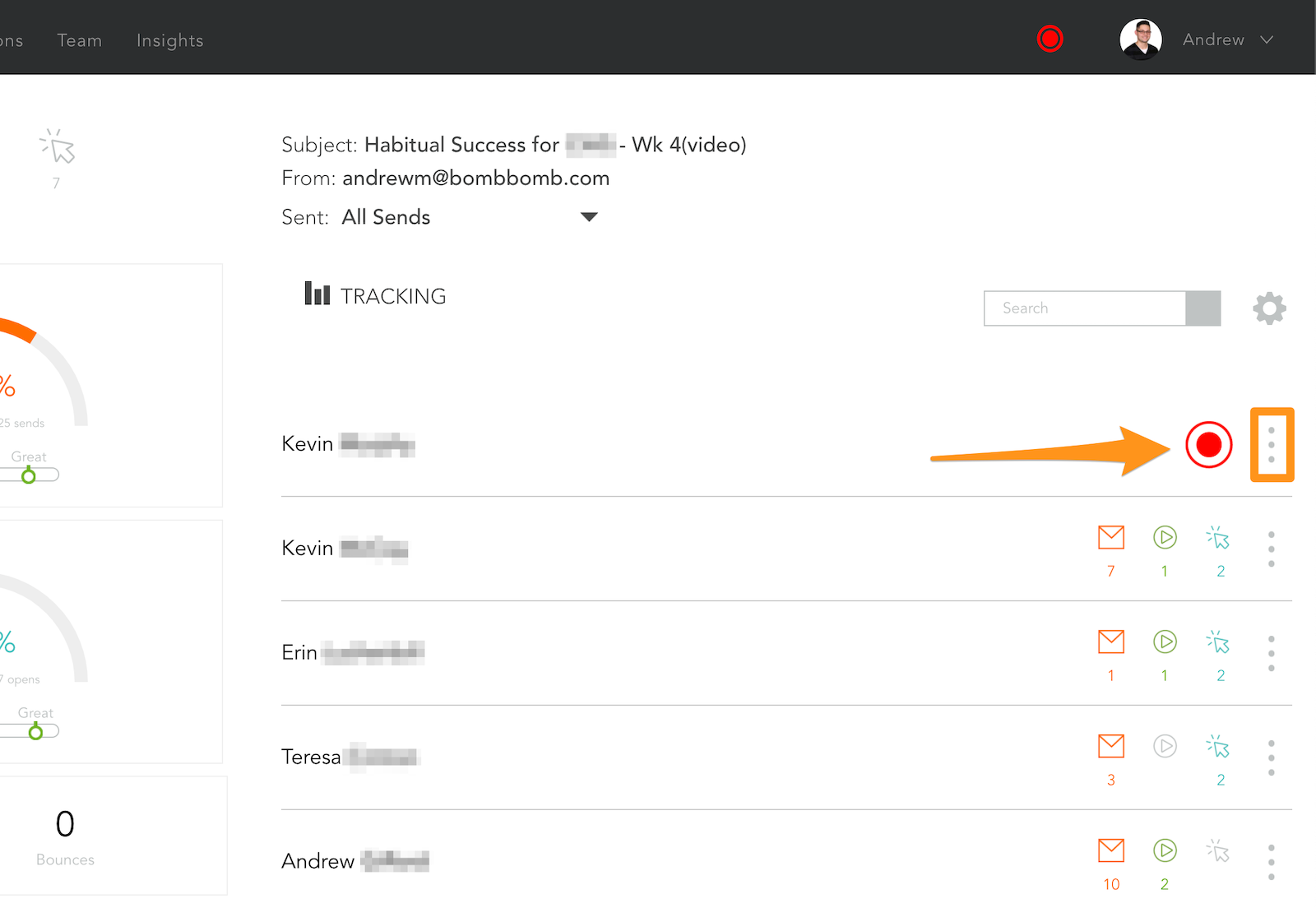 To follow up with certain segments of your contacts, such as only those who played your video, you can segment your list. To do this, click on the Gear icon on the top right of your tracking page and click "Segment."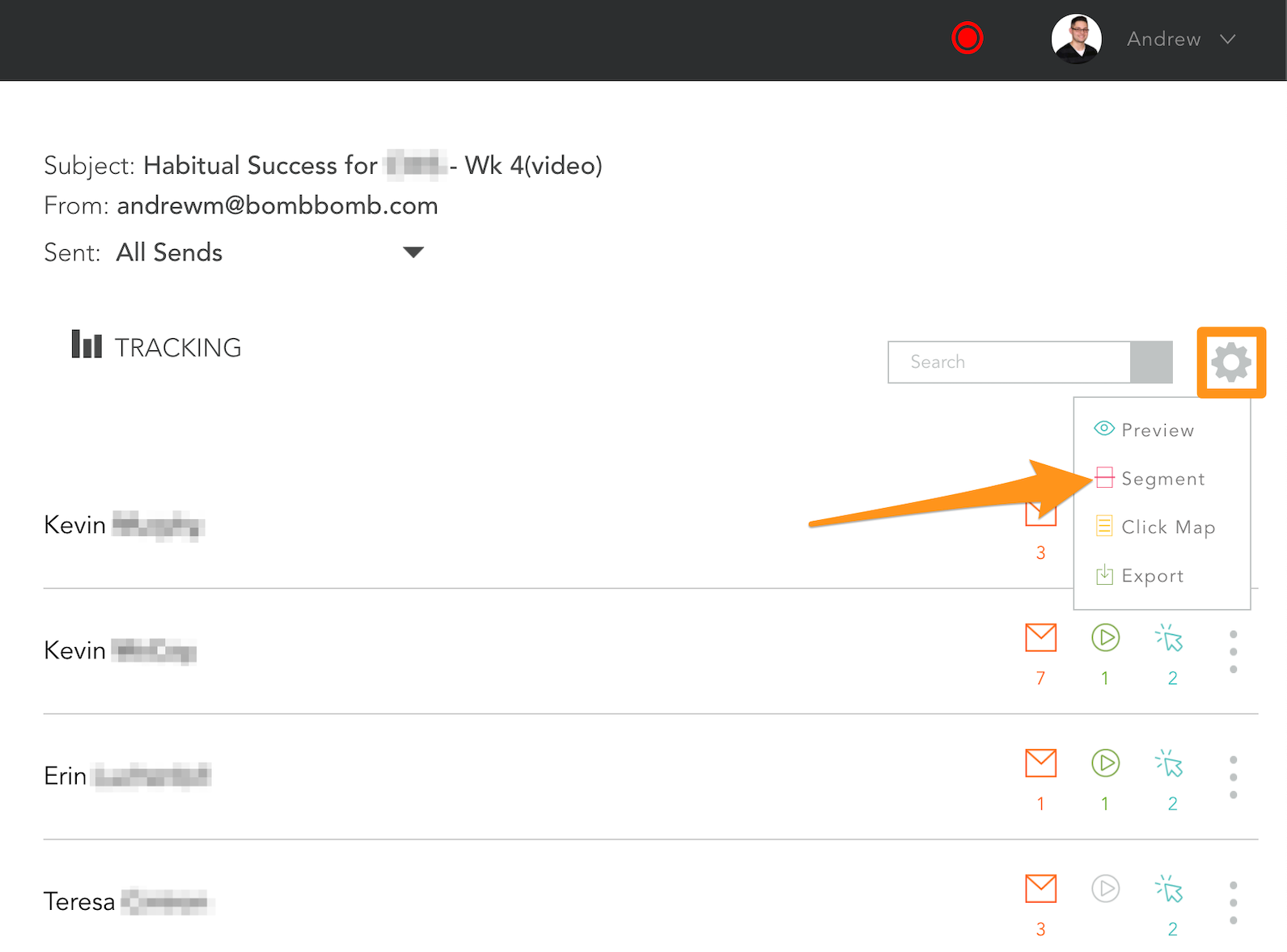 Using the icons on the left, you can choose to segment by plays, non-plays, opens, non-opens, clicks, or non-clicks. Select which contact list you would like to add these contacts to, or create a new list. You will now find this list in your Contact tab to send a follow-up communication with.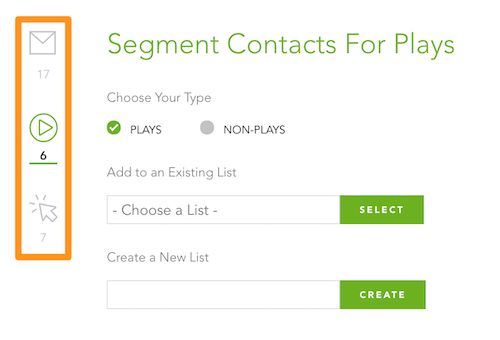 You can also use the Gear icon to preview your email, export your data, or view a map of where people are clicking in your email. You can use the data from the click map to decide where to place your clicks in the future to increase the likelihood of clicking.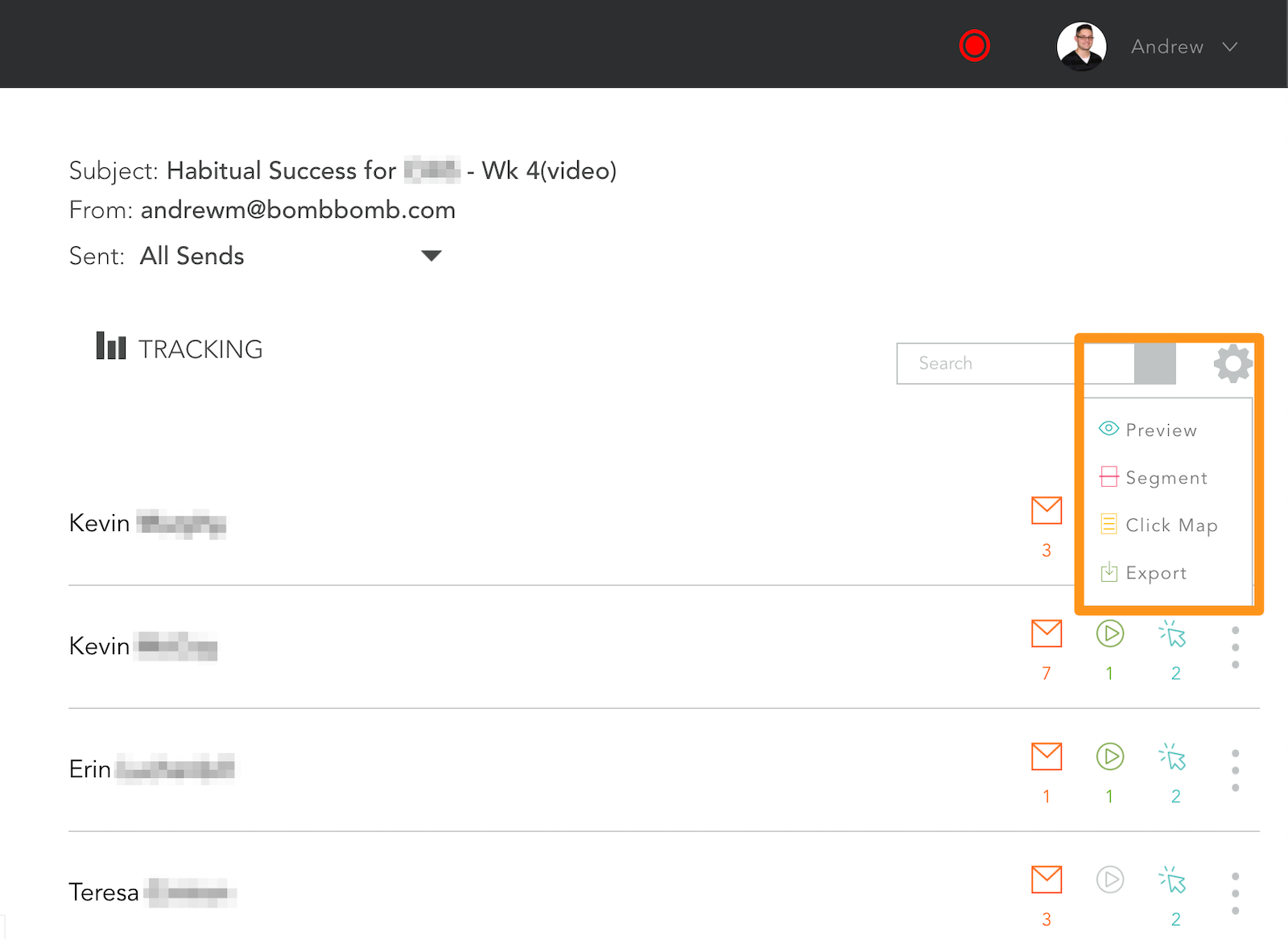 On the left side, you'll see more detailed tracking of the email as a whole. Each of these statistics are unique, meaning that each recipient will only be counted once, regardless of how many times that one person opened, played or clicked. Below the last three statistics, you'll also see a score bar, with your open, play, and click rated compared to industry standards.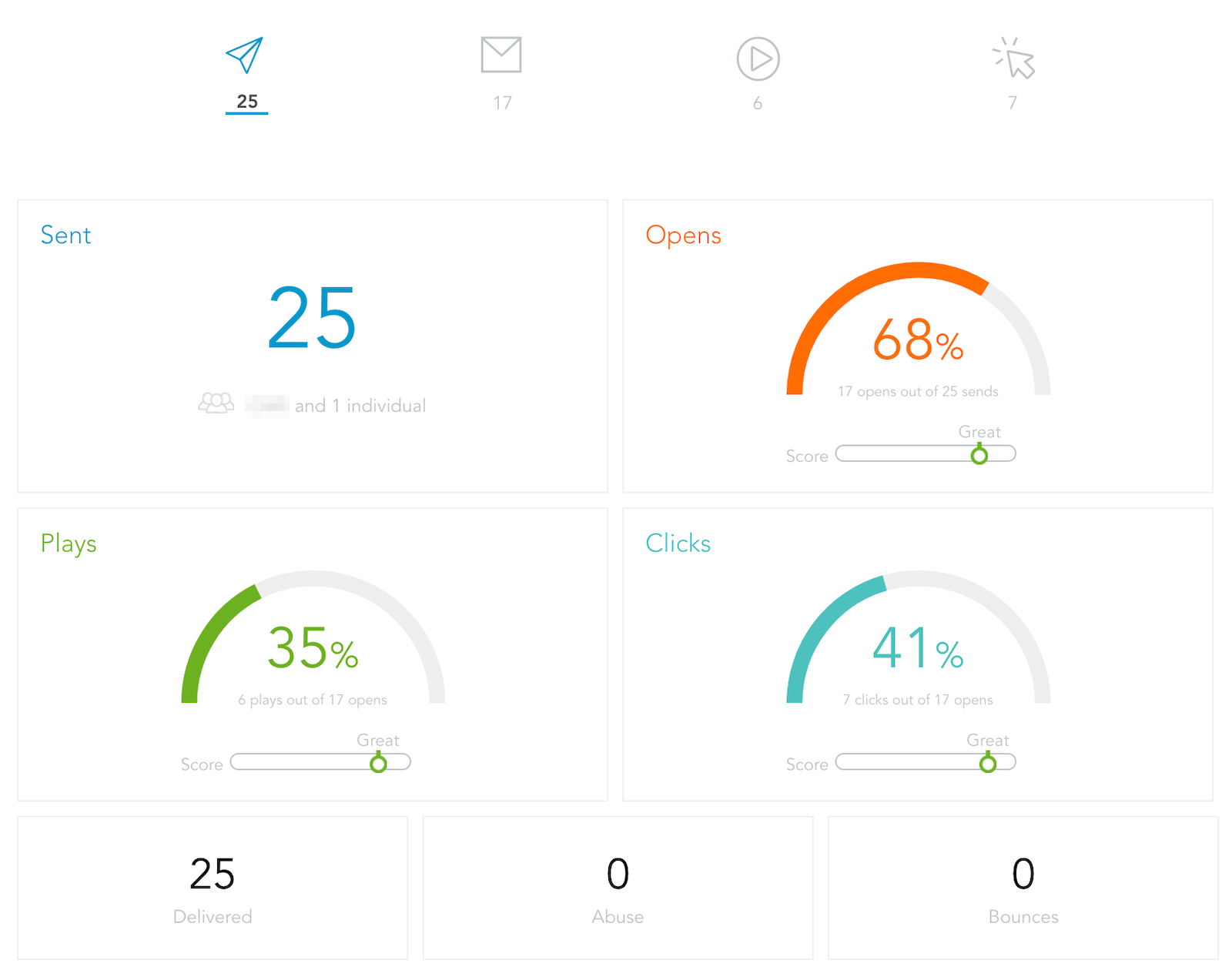 To see the date and time each of these actions were taken, you can either click on that metric's square or click on the icons above.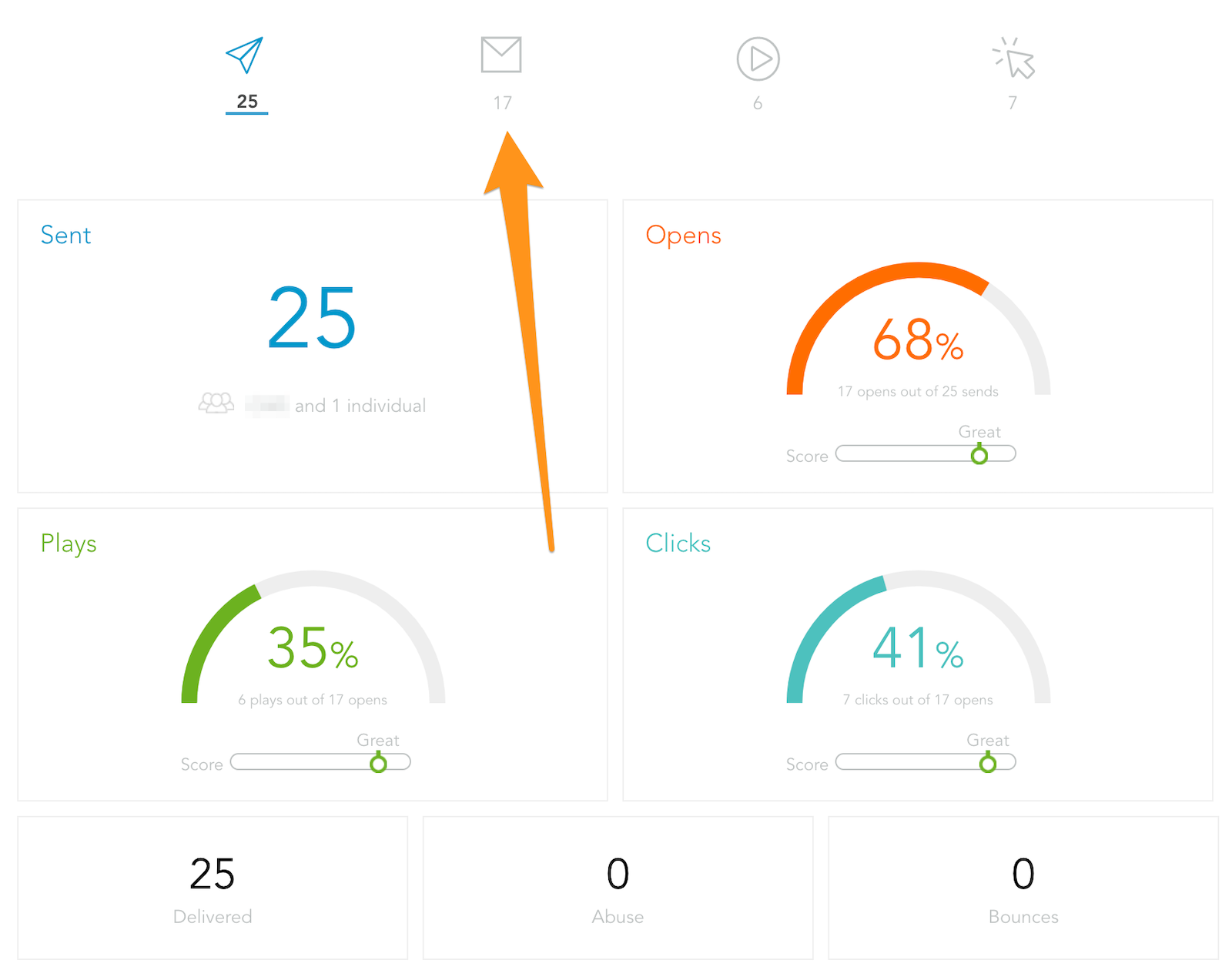 These charts will show you the total opens, plays, and clicks, rather than the unique opens, plays, and clicks displayed on the main tracking page. You can hover over a point on the chart to see the date and time, and how many people took the action.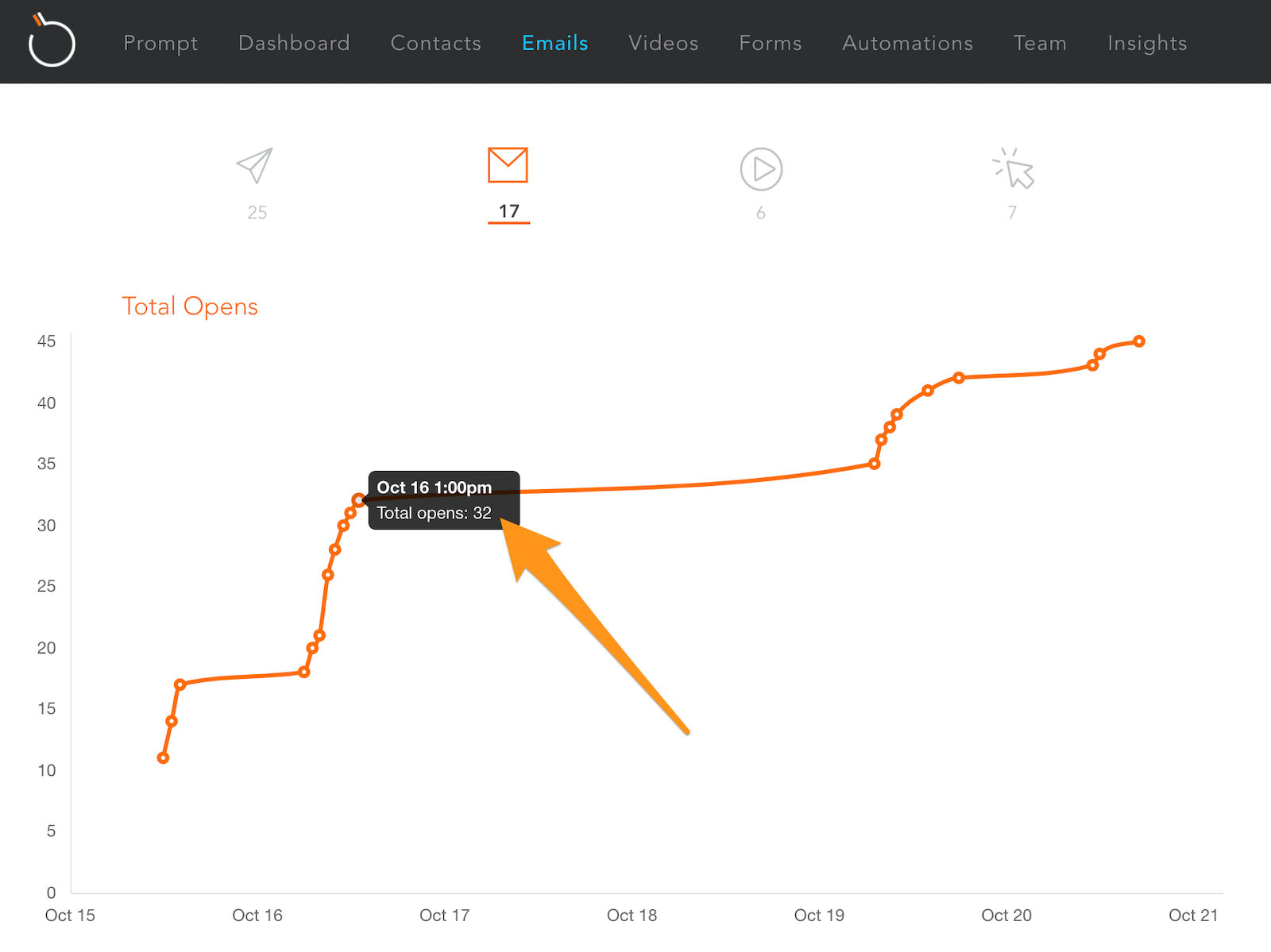 On the bottom of your screen, you'll see the number of emails delivered, bounced, or marked as abuse. To learn how to find which contacts might have bounced or been marked as abuse, read this article.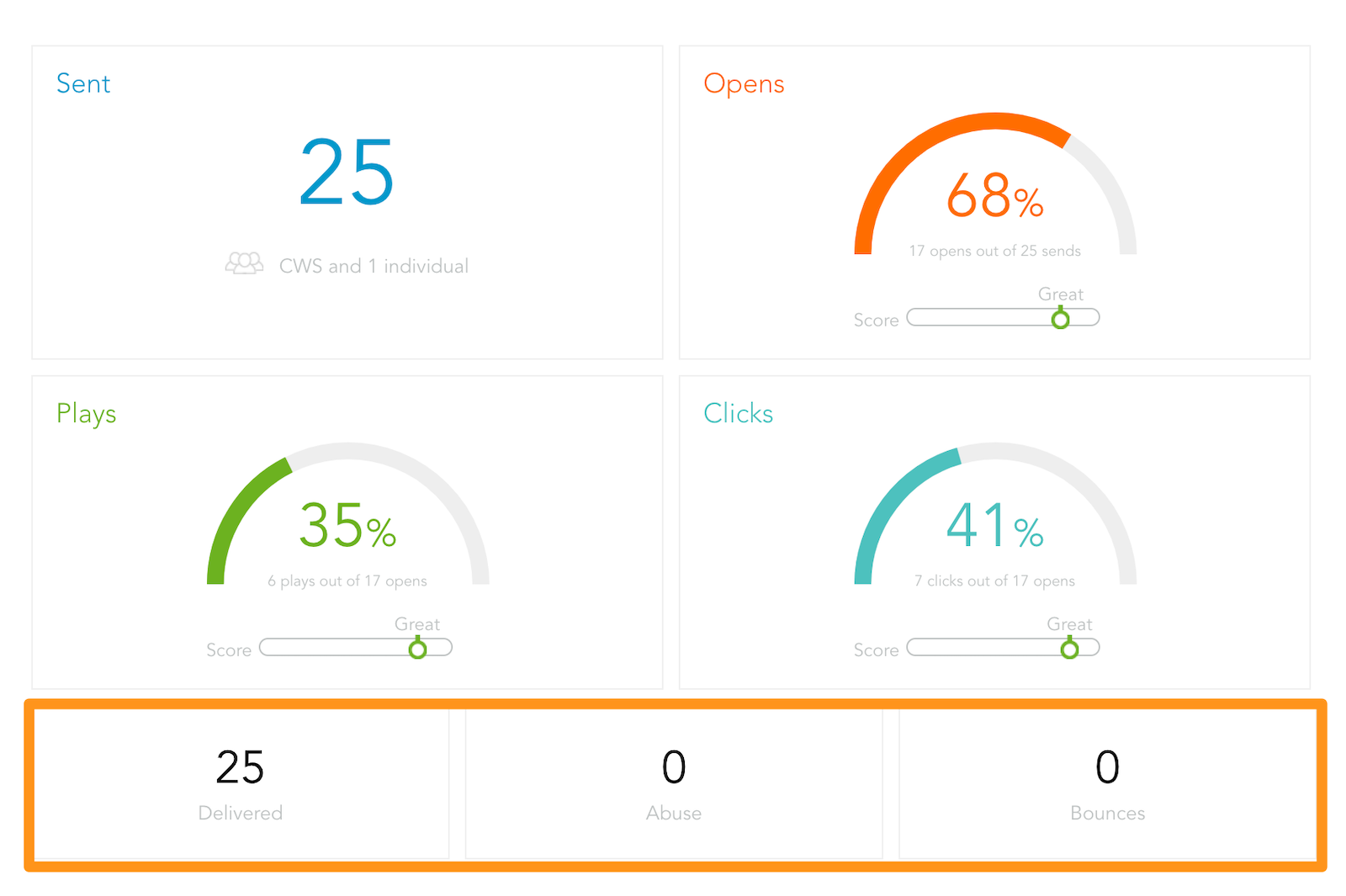 There are limitations to email tracking. If you get inaccurate email tracking, learn why that may be happening.