If you'd like to import contacts into your account through an email, the email leads workflow integration is for you! Email leads workflow allows you to send contacts into your Bombbomb account. With this feature enabled, you will be able to:

Add contacts to a specific list.

Set up an auto-response through email sent to a unique BombBomb email address.

Automatically forward a copy of an email to yourself.

Add a person to a drip campaign.

You'll be creating a custom email address for this feature. With that email address created, you can then create workflows that will be triggered whenever an email with contact information is sent to that specific import email address.
You can create up to five custom import email addresses to use in your workflows. Each import email address can be set up to trigger a workflow when an email is sent to it. You can choose any unique email name that hasn't already been taken by another user, but all import email addresses end in "@uploads.bombbomb.com."
When contacts send an email to your import email address, you can automatically add them to a drip campaign, add them to a contact list or send them an email!
Check out the video below to learn how to set up this integration!
If you'd prefer to read, here's a step by step:
Step 1: Log into your BombBomb account. Hover over your name in the upper right corner and click "Integrations."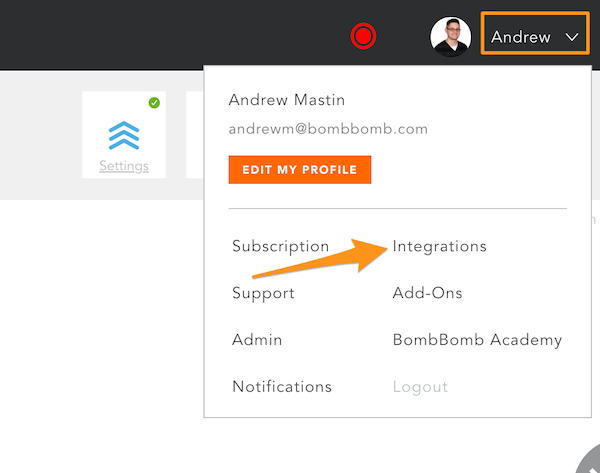 Step 2: On the Integrations page, search "Email Leads Workflows" and click on the Emails Leads Workflows icon.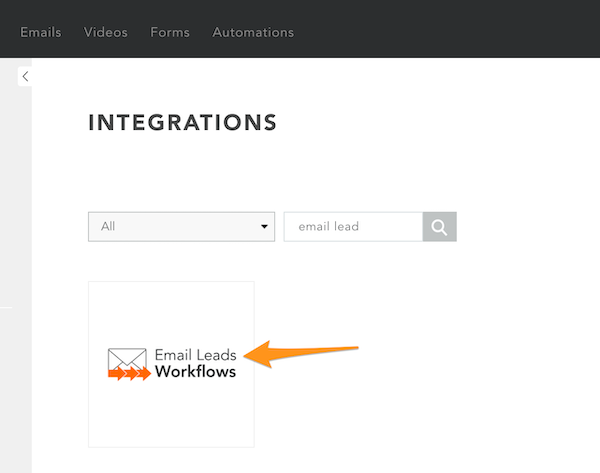 Step 3: Here, you will be creating your customized import email address. Enter a name for your email address and click the "Add" button.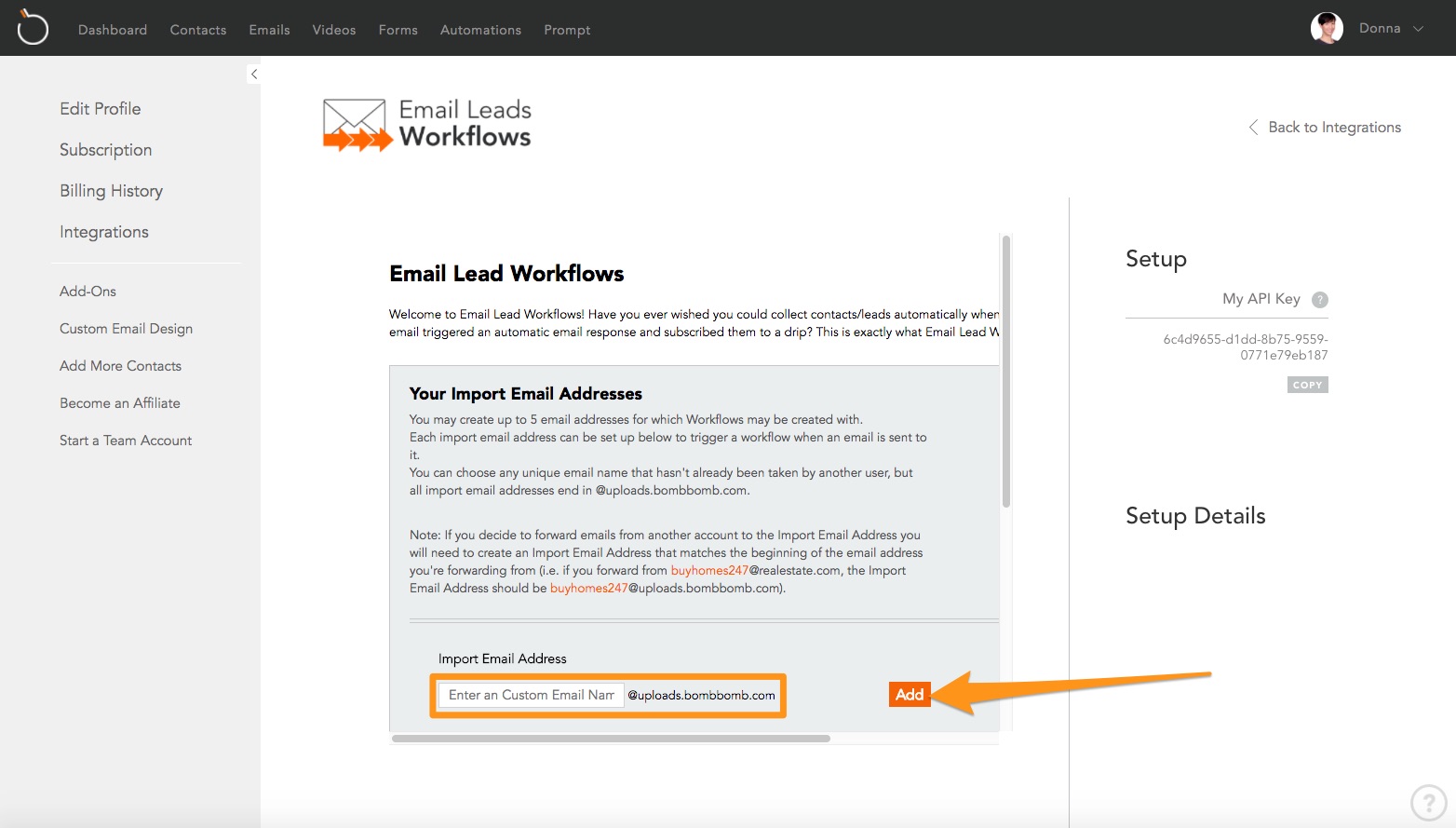 Step 4: Once you create your customized email address, scroll down the page and you will be able to set up your workflow preferences. These are the fields we will be filling out.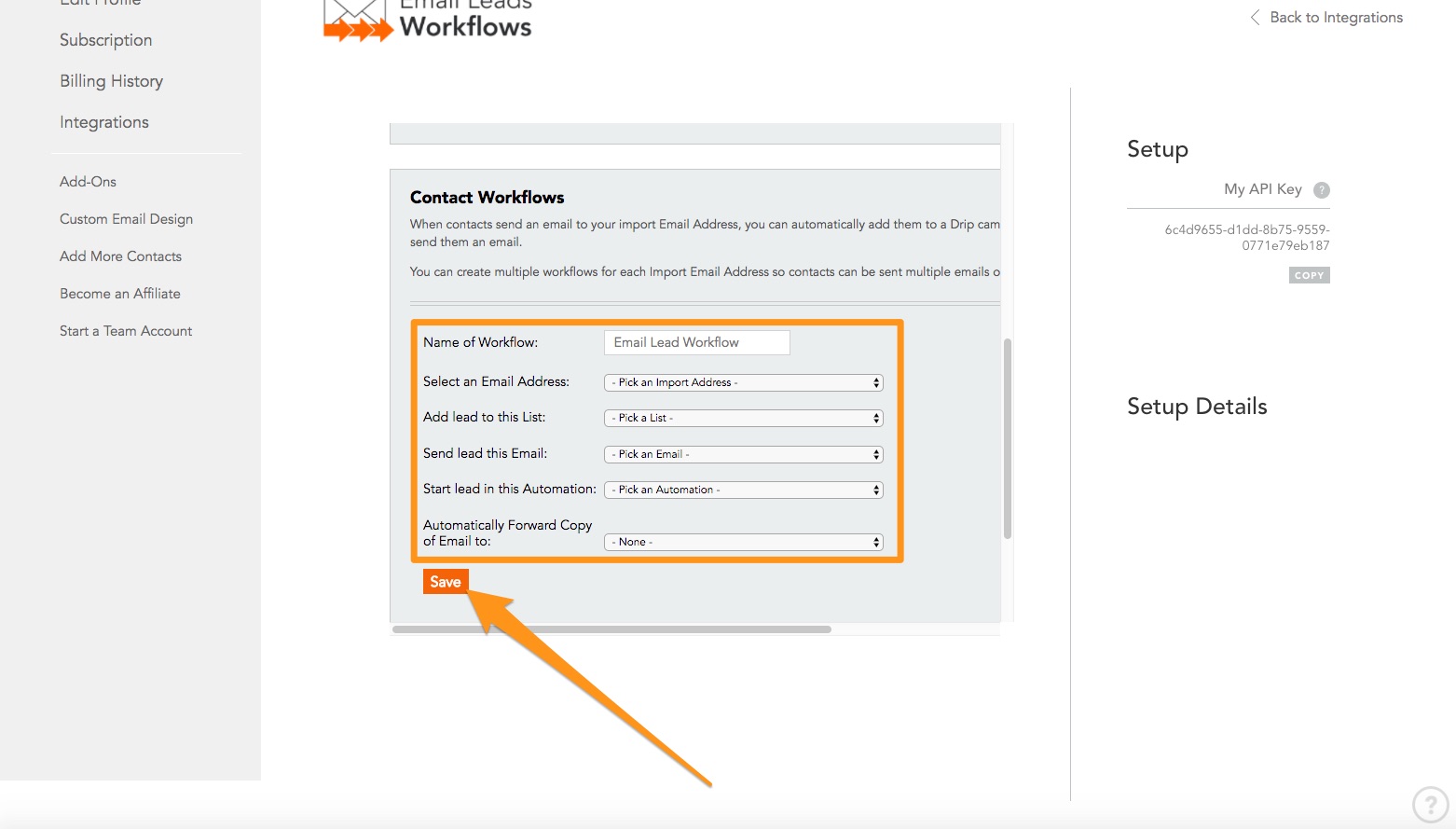 Step 5: Enter a name for your workflow.

Step 6: From the dropdown, select the customized email address you created earlier.

Step 7: Select the contact list that you'd like these new contacts to be added to.

Step 8: If you'd like to send these contacts an email, select which email you'd like to send them from the dropdown.

Step 9: If you want to add these contacts to one of your automations (also known as drip campaigns), select a campaign from the dropdown.

Step 10: Select which email you'd like to automatically forward a copy of each email to. Then, click the "Save" button.
Once you've finished, you will see the outline of the workflow you've just created. You're all done!