BombBomb is an official integration supported by Follow Up Boss. It's super easy to set up, and you'll be sending your contacts video emails from Follow Up Boss in no time!
The Follow Up Boss integration with BombBomb allows you to insert BombBomb videos wherever emails are in Follow Up Boss, such as emails, email templates, and email signatures. Additionally, this integration lets you sync your contacts from Follow Up Boss to BombBomb. Anytime a contact is added or changed in Follow Up Boss, BombBomb will reflect those changes upon your next email send.

Watch this video to learn how to set up your integration or keep reading below.
Note: To work best, it is recommended users set up both the FUB integration and the BombBomb integration. This way, your contacts on both platforms will sync and you will be able to send your connections video email!
If you prefer to read, here are the step-by-step instructions.
Connecting the FUB integration
In your Follow Up Boss account, head to Admin->Integrations, and you'll see a box for the BombBomb integration. Click it to enter the BombBomb integration settings.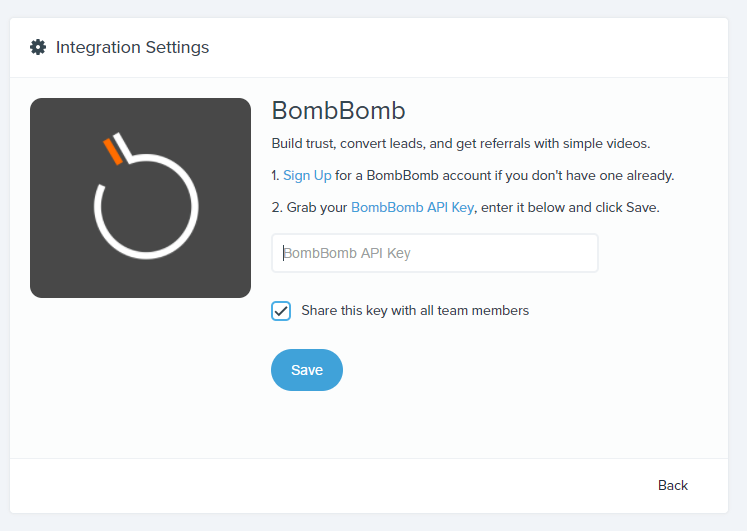 Follow the steps noted on the page. If you don't have a BombBomb account you can create one here. If you have an account, you'll need to get your API key which can be found at the top of your BombBomb Integrations Page.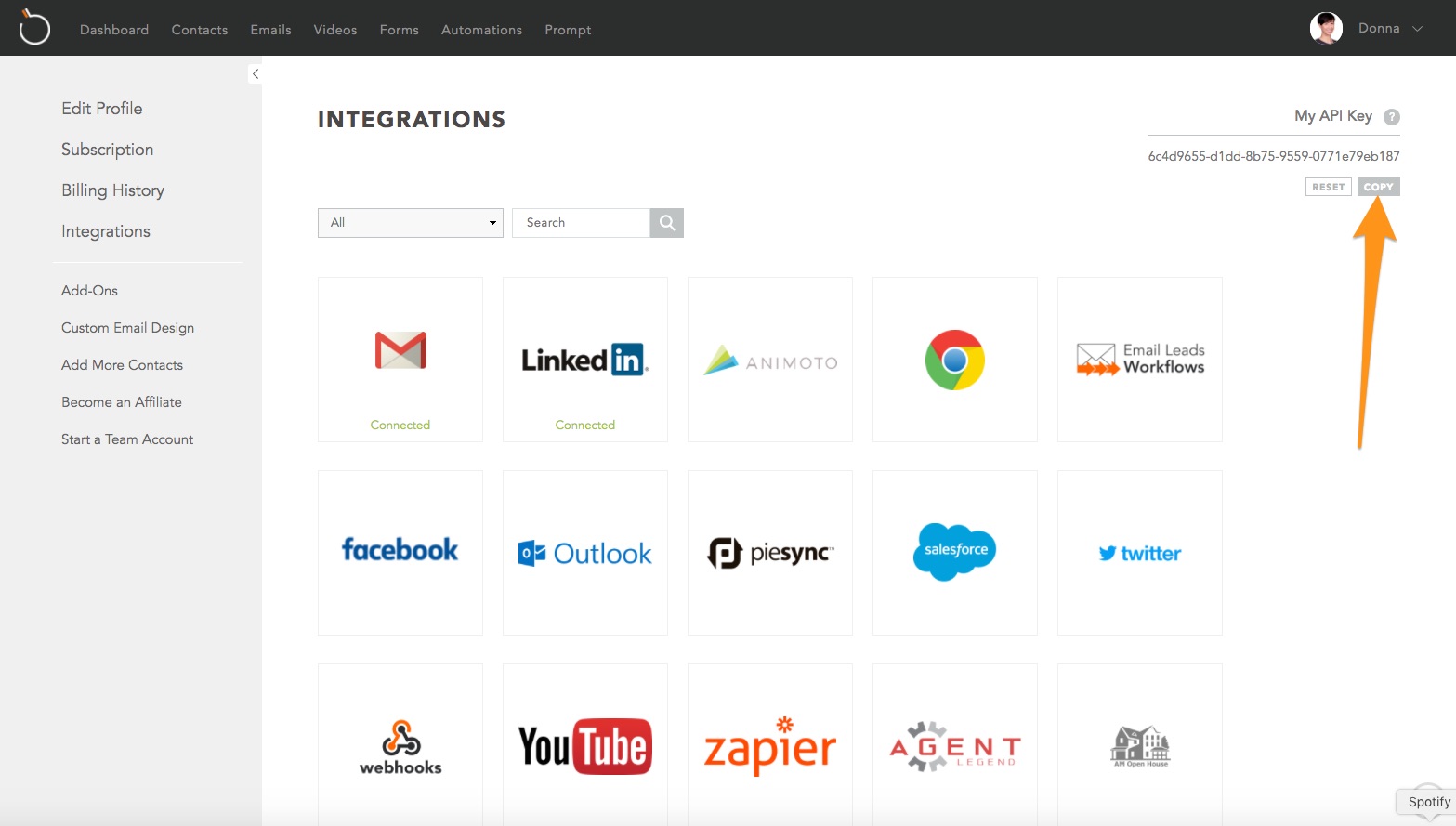 Copy the key to your clipboard and paste it into the field in Follow Up Boss. If you are the account owner, you can choose to share your key with the team members on your account. This will let any user who has not saved their personal key use the owner's key. Press save, and your BombBomb integration is now set up.
Using BombBomb in your Follow Up Boss emails
After setting up your BombBomb key in Follow Up Boss, you'll see a new icon in the toolbar used for formatting emails. Click this button to start using BombBomb in your email, email template, or signature.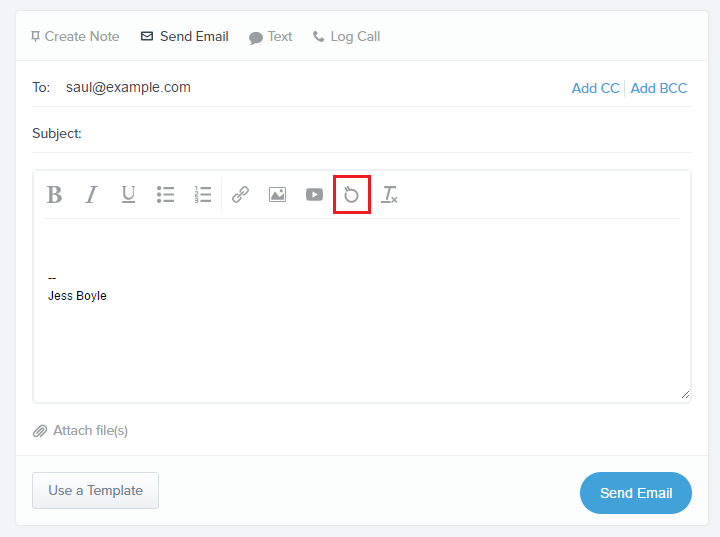 Recording a new video
The first screen you'll see when opening the BombBomb window lets you record a new video to insert into your email. Press the red button to begin recording, and again to finish. Name your video, and it's ready to go! Press the "Save and Insert Video" button, and you'll see a preview of the thumbnail in the email compose window.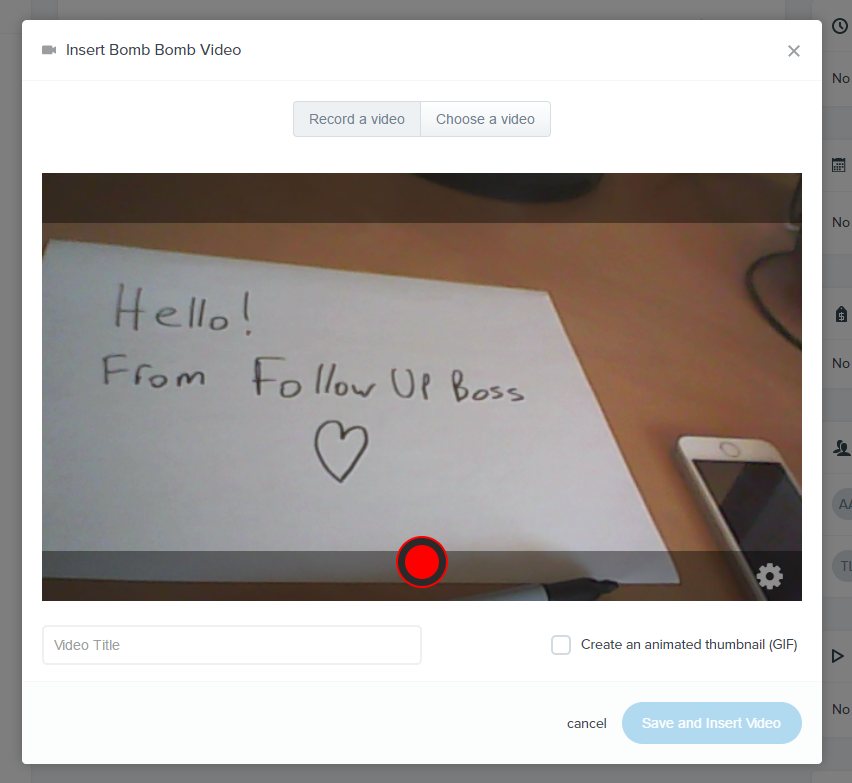 Choosing an existing video
Press the "Choose a video" tab to select a video that you have already recorded. You can use the search bar to narrow your search if you have many videos. Press the eye icon in order to preview your video before sending it. After finding the video you want to use, click the thumbnail to select it and press "Insert Video." As above, you'll see a preview of exactly how it will look before sending it.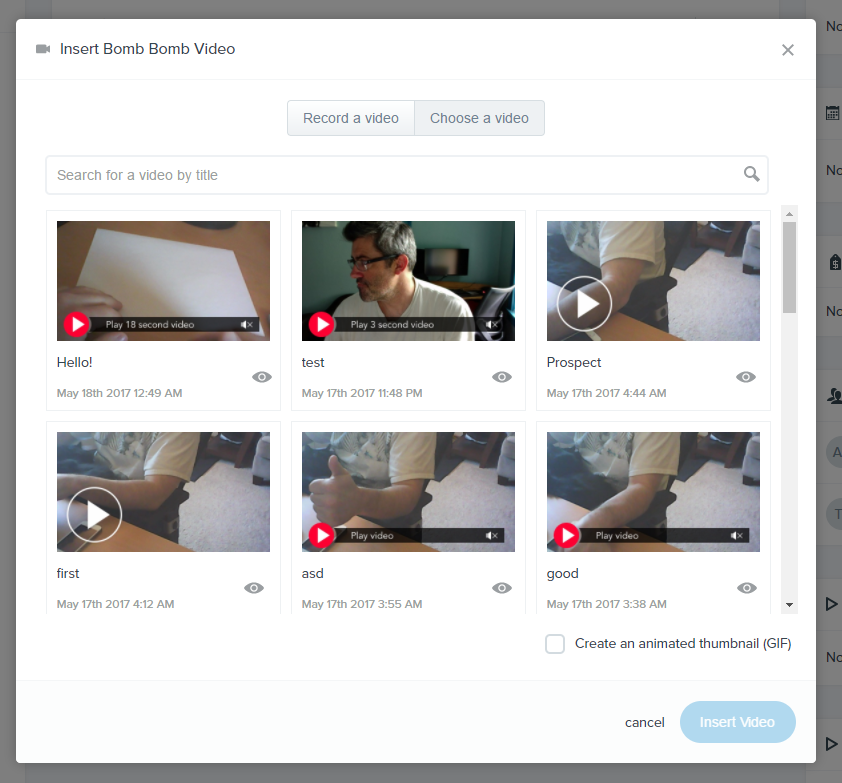 Syncing your Follow Up Boss contacts in BombBomb
In order to sync your Follow Up Boss contacts into your BombBomb account, you'll want to set up the Follow Up Boss integration in BombBomb. First, log into Follow Up Boss and click on the "Admin" Tab.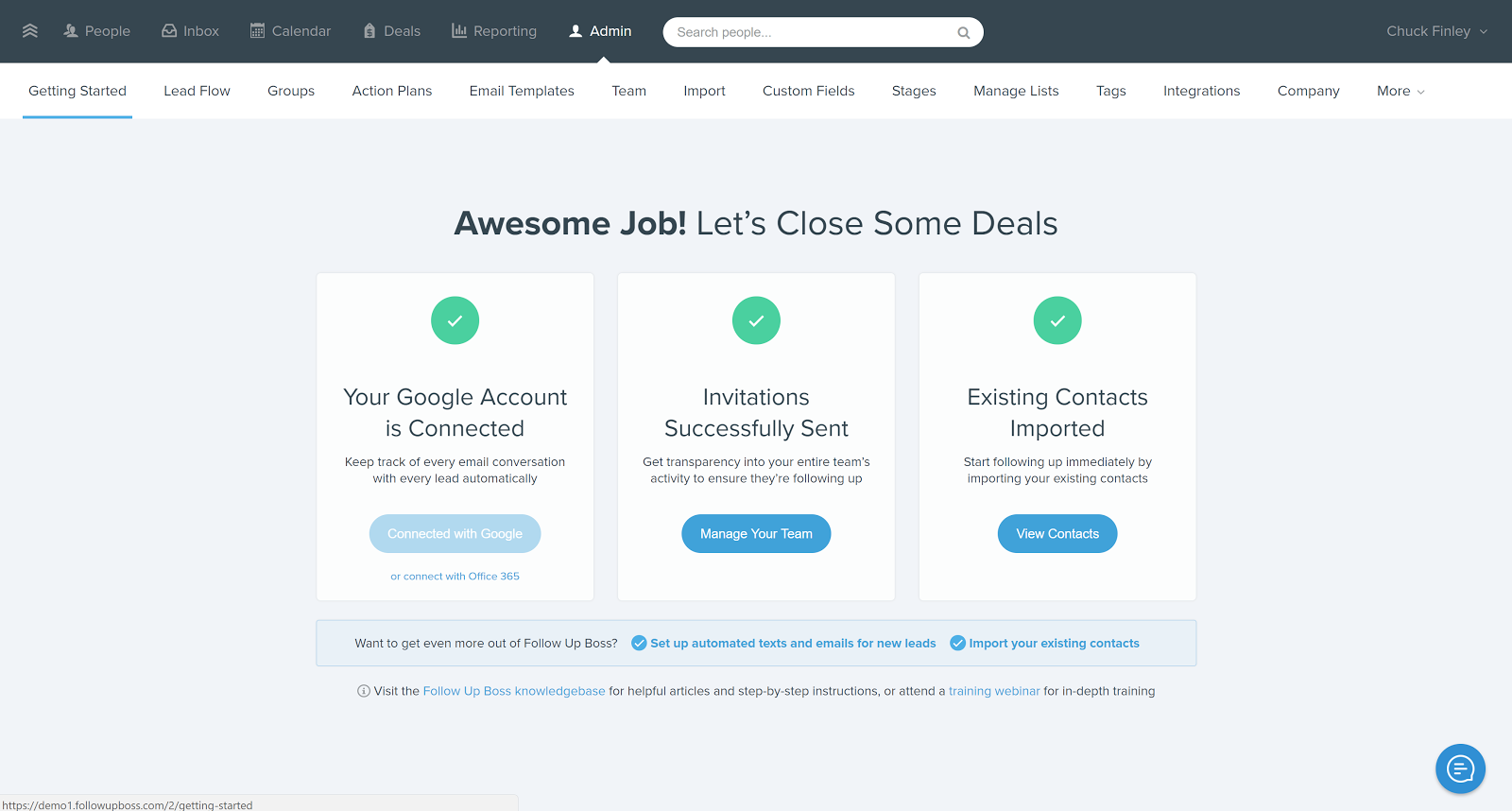 From the Admin Page, Click on the "API" sub-tab. You may need to click "More" if your screen isn't wide enough.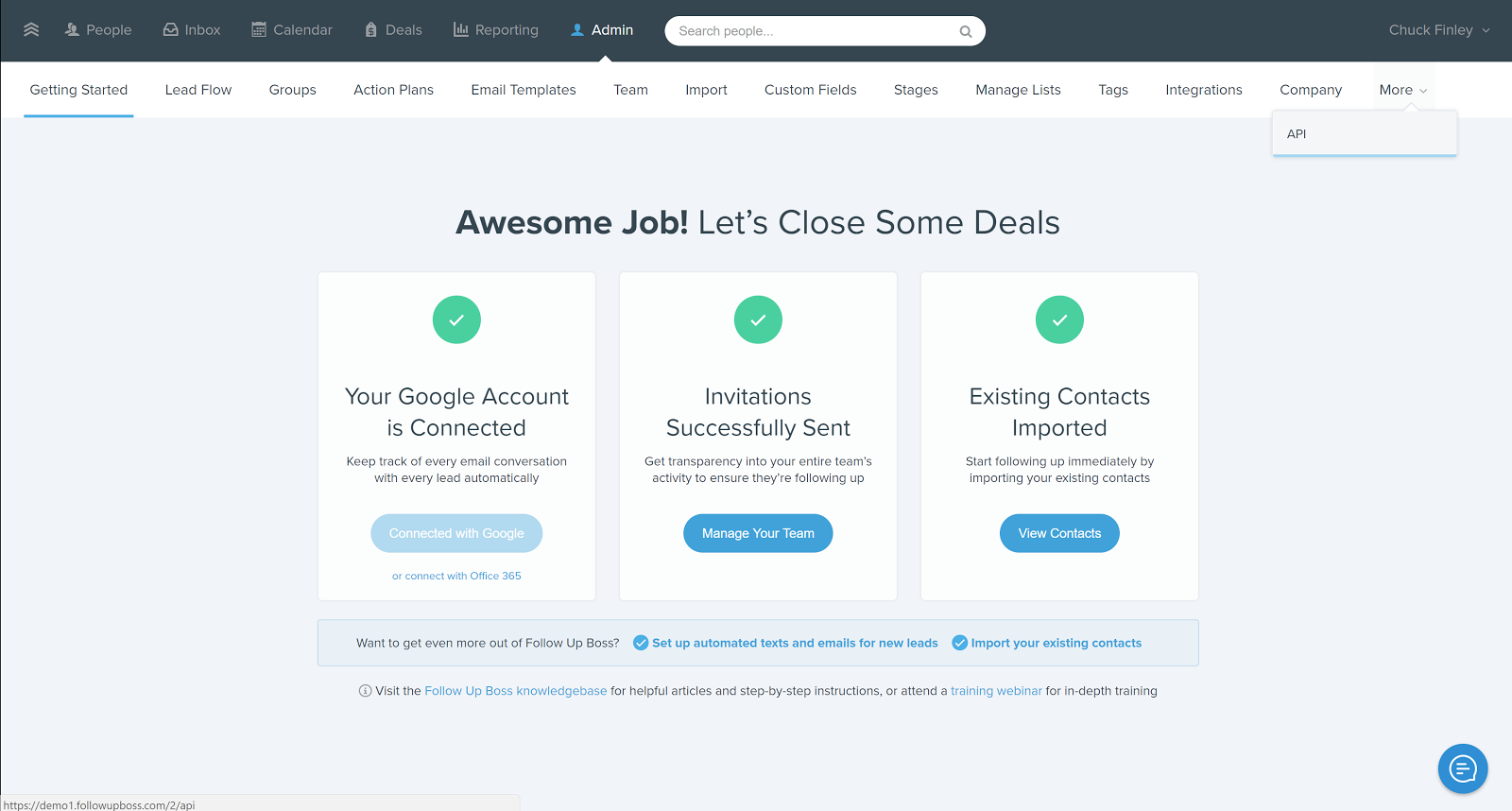 Copy the API Key.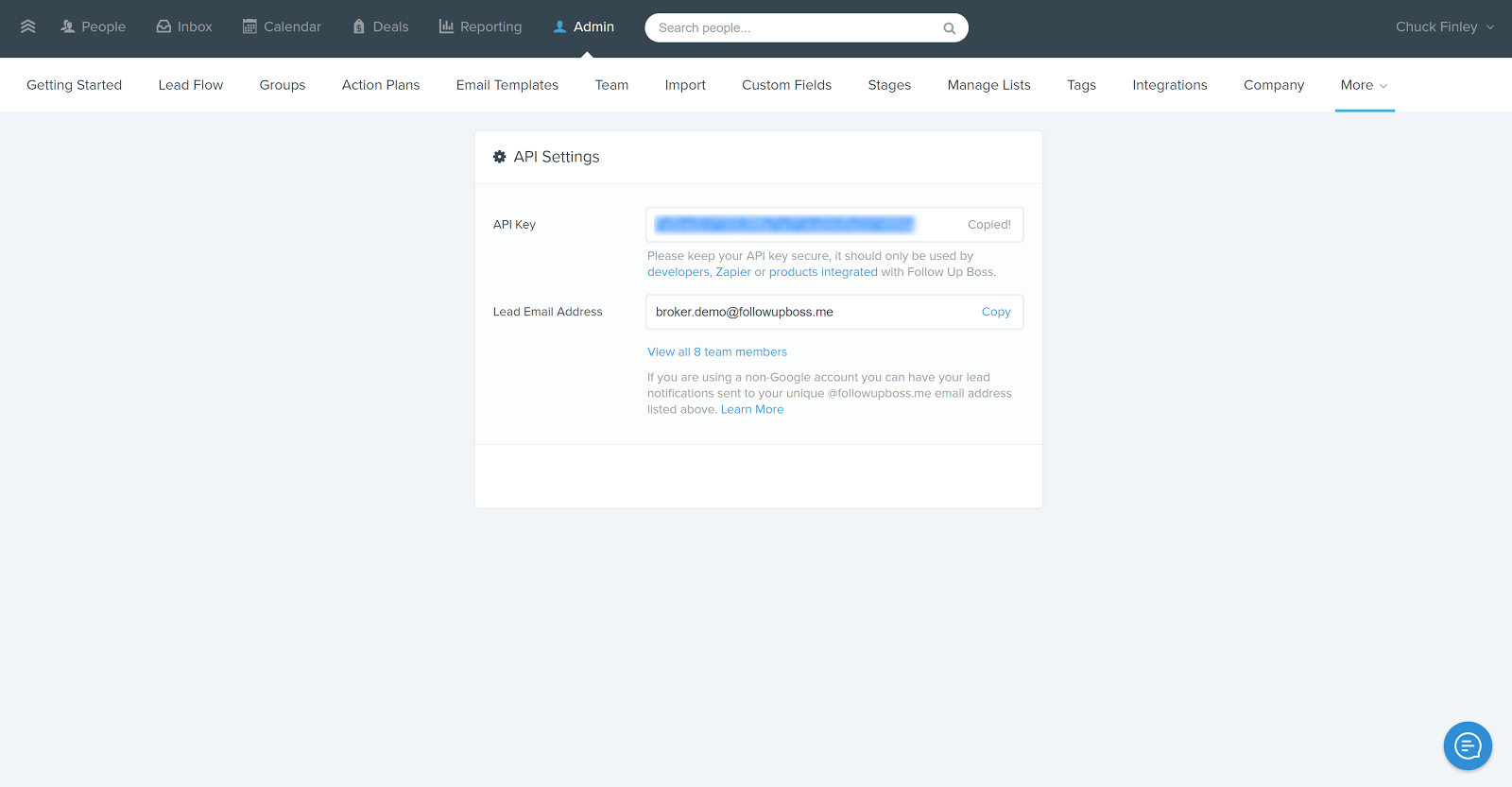 Now, navigate to your BombBomb account, hover over your name in the upper right corner of the screen, and select "Integrations."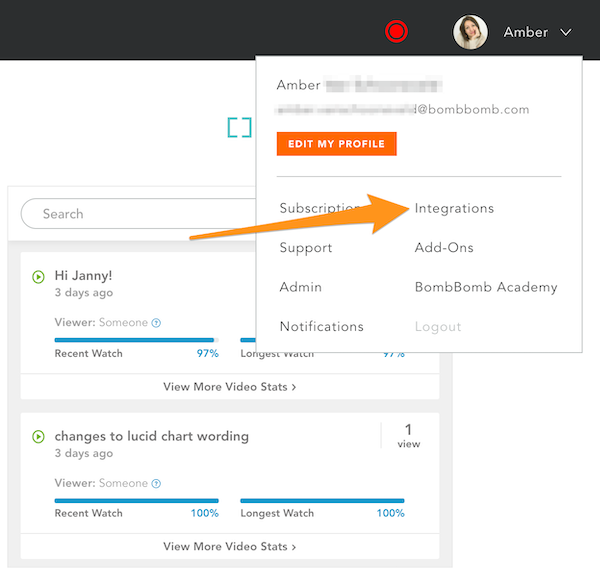 Search for Follow Up Boss and click on the tile. Then paste your key into the "Integration Key" field to activate the BombBomb integration and click "Connect." You will then be directed to your contacts tab to select the Follow Up Boss contact lists you want to sync over into BombBomb.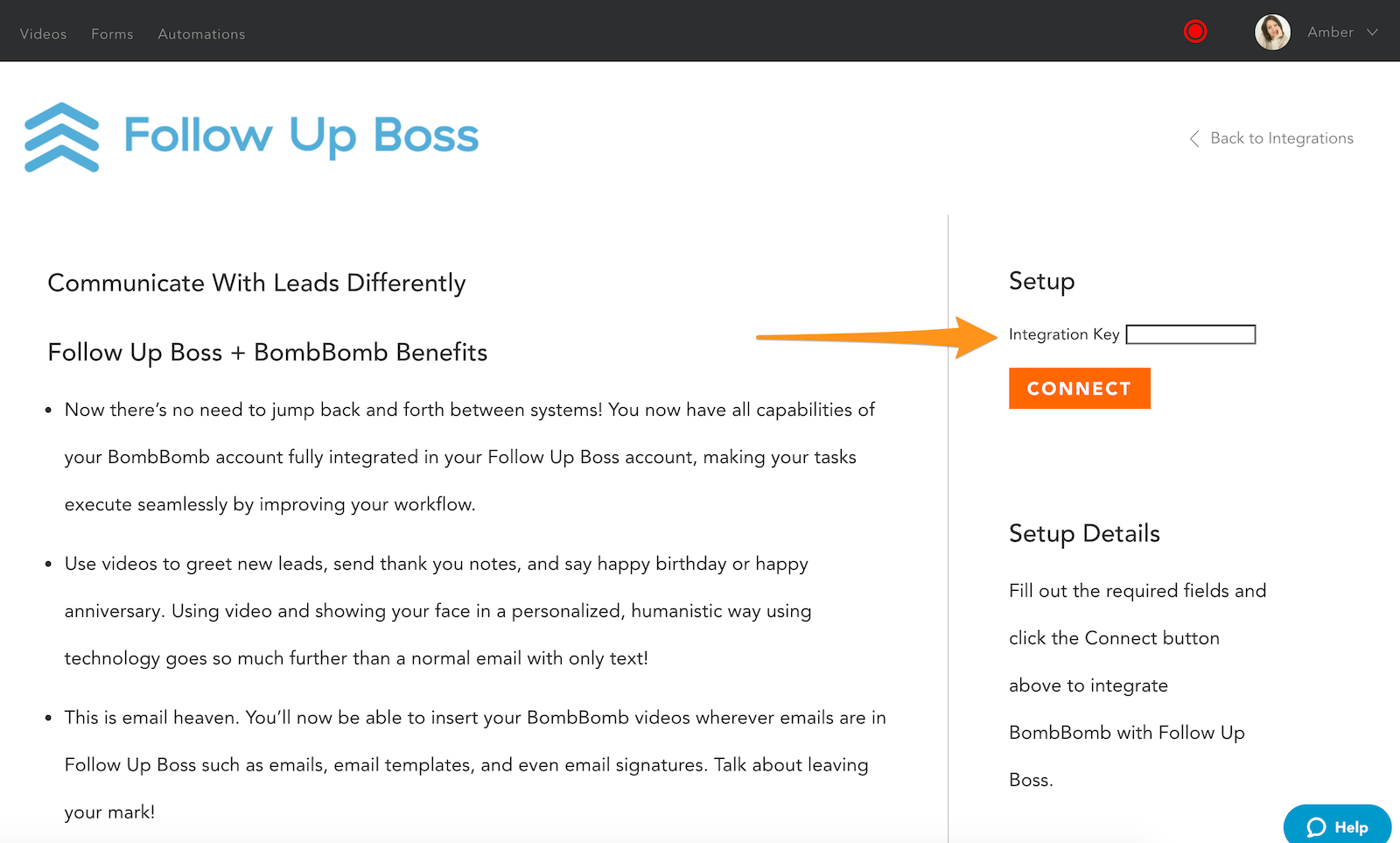 To acquire contacts that existed before you turned on the integration, simply click into each list you've selected from the left side and click the "Sync from Follow Up Boss" option. This process may take some time if you have a lot of contacts. The number of Follow Up Boss contacts in the list will update when the process completes.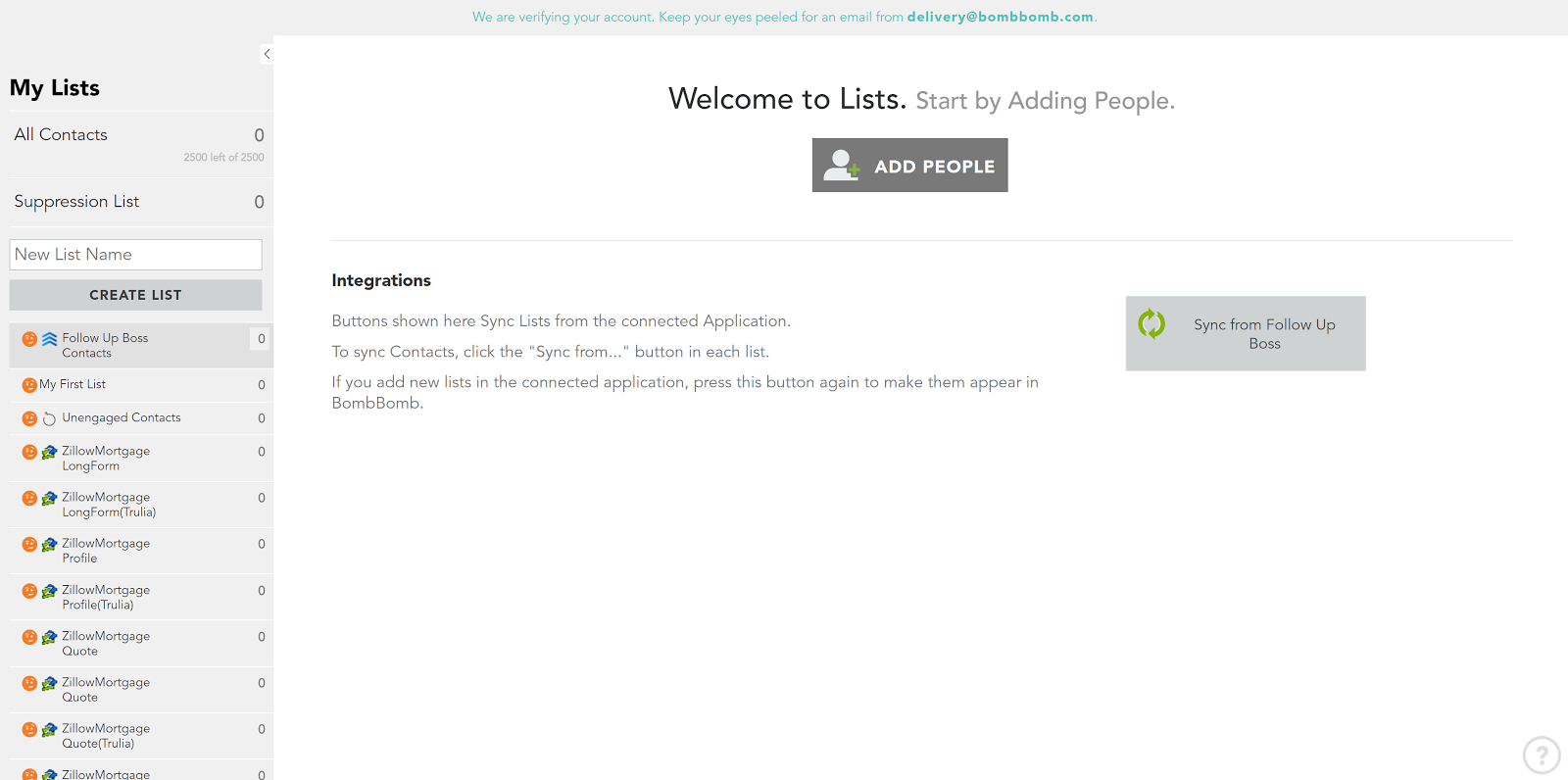 Anytime a contact is created, updated, or deleted inside of Follow Up Boss, those changes will be reflected automatically in BombBomb on your next email send to that contact list.