Social media is one of the fastest and smartest ways to reach your sphere of influence. BombBomb Prompt users can integrate with Facebook so you can post your Prompt material to Facebook right from BombBomb.
Once you set up the Facebook integration with Prompt, you'll be able to allow one or all of your Prompt campaigns to post directly to your business Facebook page. Each Prompt will come with a suggested status message for your Facebook post, or you can create your own if you'd like. If you turn on social sharing and opt not to have a status message accompany it, that's okay — the Prompt campaign will still publish. All of this without you having to lift a finger!
Watch this video to see how easy it is to integrate your BombBomb account with Facebook or keep reading below!

If you'd prefer to read, here's a step by step.
Connecting the Facebook integration
Step 1: Go to your BombBomb account and click on the Prompt tab. On the left panel, click "Social Settings."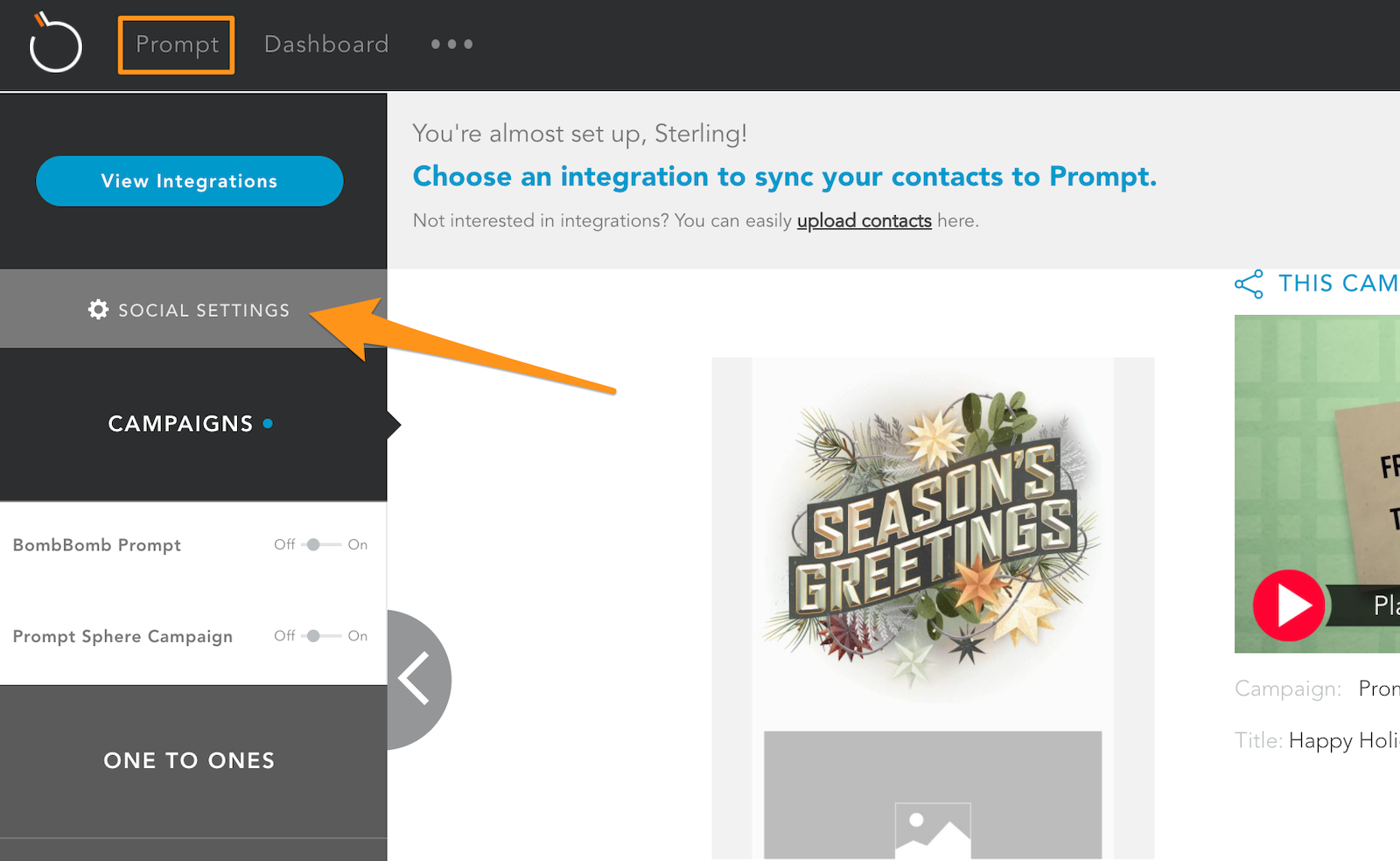 Step 2: Click "Connect Now" next to the Facebook option.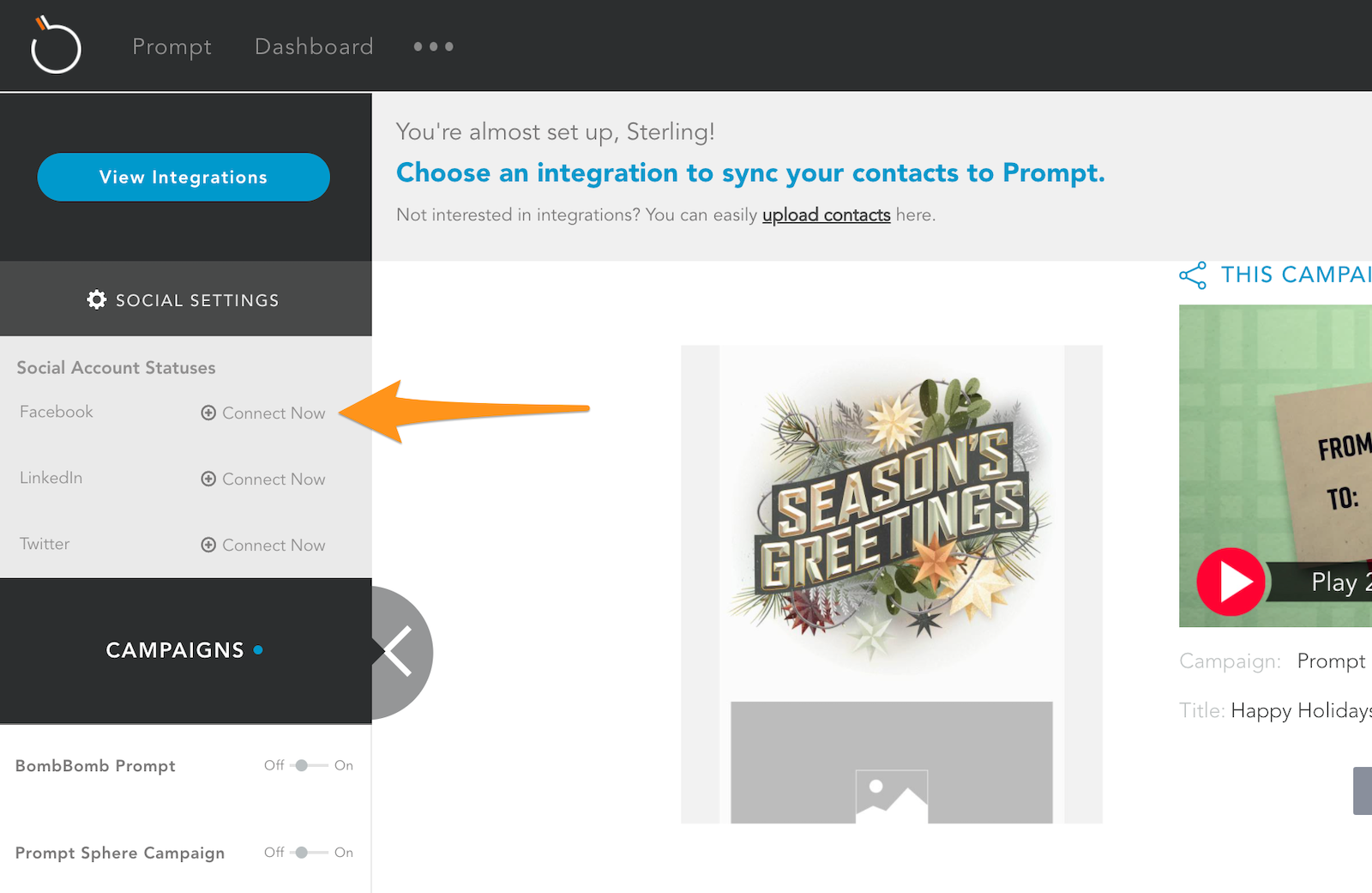 Step 3: If you are already signed into Facebook, you will see a prompt asking to continue in your account. If you are not signed in, you will need to sign into your Facebook account for this step. Click "Continue."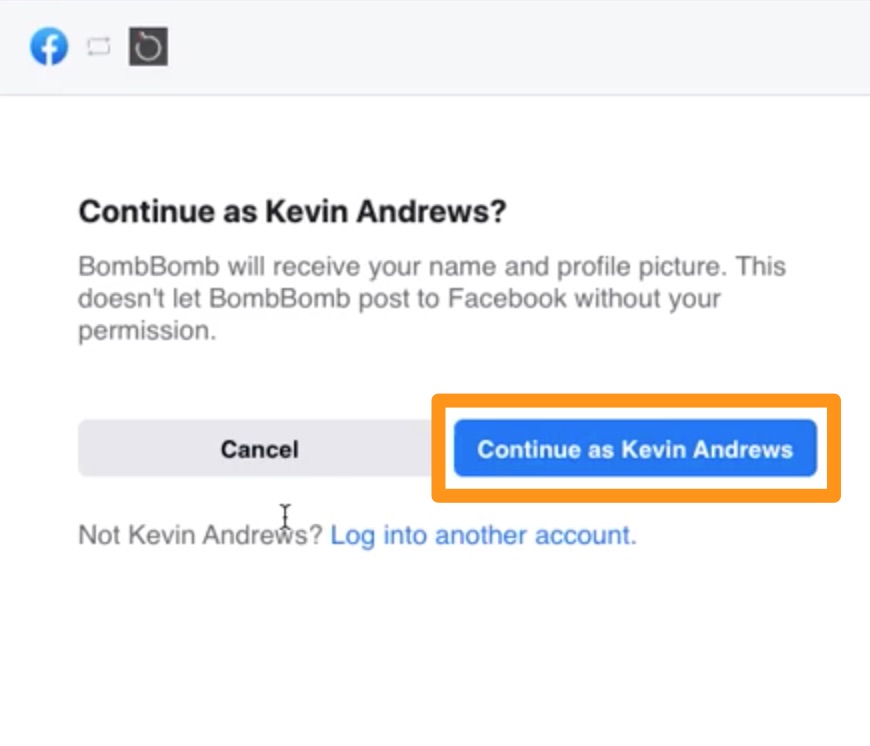 Step 4: You will then be able to select which Facebook pages you'd like to choose for posting Prompt content. Facebook is unable to post to your personal page, so select your business page. Then, click the "Next" button.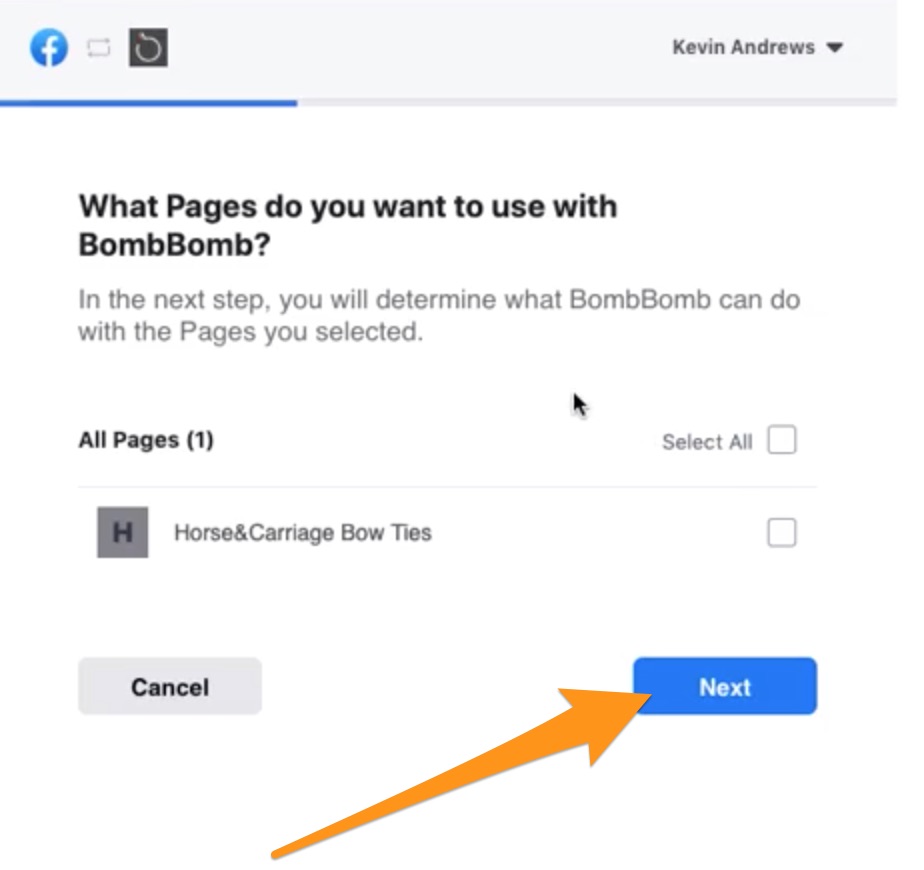 Step 5: You will then see a page for permissions asking what BombBomb is allowed to do. BombBomb will never use your information; this is simply for permission to post content on your behalf. Make sure all the toggles are on "Yes" and click the "Done" button.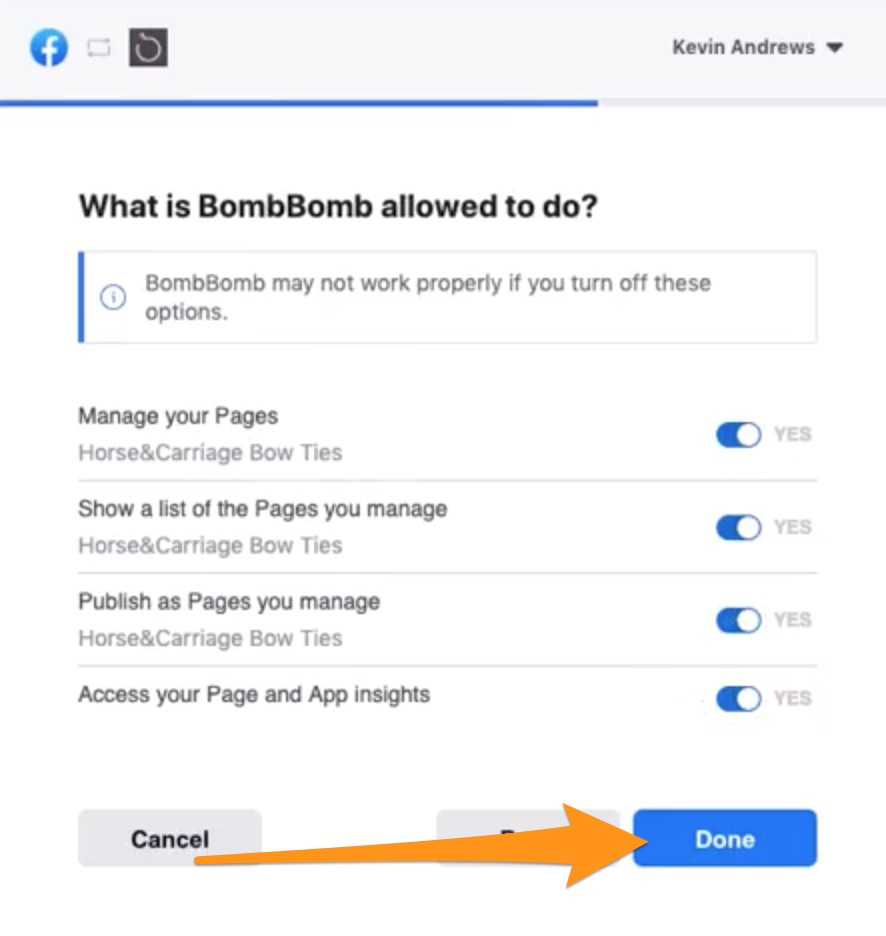 Step 6: You will then see a message confirming that your BombBomb account is connected to Facebook. Click the "OK" button to continue.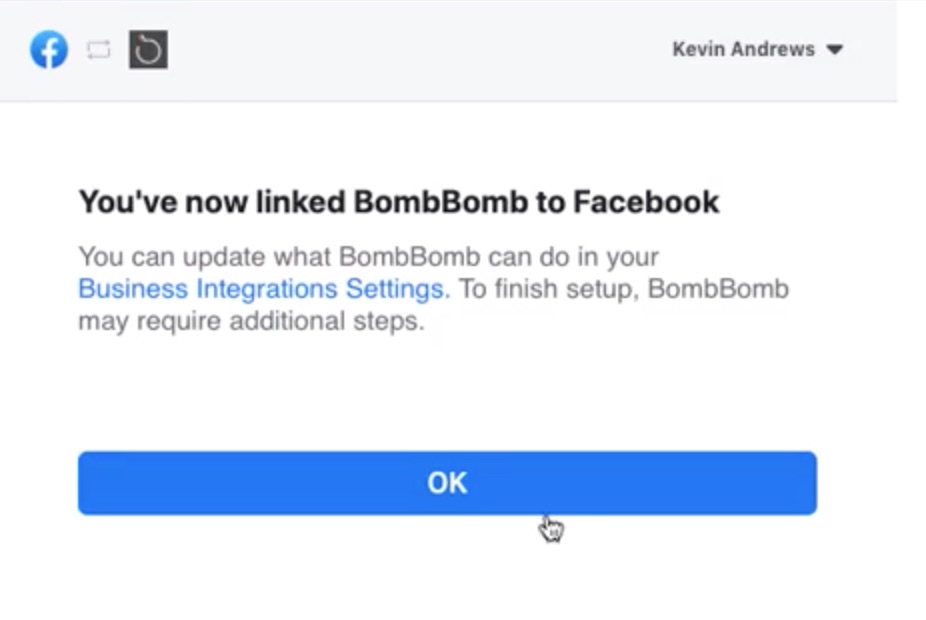 Turning on campaign preferences
Step 1: On your Prompt page, you will see in the left panel that your Facebook account is connected. Now we need to make sure your Facebook connection to the campaign you want is turned on. Select the campaign email you wish to share.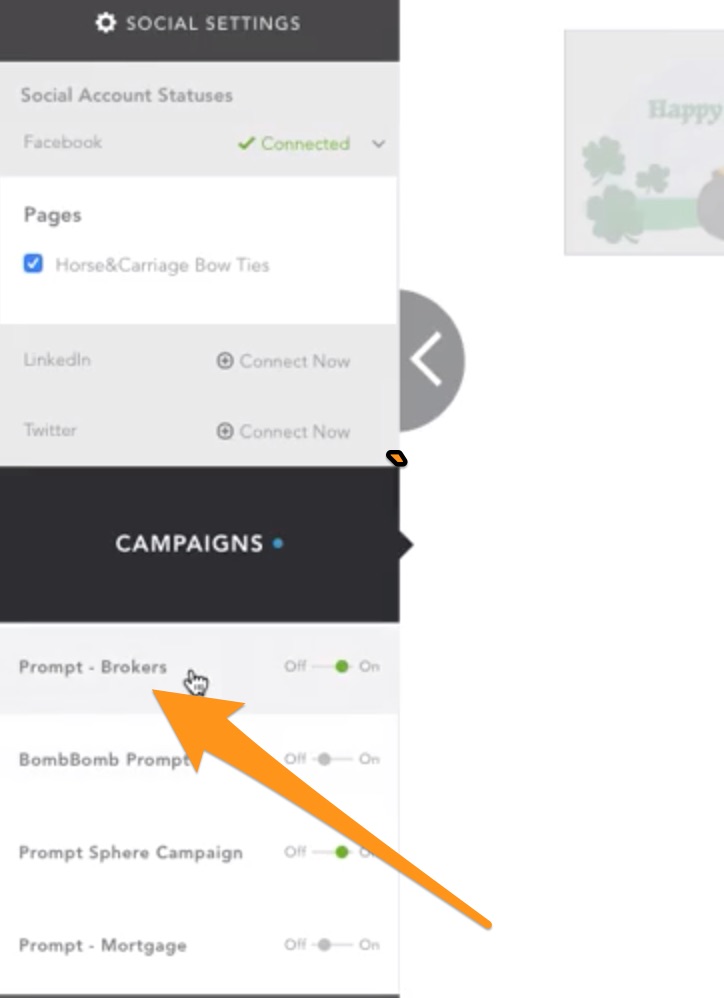 Step 2: Under the campaign settings, make sure the toggle for Facebook is turned on and green.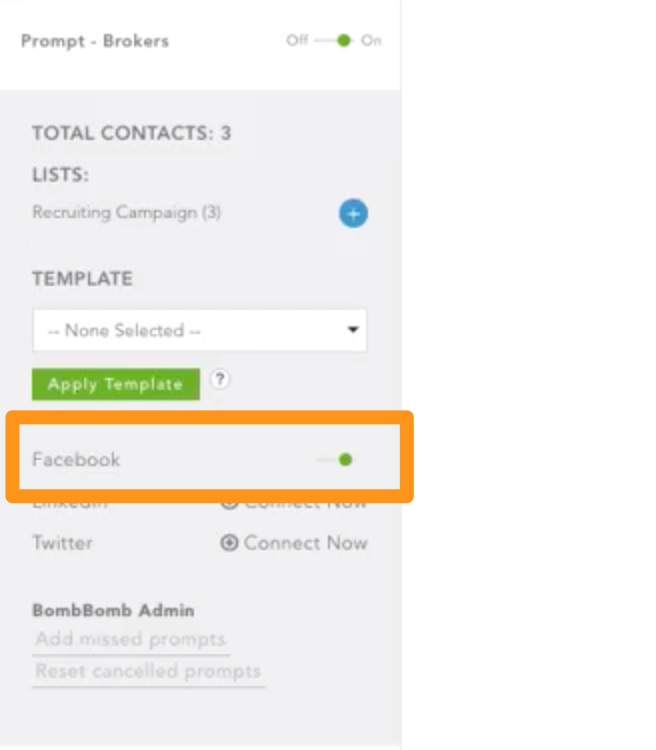 Sharing a campaign
Step 1: Now it's time to share the campaign you want. Under the campaign in your carousel you'd like to share, click the "Social" button.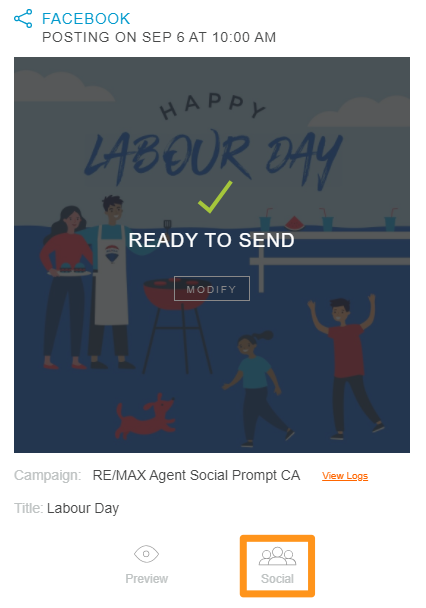 Step 2: This will bring up the social sharing settings for that specific campaign. We provide a suggested message you can use to accompany your social post, or you can type your own message into the text box. To use the suggested message, click the "Suggested Message" option. Or to create your own message, simply type whatever you want into the text box.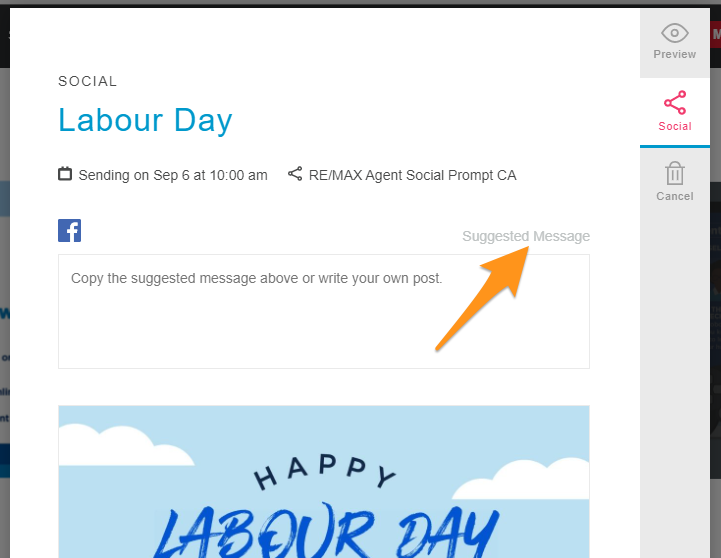 If you selected "Suggested Message," a new window will pop-up allowing you to preview the default suggested message. If you'd like to use this suggested message, click "Copy Message" which will copy the text to your device's clipboard.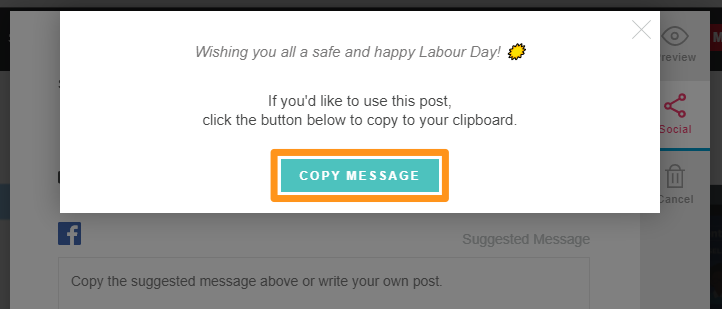 You can then paste the copied text by right-clicking into the text box and selecting "Paste," or you can use your device's keyboard shortcut for pasting (Ctrl + V for Windows; Command + V for Apple OS.)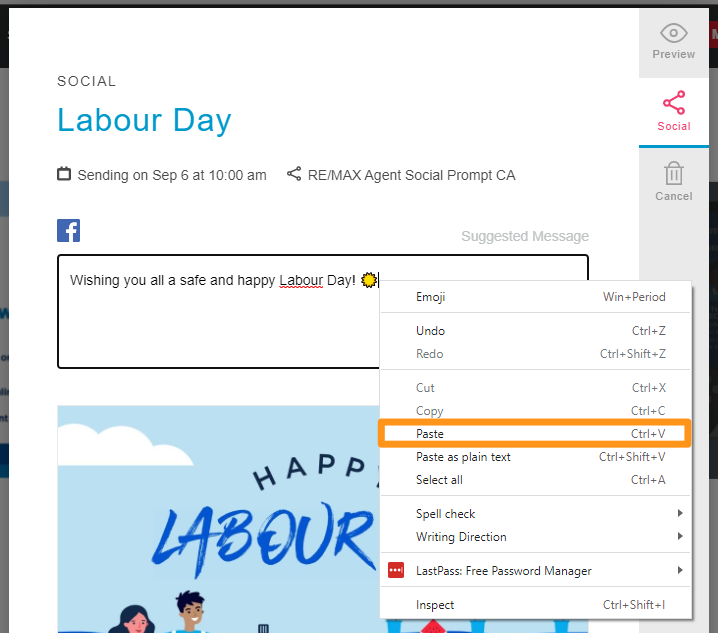 Step 3: Once you're done editing your social campaign settings, click the "Save & Close" button at the bottom. Your campaign will now post to social media when it automatically sends!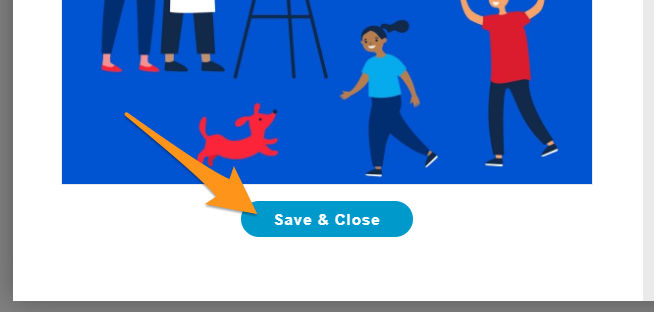 Step 4: If you want, you can also manually share any Prompt campaigns to social media at any time. Prompt campaigns are automatically saved in your Emails tab. Click on the Emails tab at the top of your page and select the label on the left side where your Prompt campaign is located.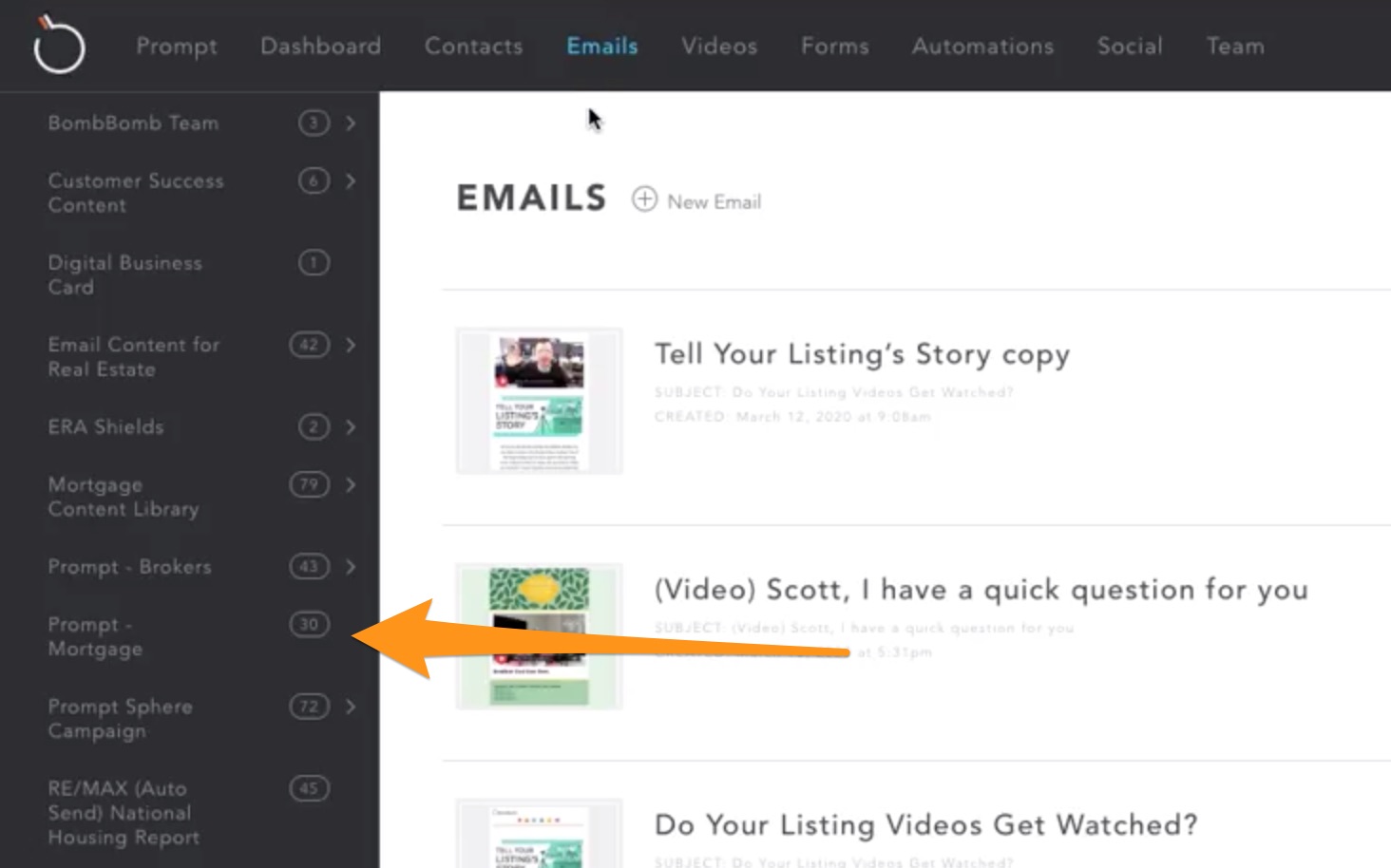 Step 5: Next to the email you want to share on social media, click the "Share" button.

Step 6: Selecting the "Share" button will open up the email in the Advanced Composer tool so you can edit the email however you want. You can change the text, add a video, etc. Once you're finished editing the email, click the "Save" button. (Editing your email does not override the original email campaign — instead, it makes a copy with your edited changes).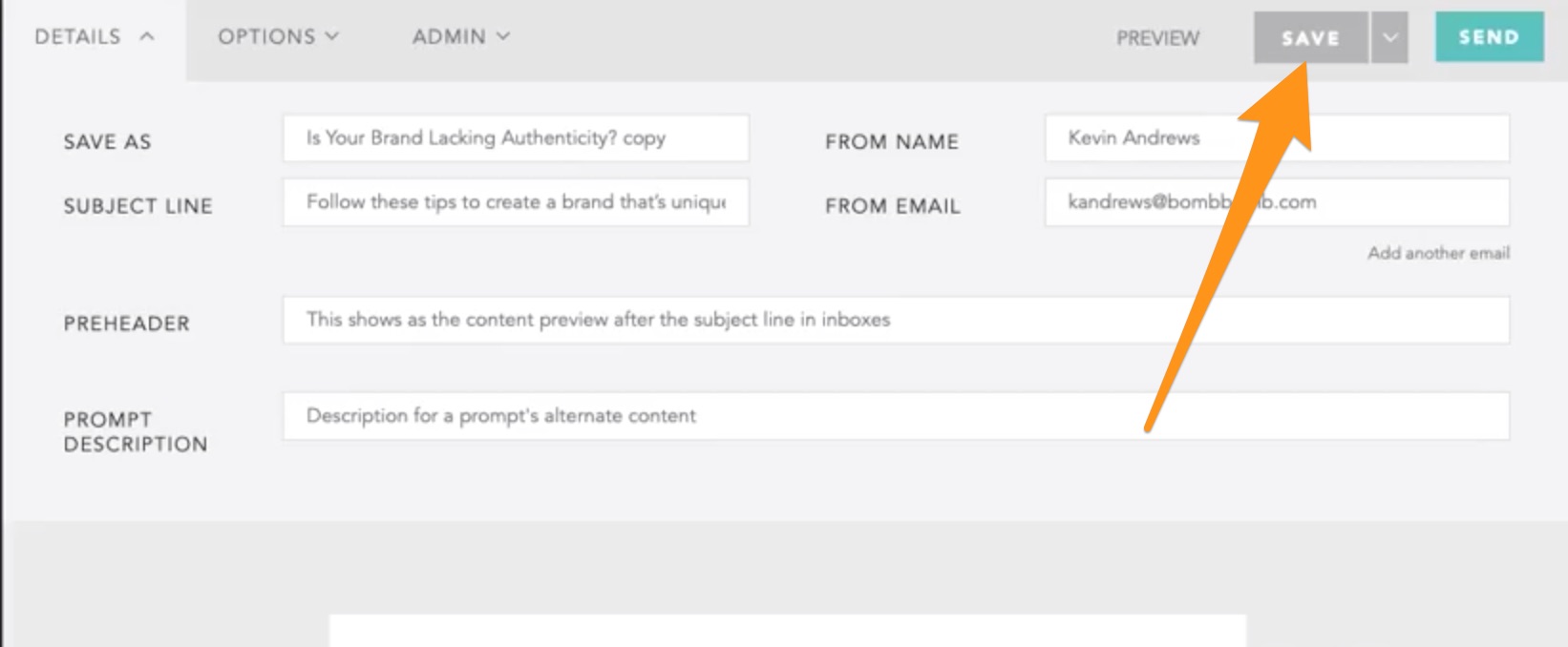 Step 7: Your edited email will now be at the top of your Emails tab as a copy. To post the email to your social media, click the Share icon next to the email.

Step 8: Click the "Copy Link" button and paste into any social media post you'd like. Or you can click the Facebook, Twitter or LinkedIn icons at the bottom to share your post directly to any of these social media accounts.