Some people prefer to know the moment their recipient opens their email, while others prefer to keep their phone on silent and check later. The good news? BombBomb can notify you of the exact moment your emails are opened, or your notifications can be turned off so you won't be bothered.


With the BombBomb mobile app for iOS, you can control whether or not you receive notifications about your recipients opening your emails. Additionally, we'll show you how you can go into your Settings app on your phone and customize how you receive your notifications when you're out and about.
Watch this video or read the instructions below to learn how.


If you prefer to read, follow these step-by-step instructions.
Step 1: To manage your BombBomb mobile notifications, open your BombBomb app and tap the gearwheel icon in the bottom left corner. On the settings screen, you can toggle your push notifications on or off for the app.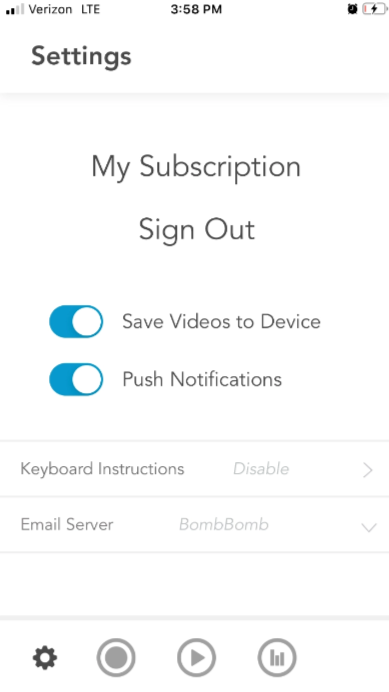 Step 2: You can also manage other notifications on your iOS device itself. To do this, go to your home screen and tap the "Settings" app.
Step 3: Once in your settings, select the "Notifications" option.
Step 4: From here, select "BombBomb."
Step 5: In this area, you can customize the different kinds of notifications you will receive. You can choose how the notifications show up and in what form. Once you're finished, you can just close out of the "Settings" app on your phone.
For a complete walkthrough of how to use the iPhone app, click here!