We love our customers, so we hate to see you go. But if it's time to move on, we totally support you! And, of course, we will be here with open arms if you ever decide to come back. 

Free Trial Members: If you didn't enter payment information when starting your free trial, you don't need to worry about canceling. Your trial will automatically close after 14 days if you decide not to subscribe. If you did enter your credit card information, follow the instructions below to cancel. 
Members of Team Accounts: If you're a member of a team account, it's not possible to cancel online. Please email us at support@bombbomb.com, and we will help you with this request. 
Did you know? If you need a temporary break for financial reasons (or any other reason), you can put your account to sleep for $5 a month. This option allows you to save all your emails, videos, forms and contacts until you're ready to start back up. 
Please Note: If you decide to cancel, your videos, emails, contacts and other information will be permanently deleted. You will have until the end of your billing cycle to access them. Per our user agreement, canceling your BombBomb subscription does not qualify you for a refund or a pro-rated refund. 
Follow the step-by-step instructions below to cancel your subscription.
Step 1: Log into your account. Click on your name in the upper right-hand corner.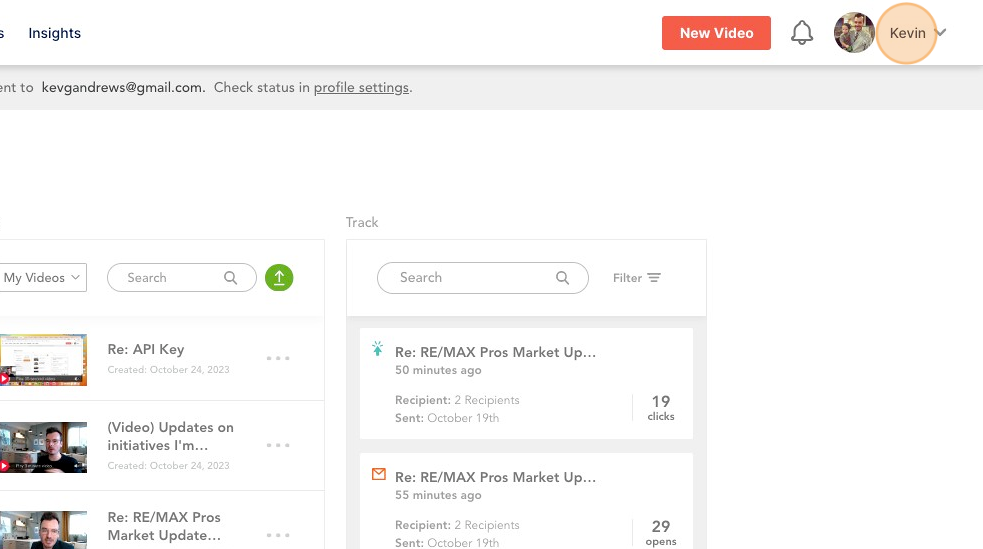 Step 2: Click "Settings" from the drop-down.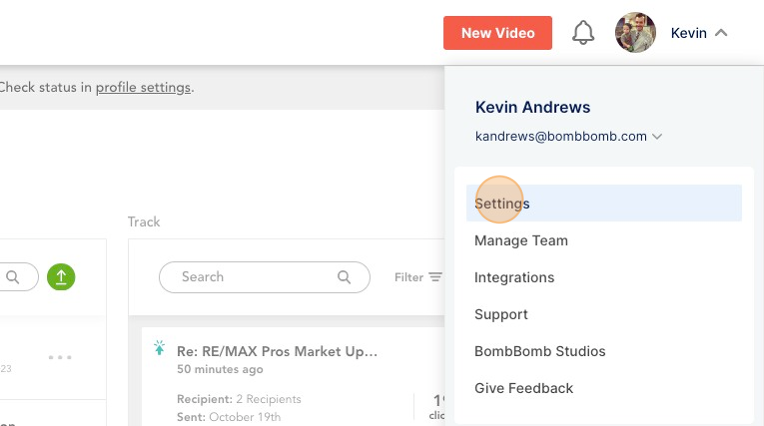 Step 3: On your settings page, select "My Subscription" from the menu on the left.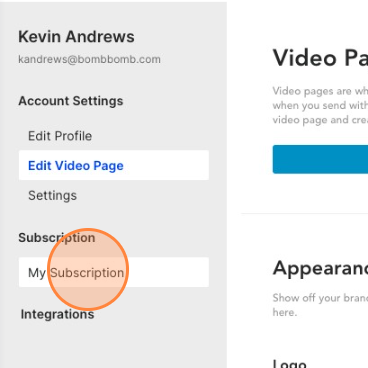 Step 4: On your subscription page you'll be able to see what membership you're currently on as well as what it would look like to upgrade to higher memberships.  If you still want to move forward with canceling then click "Cancel Subscription" at the bottom of your current membership option.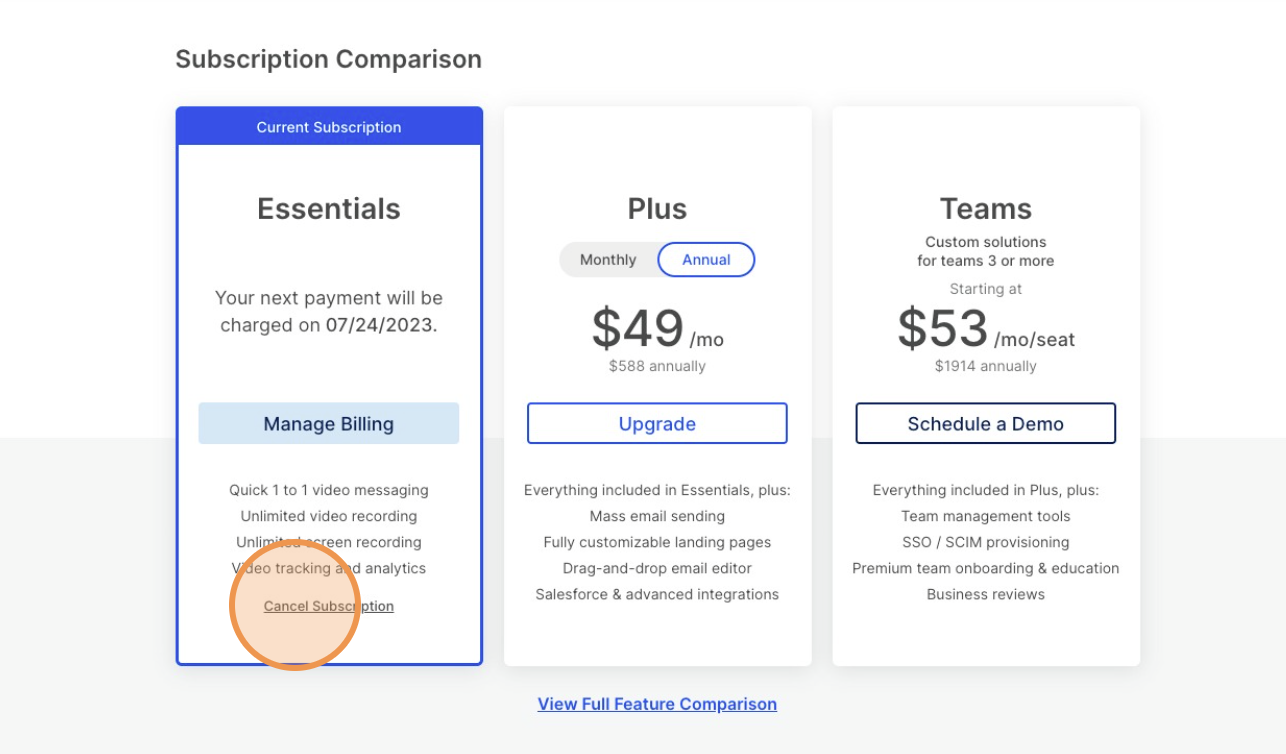 Step 5: Confirm with us that you do want to cancel your membership or if you accidentally clicked that button then you can hop right back into your account as normal.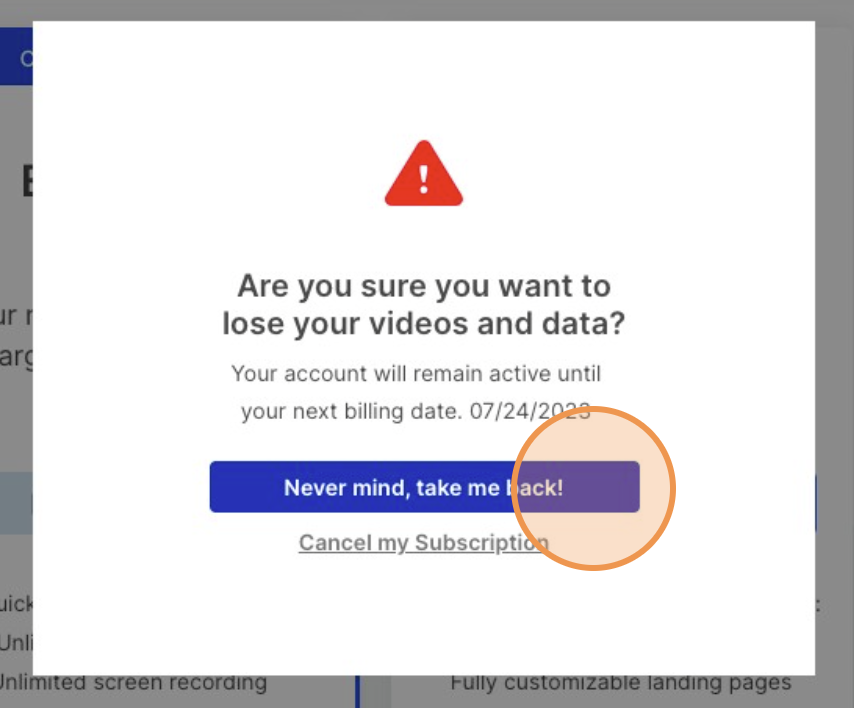 Step 6: You will now walk through a few steps to confirm your cancellation as well as have the opportunity to sleep your membership for only $5/month in order to keep all the videos you've sent live and viewable as well as have the ability to monitor tracking for opens, plays, and clicks.
Step 7: If you choose to cancel your account, you'll be taken to a survey where you have the opportunity to give us feedback on your BombBomb experience. We love hearing about what worked for you and what didn't, so we strongly encourage you to give us any thoughts you have. Once you're finished, click the "Submit" button.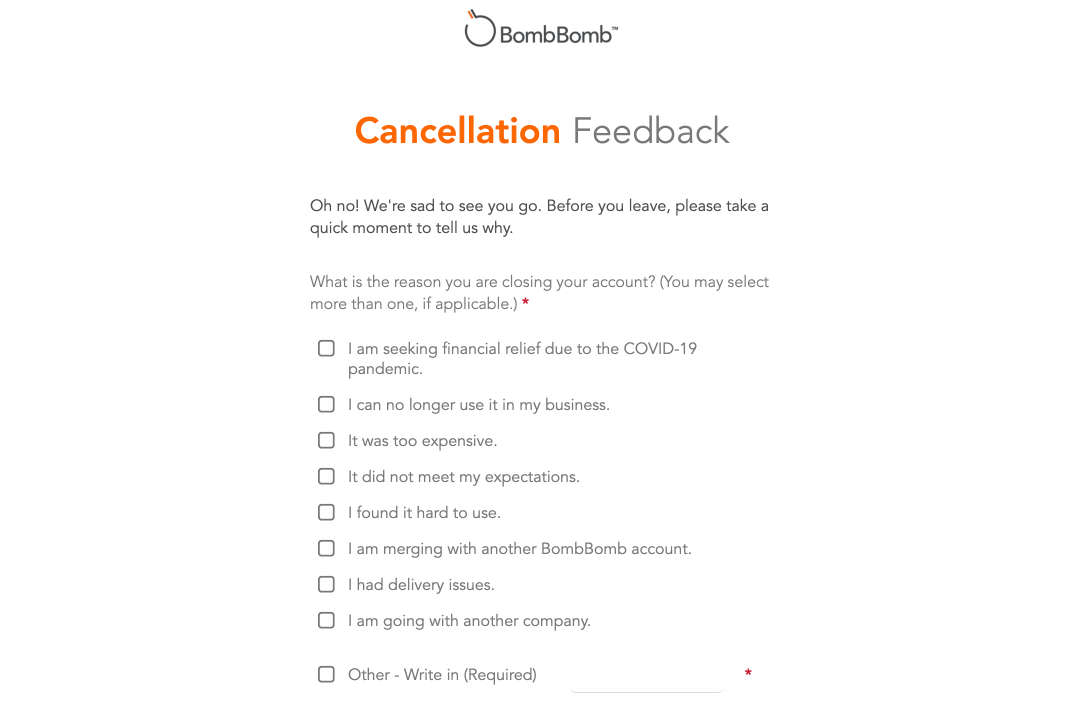 If you have any questions, please contact us at support@bombbomb.com!