Do you have something to explain that you know would be better understood if you were able to do it in person? Well, with the BombBomb camera & screen recorder, you're able to record yourself and your screen at the same time to cover complex details, navigate important documents, demo products, and so much more — all while you're face to face. 
You can access the camera & screen recorder from:
The BombBomb web application

The BombBomb Quick Send

The Chrome Extension

In Gmail or any CRM BombBomb integrates with
You can text your screen recording, email it, or use it in your CRM... the sky's the limit! Watch this video to learn how to use the screen & cam recording, or read the instructions below. 
Here are the step-by-step instructions:

 
Step 1: Launch the screen & cam recorder.
There are two ways to launch the screen & cam recorder in your BombBomb account:
1. Launch your BombBomb video recorder.  In the bottom left corner, you will see a "Record Screen" icon. Click this icon to open the screen & cam recorder.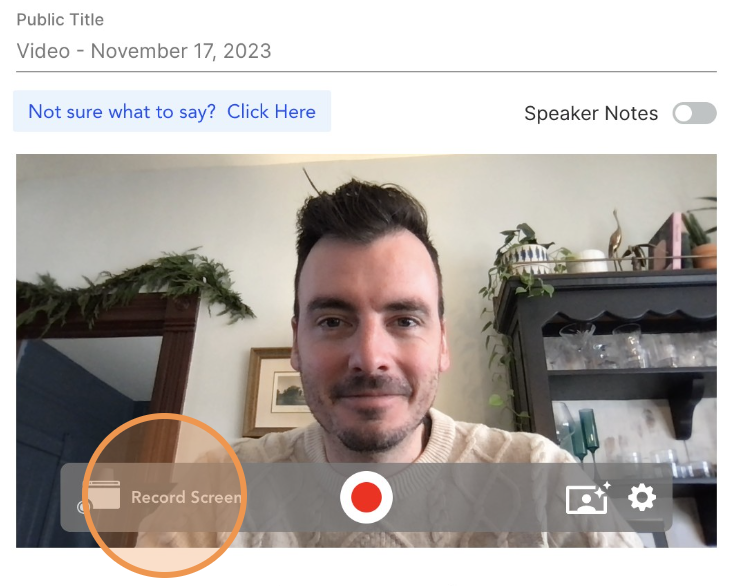 2. Click the "New Video" button in the top right of your account.  From the drop-down select "Record Screen."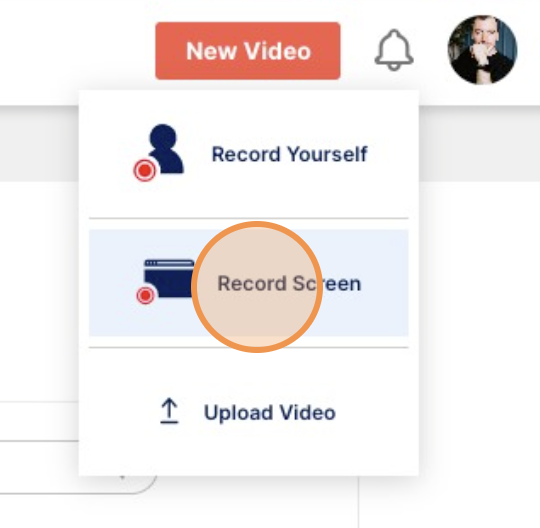 As your recorder launches, you may be prompted to allow the BombBomb Screen Recorder. Go ahead and click "Allow."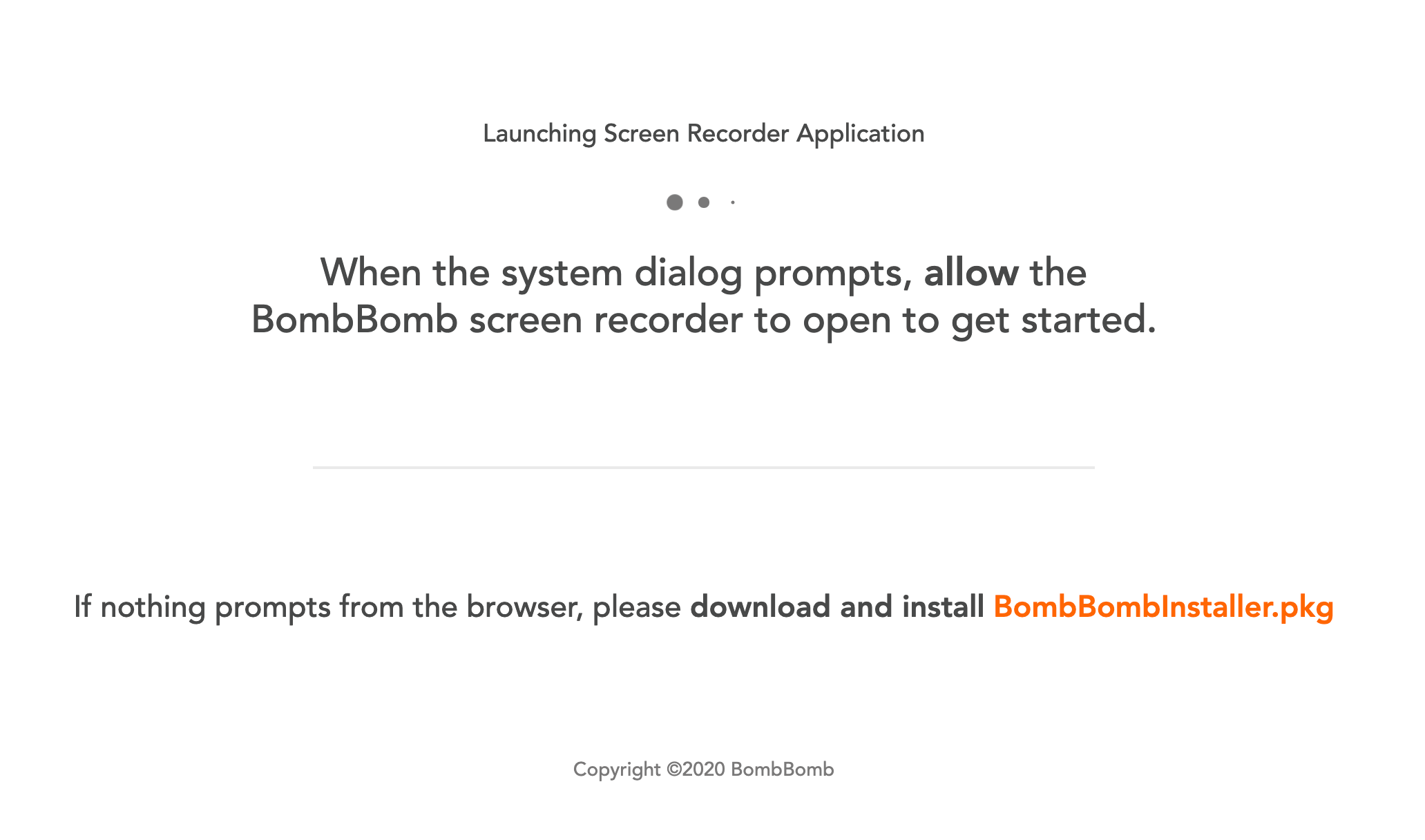 Step 2: Install the camera & screen recorder. If this is your first time opening the application, you will be prompted to download the screen recorder. (You will only need to do this once!) Click "Download it now." Once installed, refresh your browser. Or, click here to install BombBomb's Screen Recorder.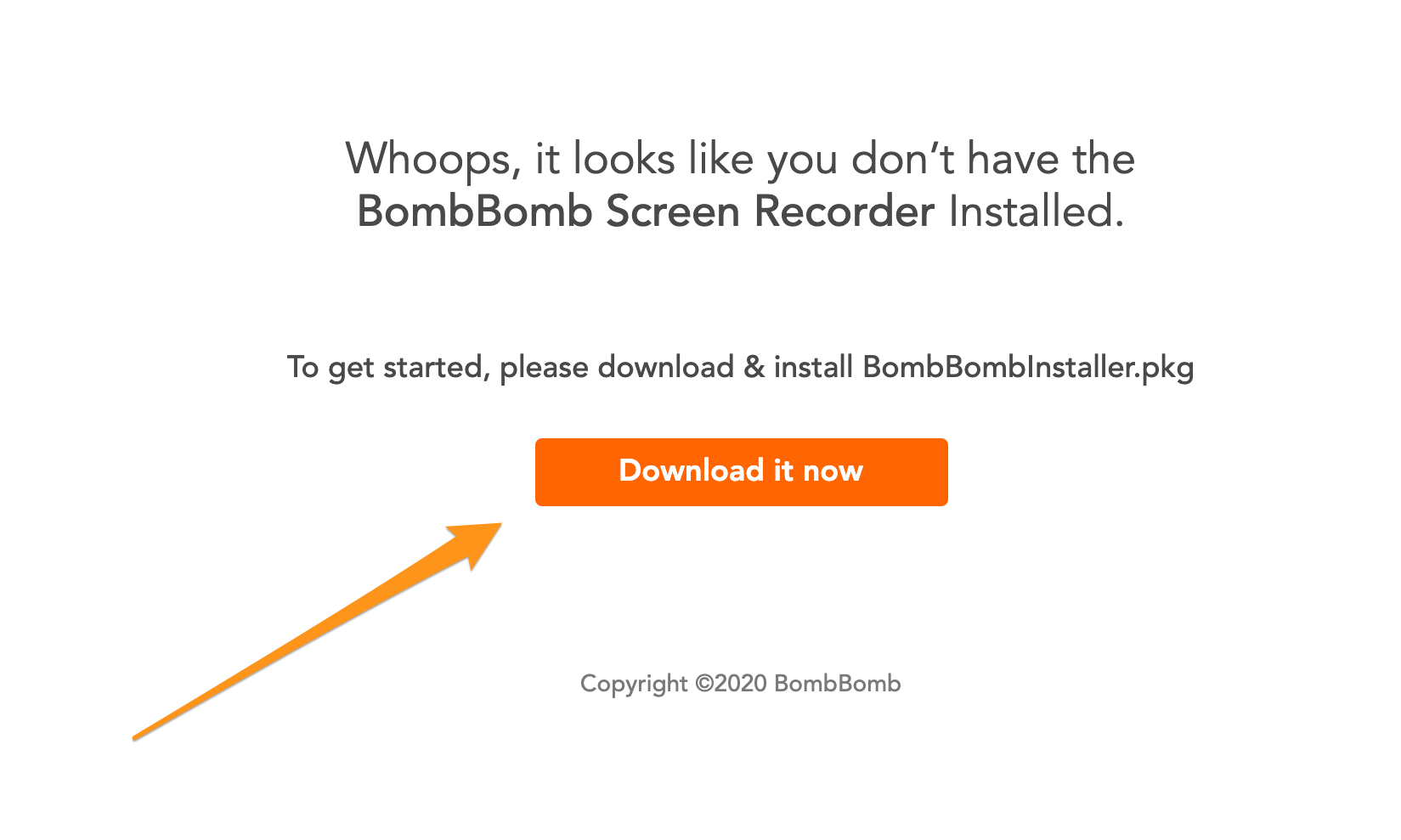 Important note for Mac users: The new macOS now has permission settings for screen recording. You will need to allow BombBomb access to your camera and screen when the pop-up window appears before recording.
To change these settings and allow the BombBomb camera & screen recorder:
1. Open System Preferences.
2. Click "Security & Privacy."
3. Click "Privacy."
4. Click "Screen Recording" to the left and put a checkmark next to "BombBomb Screen Recorder."
Step 3: Select what screen or window you want to record.  Once you launch the screen recorder you will have the choice if you want to record your entire screen or a specific window.  Choose your desired choice and click "Select."
*Pro Tip: If you want to have multiple applications within one screen recorder then make sure you select screen, otherwise you won't be able to show the secondary applications.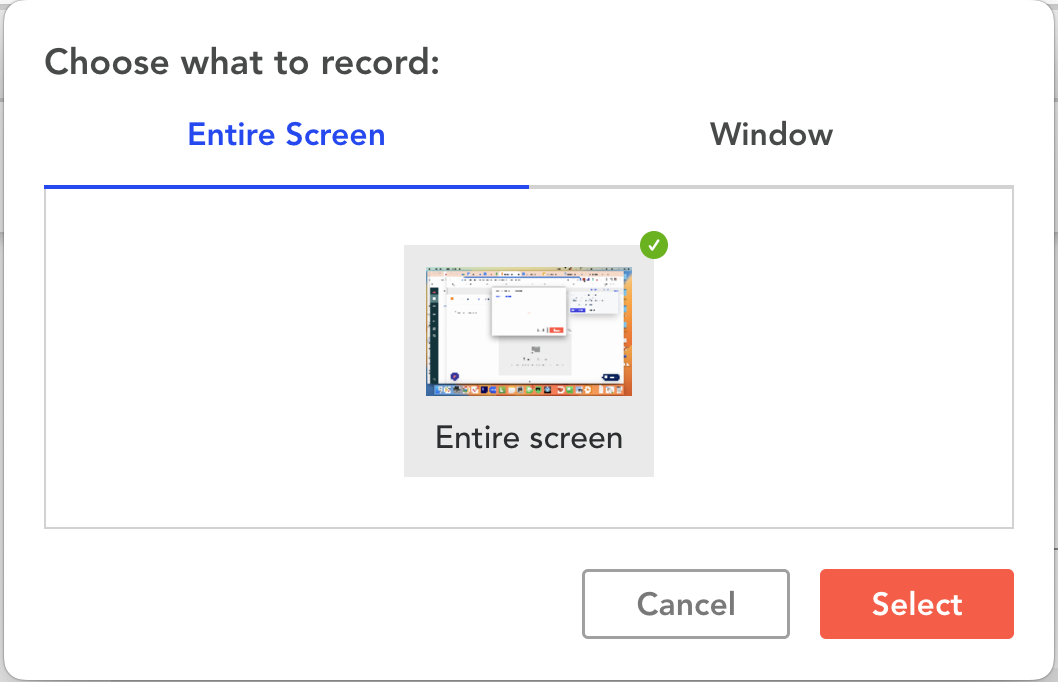 Step 4: Get ready to record. Once the BombBomb camera & screen recorder application opens, you will see the recorder appear in the bottom left corner of your screen. From here, you have a few options:

The "Camera" icon will turn your camera on and off in the event you only want to show your screen. 

T

he "Fullscreen" icon (second from the left) allows you to switch to fullscreen mode.

This is a great option if you'd like to begin by recording yourself and then toggle to record your screen once you've started.

The red circle button will start and stop your recording. 

The "Cancel" button will close the Screen Recorder. 

The "Effects" button will allow you add elements such as a virtual background, background blur, or video effects to your video.

The "Settings" icon will allow you to change which microphone, camera, or computer screen your recorder uses.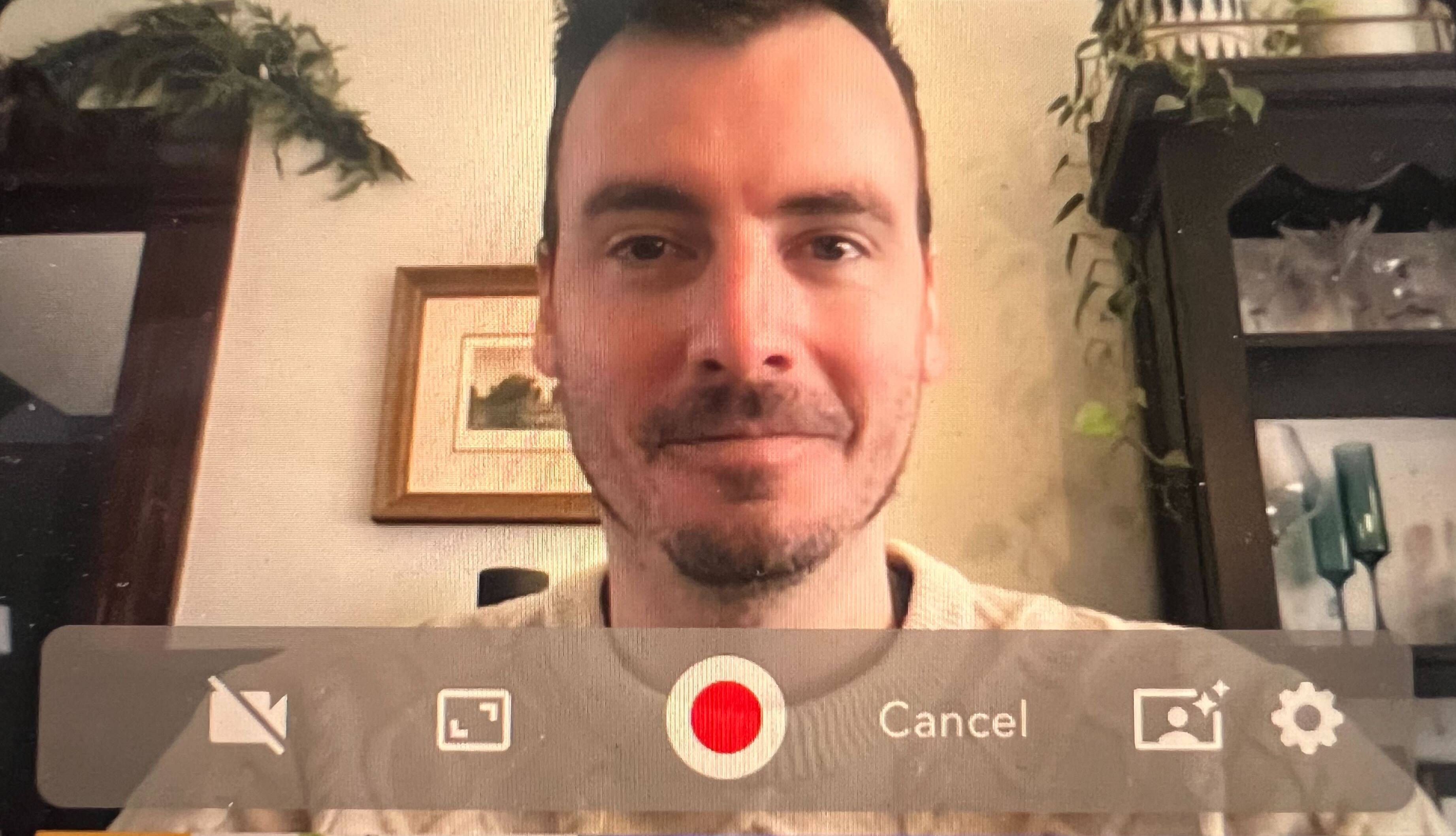 Step 4: Record your video. Once you've started your screen & cam recording, you'll see a 3-second countdown. While recording, you have a few options: 
Toggle your camera off and on using the "Camera" icon.

Switch your camera to fullscreen using the "Screen" icon.

Keep track of your recording length with the timer on the right.

Stop recording using the square red button.
If you need to move your video on the screen while recording, click your picture and drag it to your preferred location.    
Remember: This will record everything that is on your screen. Be sure to close or minimize sensitive information!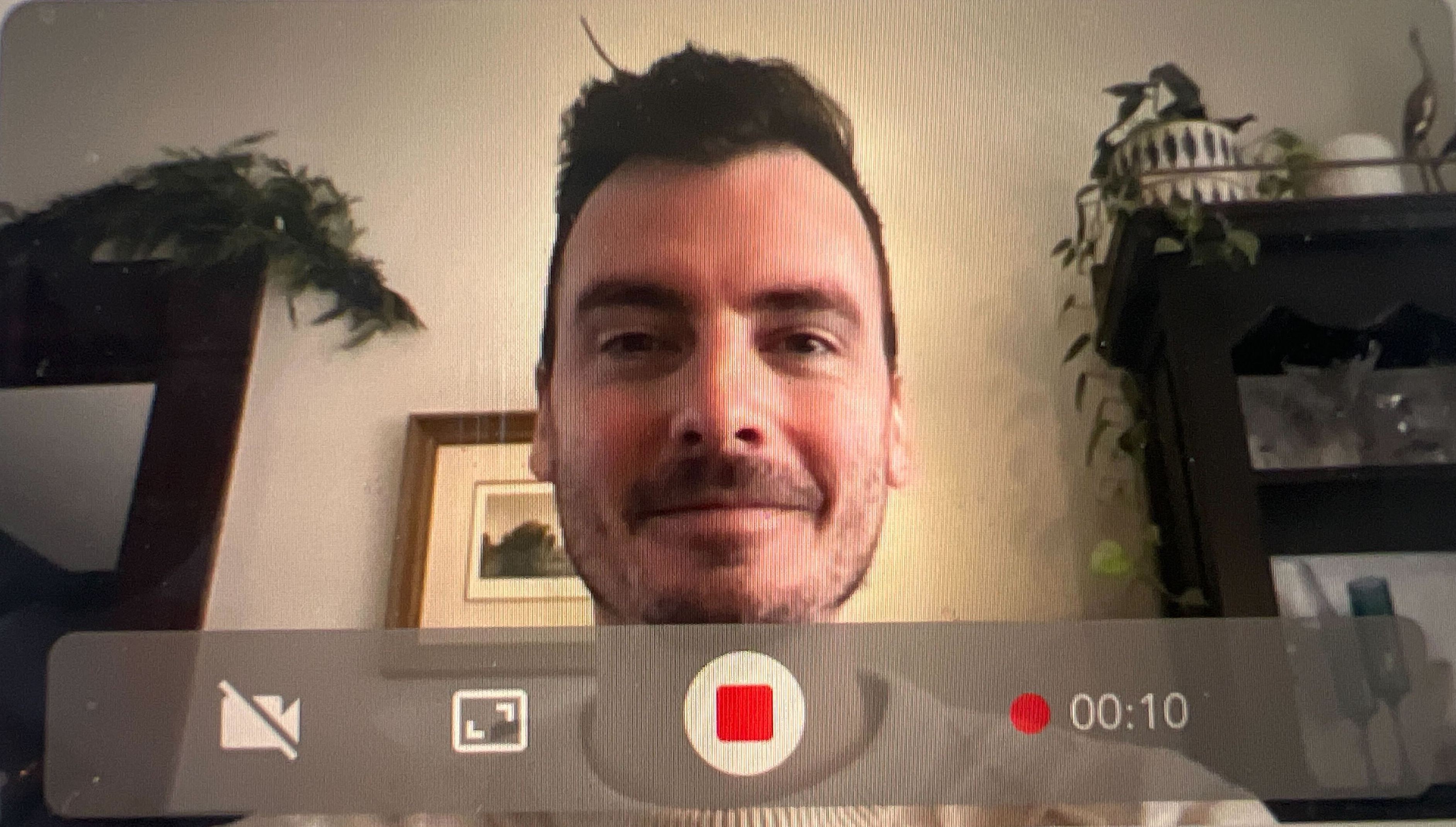 Step 5: Save and send your recording. Once you've stopped recording, you will see a pop-up letting you know the video will be available in your original window. You can re-record your video here or click the "Continue" button. 
From your original window, you'll have the same functionalities you have on any other BombBomb video to edit and send your message.
Now you're ready to send your screen recording!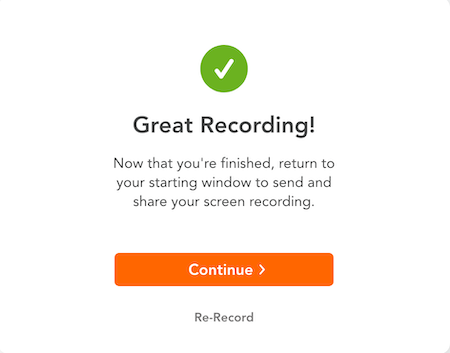 Looking for more guidance? No problem. Check out these BombBomb camera & screen recorder best practices the get the most out of your experience, today!