If you are a manager of several teams, you know how confusing things can get. Each of your teams may have different strategies of connecting with others and different ways of reaching out and marketing themselves with different content. It can get hard to keep all of these teams separate and can potentially require a lot of work. To reel all of this in, you can manage several small teams under one umbrella with BombBomb!
In BombBomb, you can create sub-teams! If you manage several teams within a division or region or if you're in charge of a few smaller branches, this feature is just for you. With BombBomb subteams, you can manage and track each of your subteams to ensure they're doing what they need to do in order to build relationships with others and better your business. You can even share specific content, such as templates, emails, Snippets, and more to your subteams, giving them each exactly what they need and nothing more to avoid confusion. 
To learn how to create a sub-team in your team account, check out the video above!
***Note: You can also designate administrators for your subteams and manage the administrator permissions to ensure they have only what they need. To take advantage of setting different admins to manage your subteams, check out this article about managing administrator permissions. 
If you'd prefer to read, here's a step-by-step: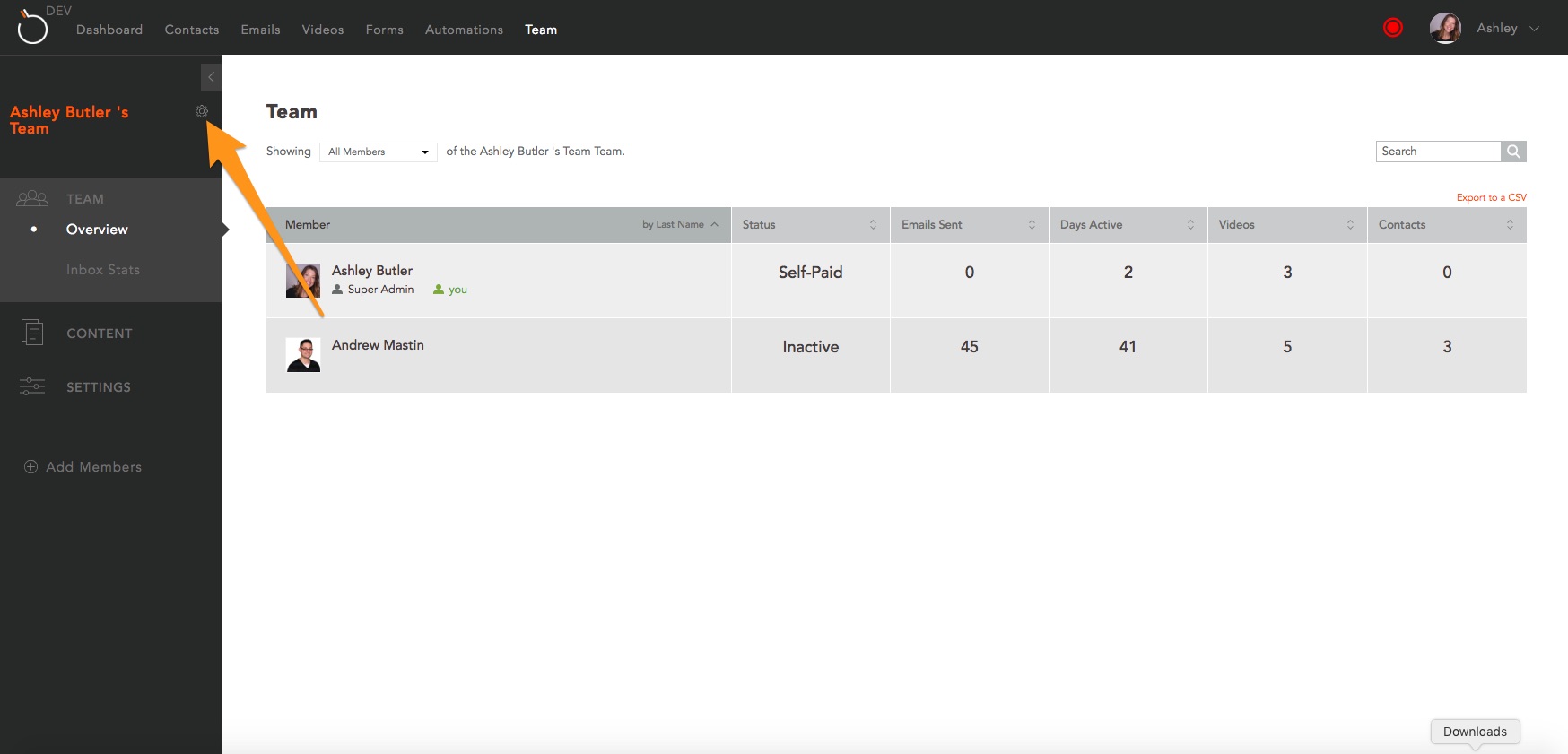 Log into your BombBomb account and click the "Team" tab. You'll now see your team page. To add a sub-team, click the gearwheel icon next to the name of your team on the left.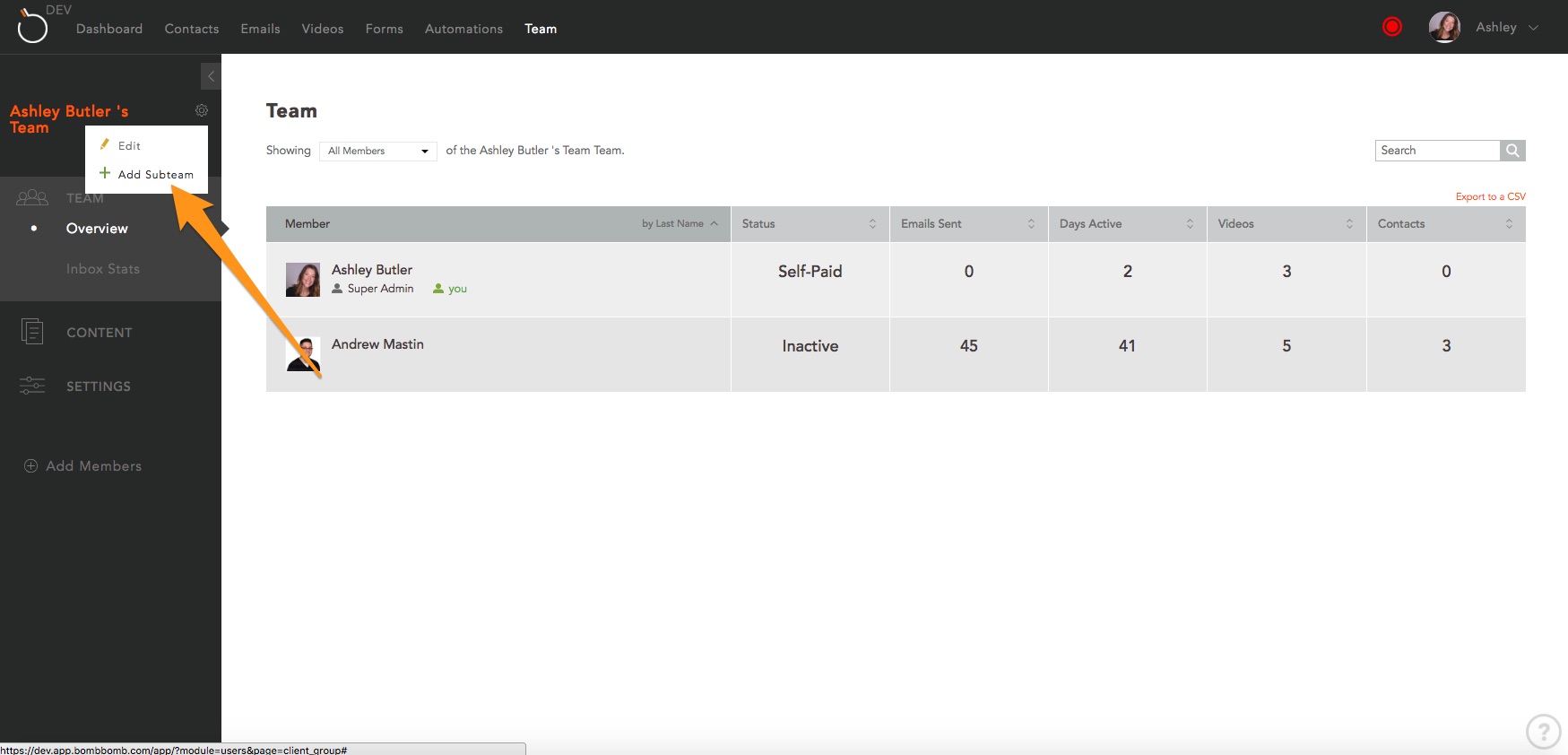 You will see an option to add a sub-team to your team. Click the "Add Subteam" option.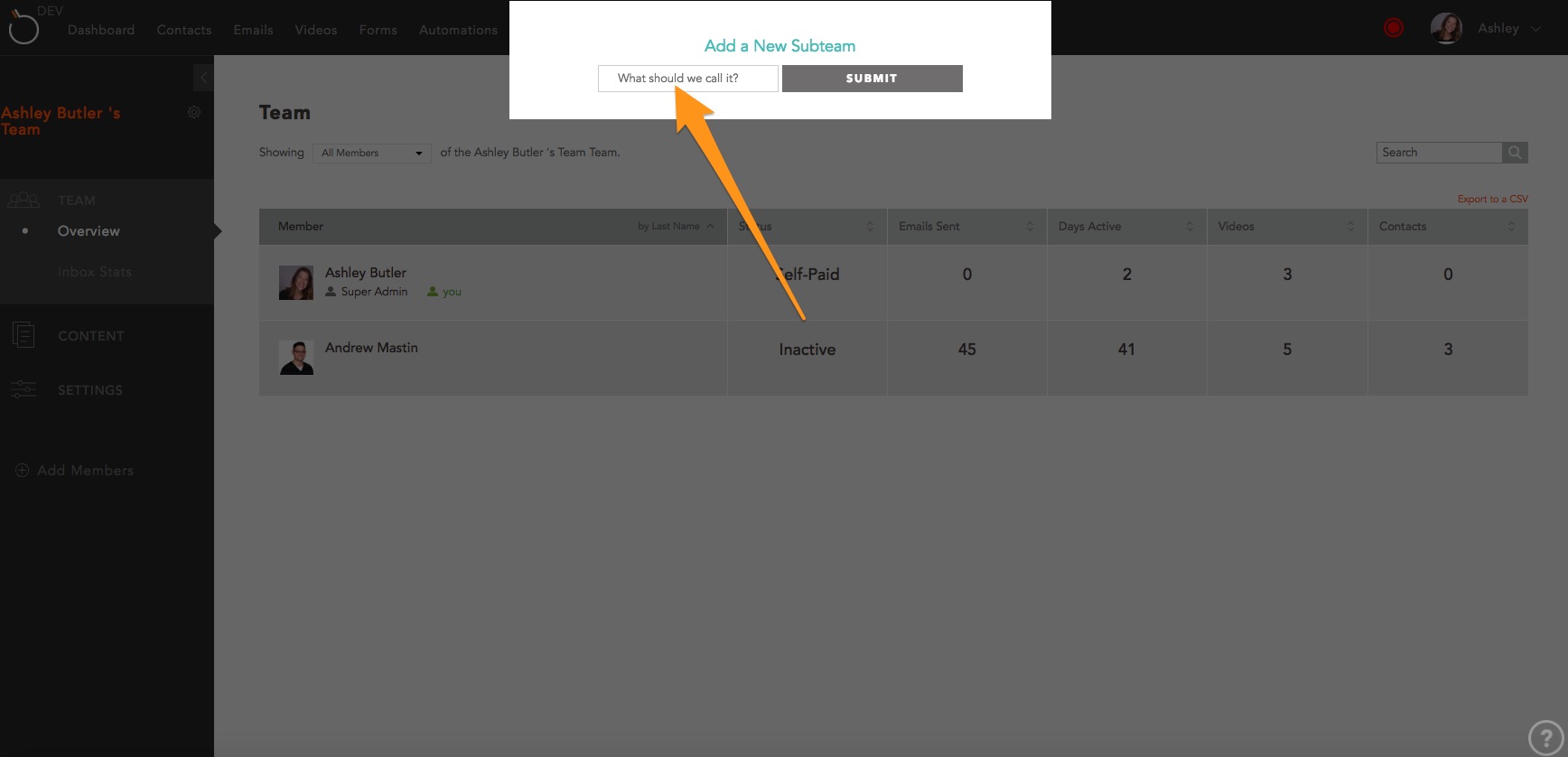 A pop-up will appear asking you to name your sub-team. Fill in the name of your sub-team in the field.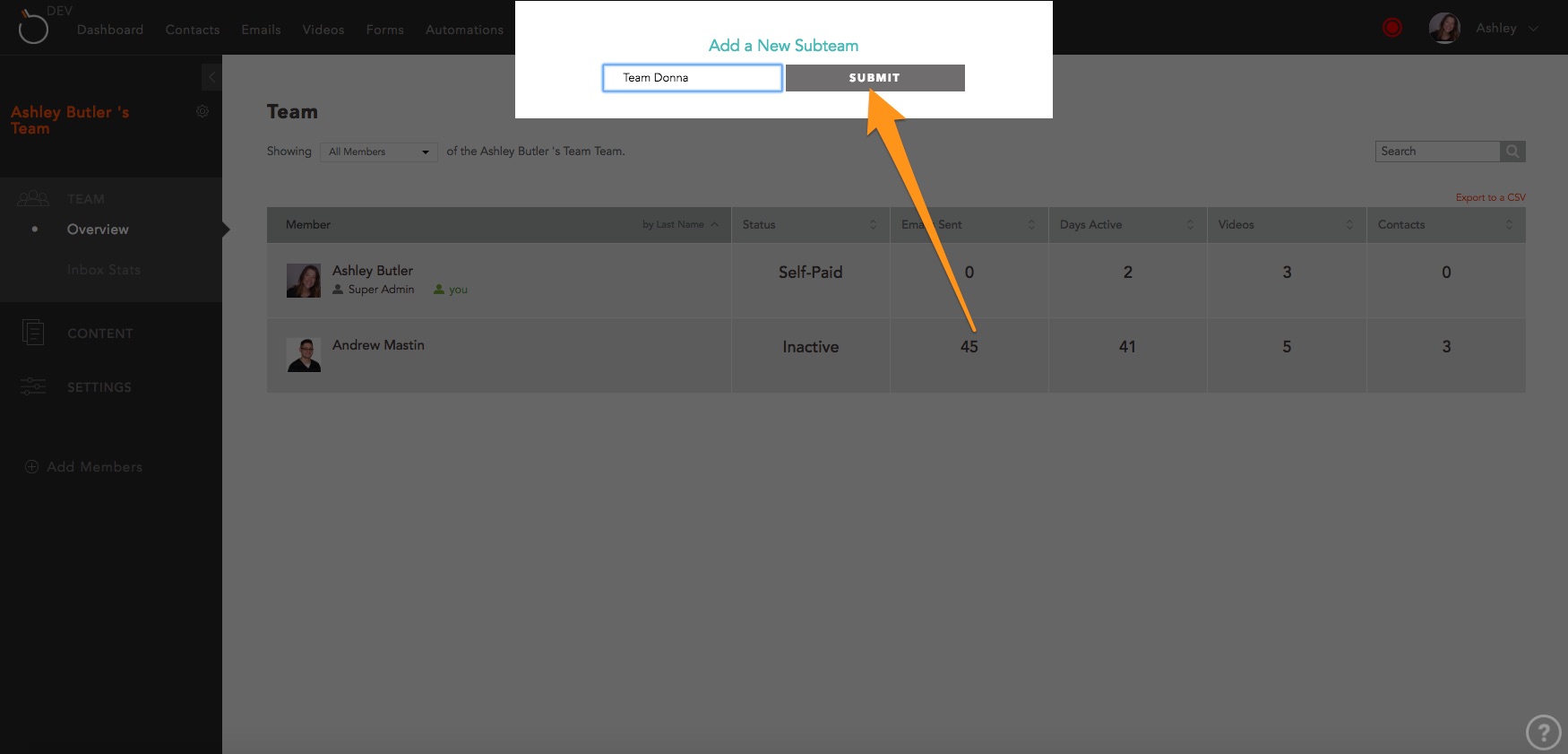 Once you've named your sub-team, click the "Submit" button. Your sub-team has now been created!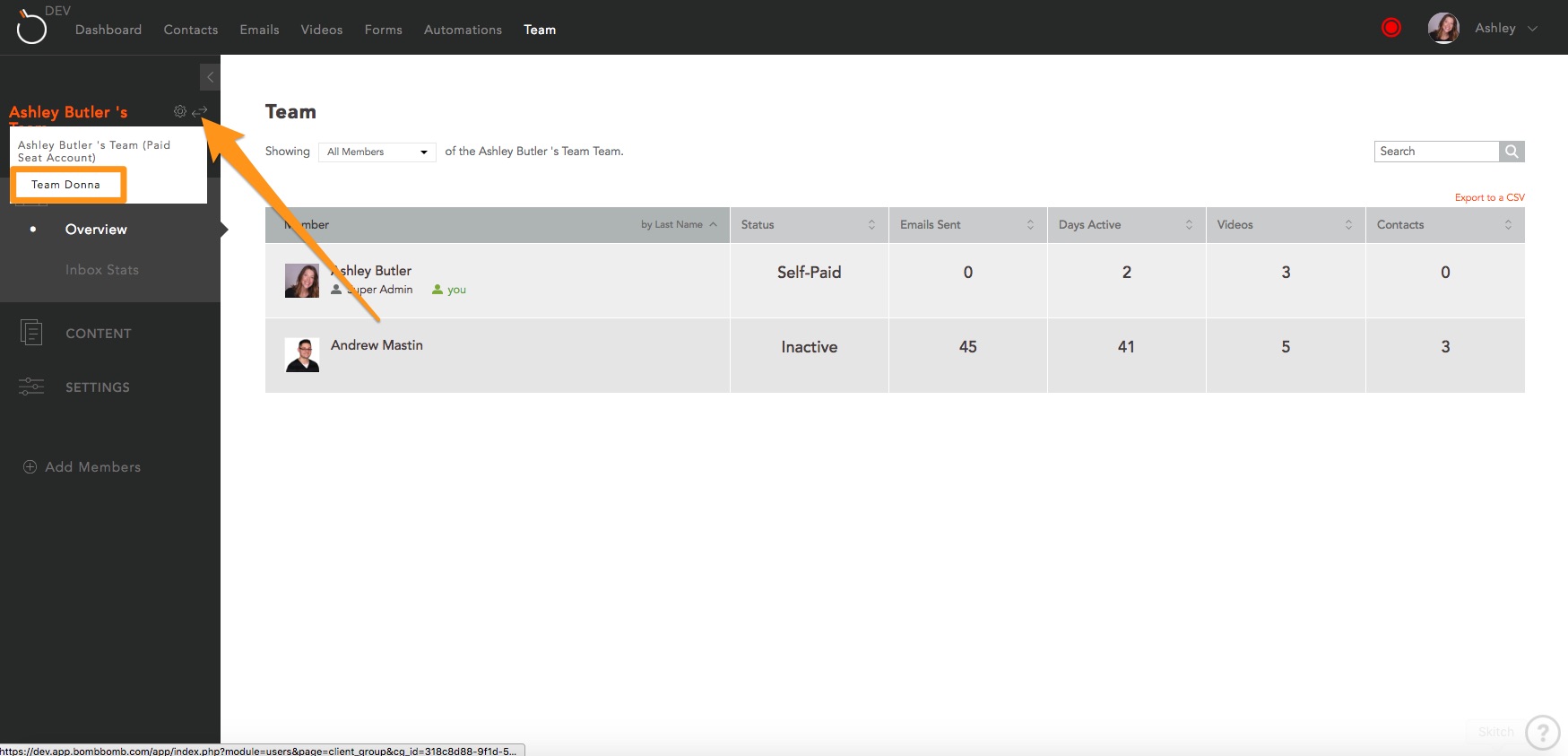 Now on your team page, if you ever wish to view your sub-team's page, click the page switch icon (appears as an arrow facing left and an arrow facing right) next to your team's name. You will now see your sub-team listed under your team pages, which you can view at any time.