If you're here because you just subscribed to Prompt for Mortgage, congratulations! You have taken a large step to invest in your business and your relationships, and you're going to see amazing results by communicating through video.
There are a couple things you need to do to begin using Prompt. After completing just a couple easy steps, you'll be able to send relevant campaigns to your sphere of influence that will spark engagement and get conversation going.
Watch this video to learn how to set up Prompt for Mortgage or keep reading below.
For step by step instructions, follow the steps below:
Fill out your profile information
Step 1: In your BombBomb account, hover over your name in the top right corner and click "Edit My Profile."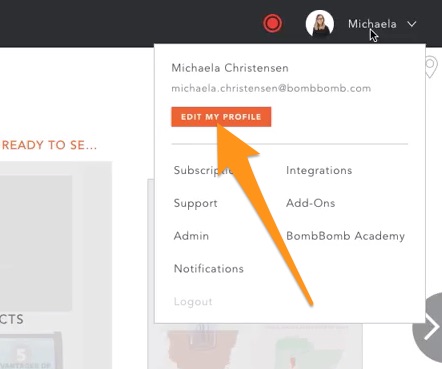 Step 2: Go through each tab in your profile and fill out your information. This information will be used to populate your signature at the bottom of your emails.

Connect your social media platforms
Step 1: Click the Prompt tab. In the left panel, click "Social Settings."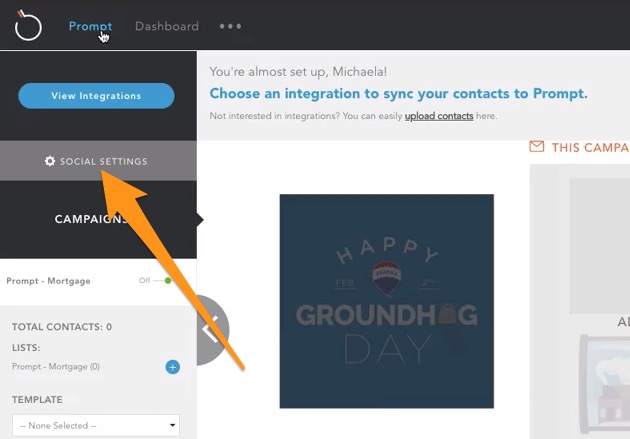 Step 2: Click "Connect Now" next to any social media accounts you want to connect to BombBomb. This will allow Prompt social content to be posted on your social media platforms automatically.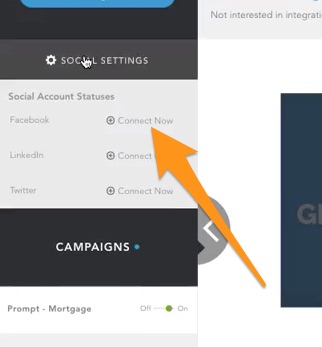 Step 3: Follow the on-screen prompts to connect your accounts. Make sure to select your Facebook business page. BombBomb is unable to post to your personal Facebook account because of Facebook's restrictions. Once you've followed the prompts, you'll be taken back to your Prompt page. Underneath the new "Pages" section, click on the checkbox for your business page.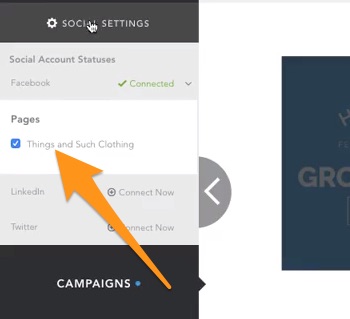 Step 4: Though your social media accounts are now connected, they may not be turned on to post Prompt content. Toggle on your content next to the social media account you've just connected.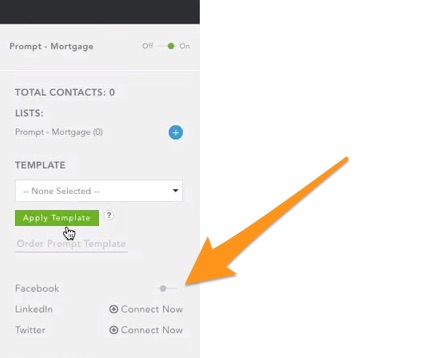 Add contacts to your campaigns
Step 1: The next step is to add contacts to receive your Prompt Mortgage email campaigns. To do this, click the blue button with the plus sign next to "Prompt Mortgage" under the Campaigns section in the left panel.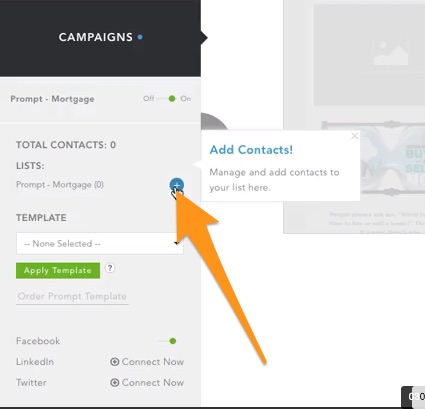 Step 2: In the pop-up, select the "Browse" button to choose your .csv file from your computer. (Your contacts must be in a .csv file in an Excel spreadsheet. When your contacts are in an Excel spreadsheet, you'll need to "Save As" and select the .csv option.) Select the .csv file from your computer and click the "Open" button.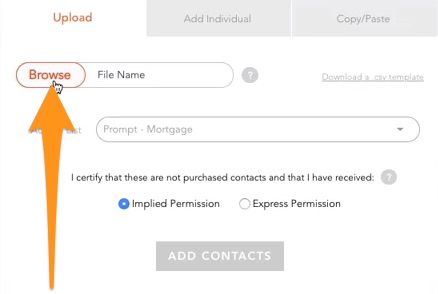 Step 3: Once you've selected your .csv file, click the dropdown next to "Add to List" and select the Prompt Mortgage contact list. Then, click the "Add Contacts" button.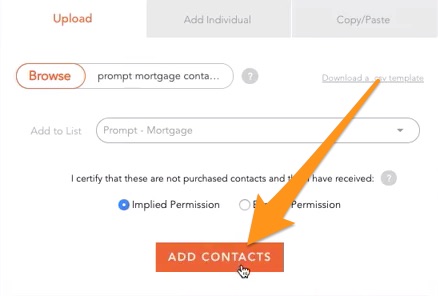 Step 4: Once the .csv file has uploaded, you'll have the option to choose labels for each column in your .csv file. (If you have birthdays or anniversary dates, you'll be able to set up one-to-one campaigns for your contacts.) Choose the label names you'd like for each column or create a new label. Once you're finished, click the "Import Members" button. Now the contacts will be imported into your Prompt Mortgage campaign.

Add contacts from a pre-existing contact list
Step 1: If you'd like to add a pre-existing contact list to your Prompt Mortgage campaign, you can do that, too. To do this, go to the Contacts tab at the top of the page. Find the contact list you'd like to add to your Prompt Mortgage campaign and select it.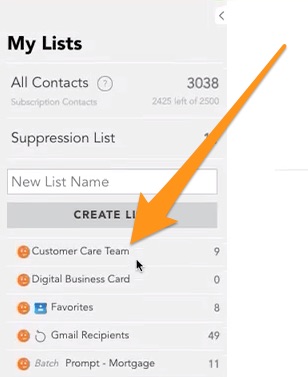 Step 2: Within your contact list, click the gearwheel icon next to the contact list name. Click the "Copy" option.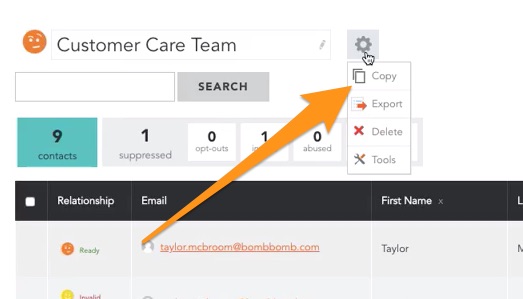 Step 3: You'll see a dropdown where you can select which list you'd like to choose. In the dropdown, select the "Batch Prompt - Mortgage" list and then click the "Select" button. This will automatically copy all of the contacts in your list to your Prompt campaign campaign.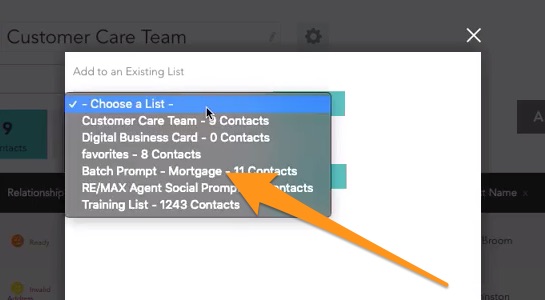 Review your Prompt Mortgage campaign
Step 1: The last thing to do is to review your Prompt Mortgage campaign. In your carousel on the Prompt page, you'll see your next scheduled campaign listed. At the top of the campaign, it will show where the campaign is scheduled to post, the date it will post, and the time it will post. To edit the campaign, click on "View & Start."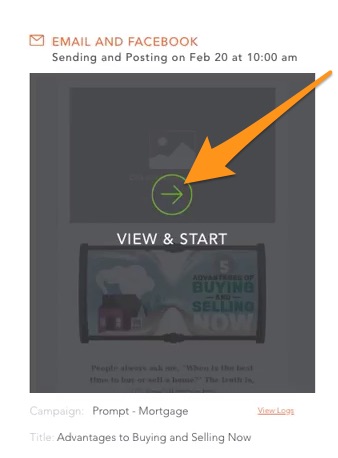 Step 2: You will then be able to see your Prompt campaign. On the right side, you can run through some options to edit the campaign how you'd like.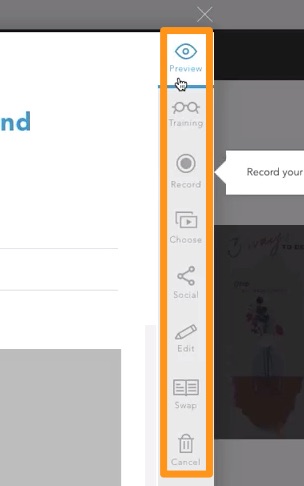 Preview lets you preview the campaign as it will show to the sender.
Training will show you a video explaining what this month's campaign is and the "why" behind it so you can have context.
Record will let you record a video to insert into your campaign. Once you record a video, it will automatically be inserted into your campaign email at the top.
Choose allows you to select a pre-recorded video from your video library to insert into your campaign. This is helpful for if you record your video on the go and want to insert it into your campaign later.
Social allows you to view the scheduled social post for that campaign. You can also edit your social post to say something different when it finally posts.
Edit allows you to edit the text of this month's campaign. This is perfect for customizing the text body.
Swap lets you swap out your campaign for a different piece of content. If you are wanting another piece of content for this month, you can click this button to select one of three other options.
Cancel lets you cancel your Prompt campaign. If you'd like to refrain from sending this campaign or if you'd like to send this campaign at another date, you can click this button. The draft of the campaign will then be available in your "Emails" tab so you can send it later when you want.