You've added the BombBomb Chrome extension and you're ready to send out a personalized video, but something isn't right. The extension just won't work. So what do you do?
Watch this video, or read the step-by-step instructions below to learn the steps to take if things go awry with your Chrome extension.

Step 1: Log out and back in.
Sometimes, issues can be fixed by simply logging out of the Chrome extension and back in. Right click on the BombBomb icon in your Chrome url bar and select "Options."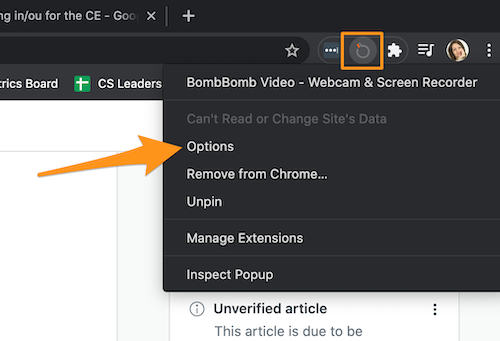 Click "Logout" in the upper right of your screen. Then log back in with your credentials and check if this has fixed the issue. (If using in Gmail, refresh your Gmail page.)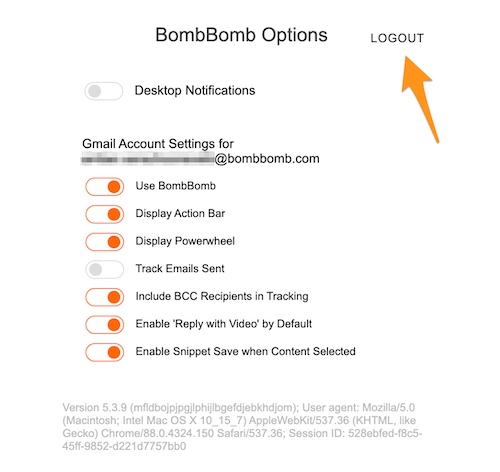 Step 2: Make sure Chrome is up-to-date.
Usually, Chrome updates itself when you close and reopen your browser. If you have left your browser open for a while, you might need to update. Go to chrome://settings/help to check if Chrome is up-to-date.
When you open this screen, it will begin checking for updates to Chrome and automatically begin to download and install the updates.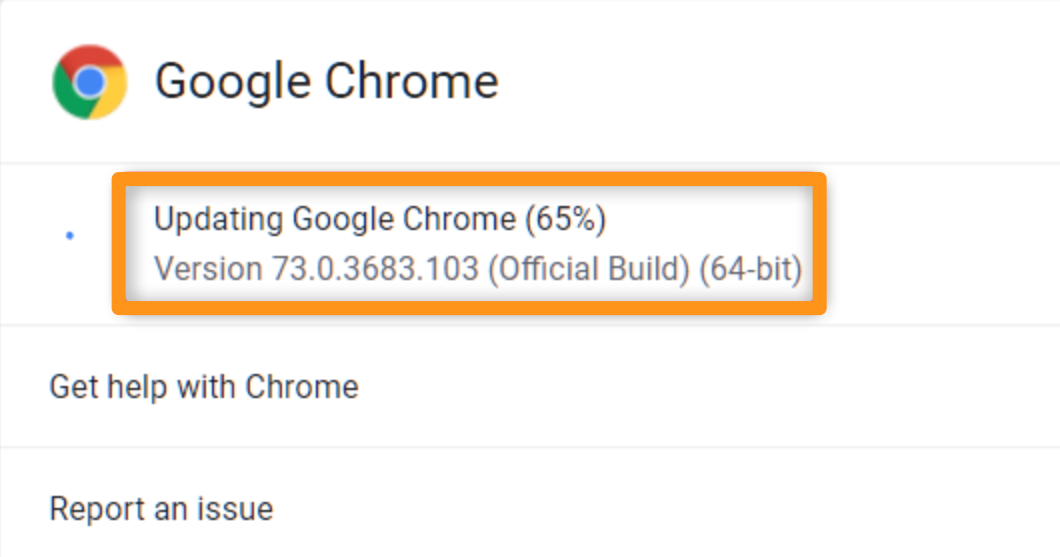 Once done, simply click "Relaunch." Check and see if this has fixed the problem. If not, keep reading!
Quick Tip: If your page says "Google Chrome may not be able to keep itself updated" or "Update Failed," your admin may have disabled updates. In this case, check with your admin.

Step 3: Make sure the BombBomb extension is up-to-date.
Go to chrome://extensions/ to view your extension page. Next, toggle on "Developer Mode" in the top right of your page.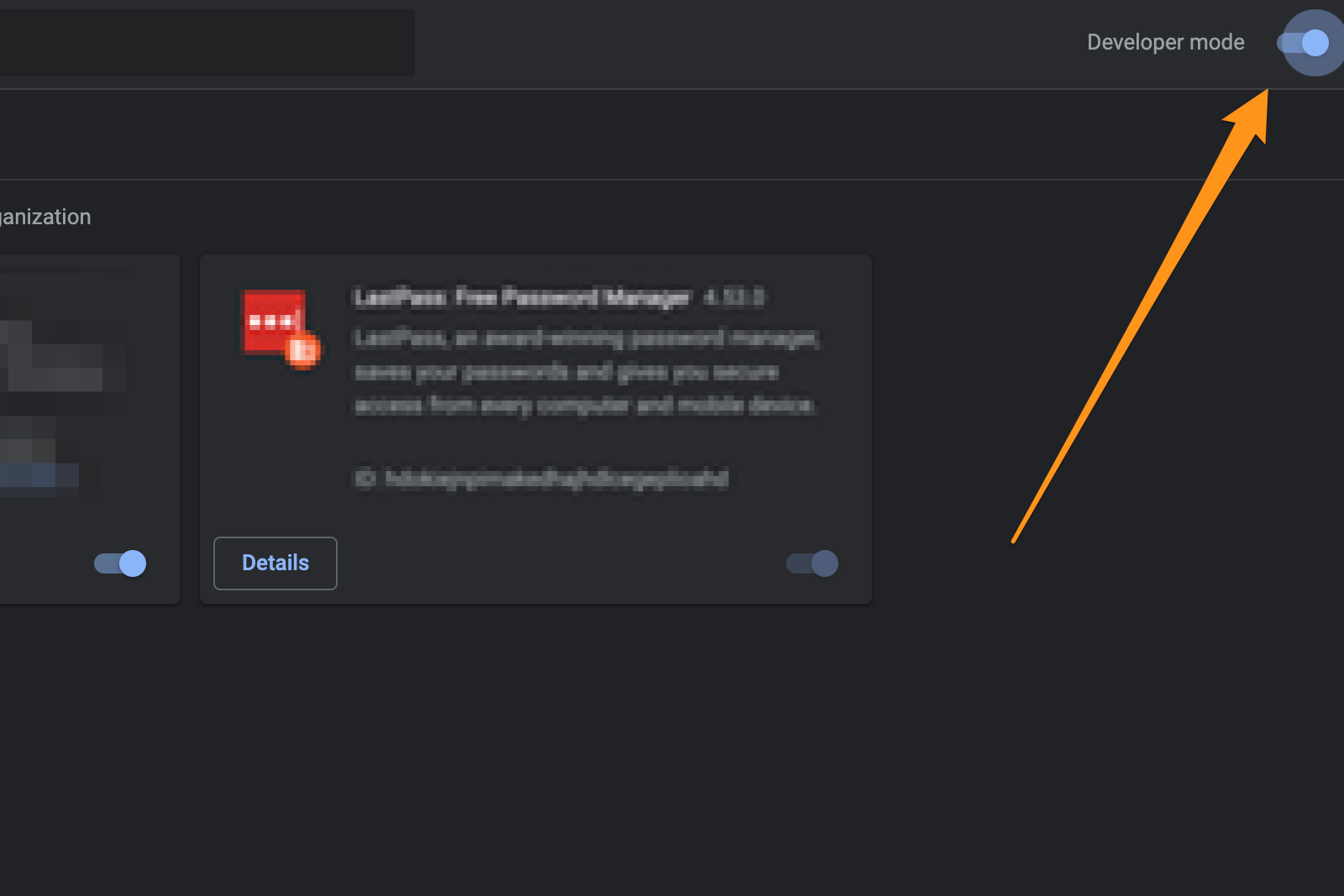 Lastly, click on the "Update" button in the banner across the top of the page to update your extensions. Refresh your browser and check if this has fixed the issue.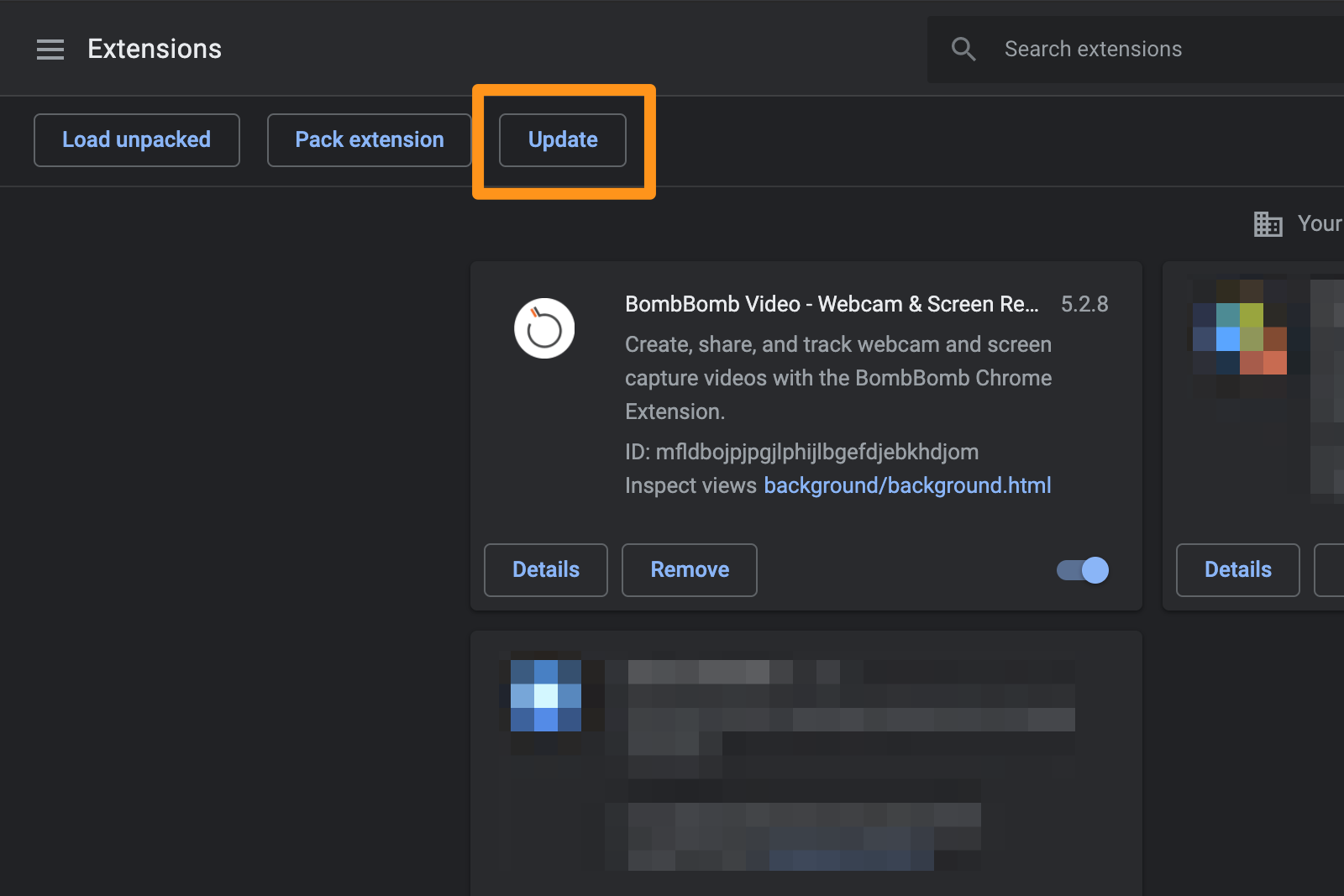 Are you still having the same issue? OK, let's go on to step 3.
Step 4: Check for competing extensions.

Other extensions you've installed in Chrome may require access to some of the same features as BombBomb. Whether they are accessing the camera or Gmail tracking, extensions will compete with BombBomb and sometimes malfunction.
Go to chrome://extensions/ to view your extension page. Temporarily toggle off extensions that add functionality into Gmail or video controllers that have the ability to speed up, zoom, etc.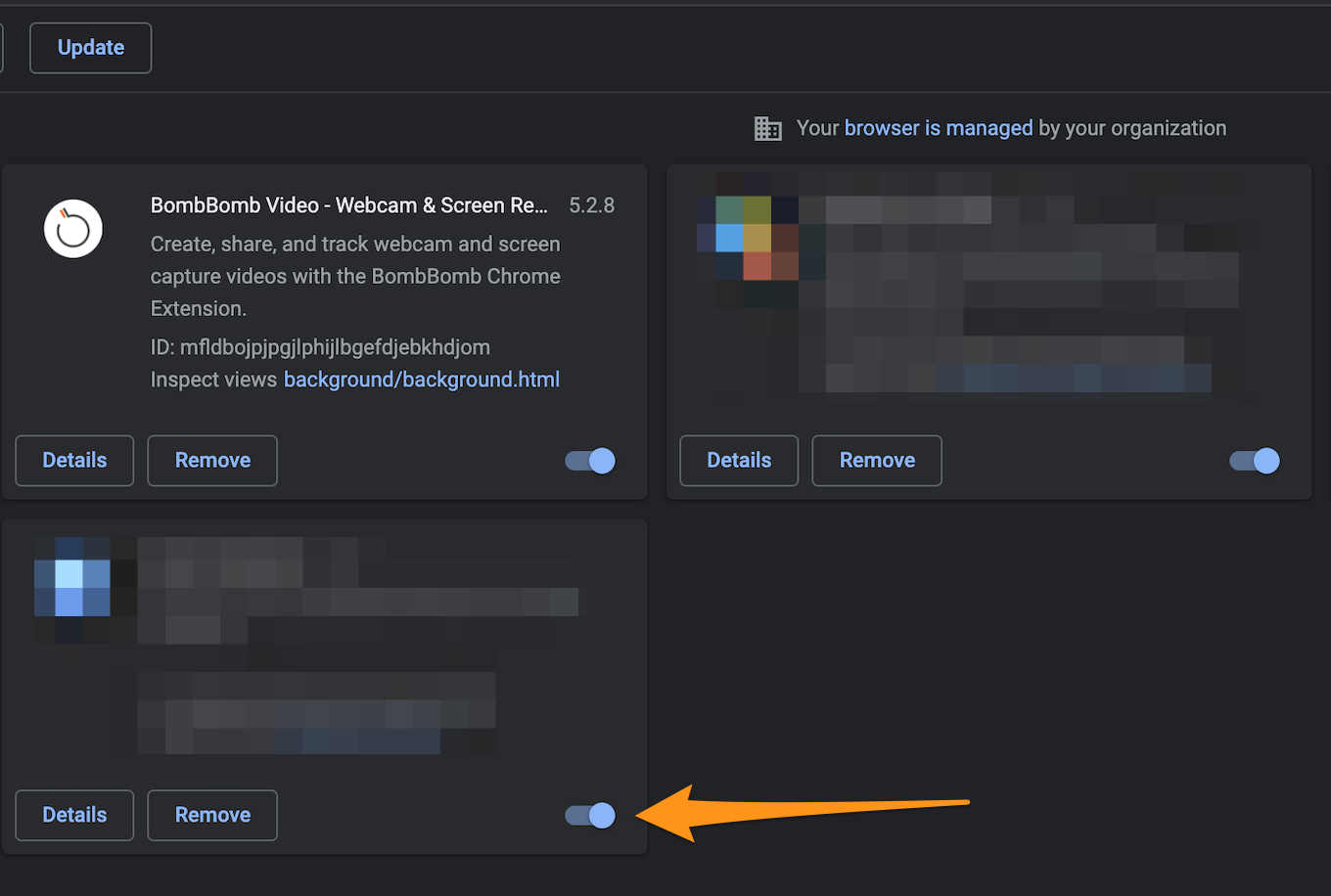 Here are some of the extensions that conflict with BombBomb.
Extensions that compete with tracking:

Boomerang

MailTag

Mailtrack

Outreach

Salesforce

SalesLoft

Yesware

Zoho Mail Tracker



Extensions that compete with video/recording:
Video Speed Controller

Video Speed Manager

Video Speed Master
Refresh your browser and check if this has fixed the issue. If not, hang in there—you're doing great!
Step 5: Check your camera and microphone permissions.

If the camera is not working in your extension, you will want check your permissions. If that's not the issue you're experiencing, skip to Step 5.
Go to chrome://settings/content/camera?search=camera. Ensure that the camera and microphone are allowed for BombBomb. If you find that BombBomb is blocked, click on the arrow to the right of BombBomb Video and click to allow the microphone and camera.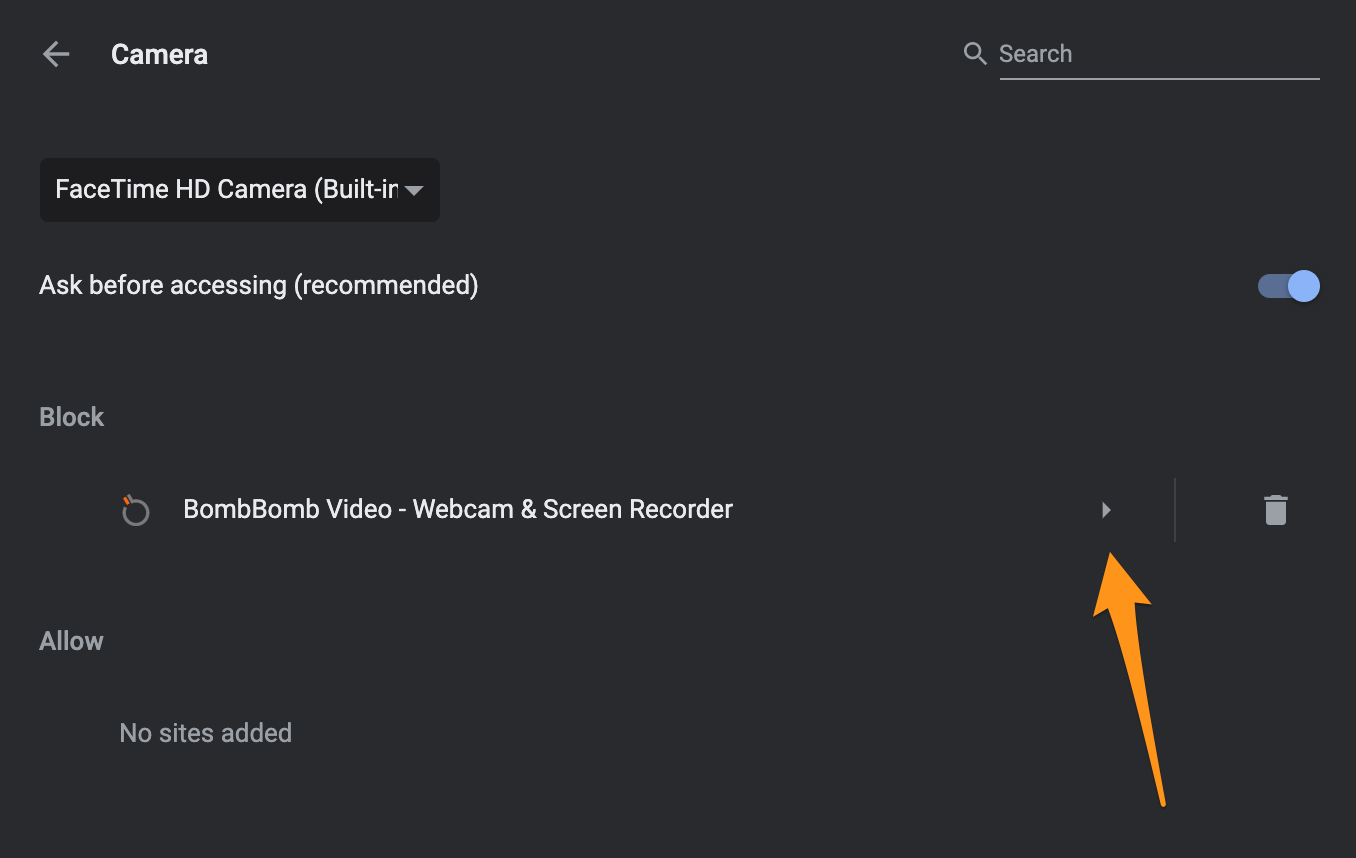 Refresh your browser and see if this has resolved the issue. If you are still having trouble accessing the camera and microphone, this article will give you additional steps to take.
Step 6: Uninstall and reinstall the extension.
OK, last step. Let's try uninstalling and reinstalling your BombBomb extension. In the top right of your Chrome browser, click on the icon with the three vertically stacked dots.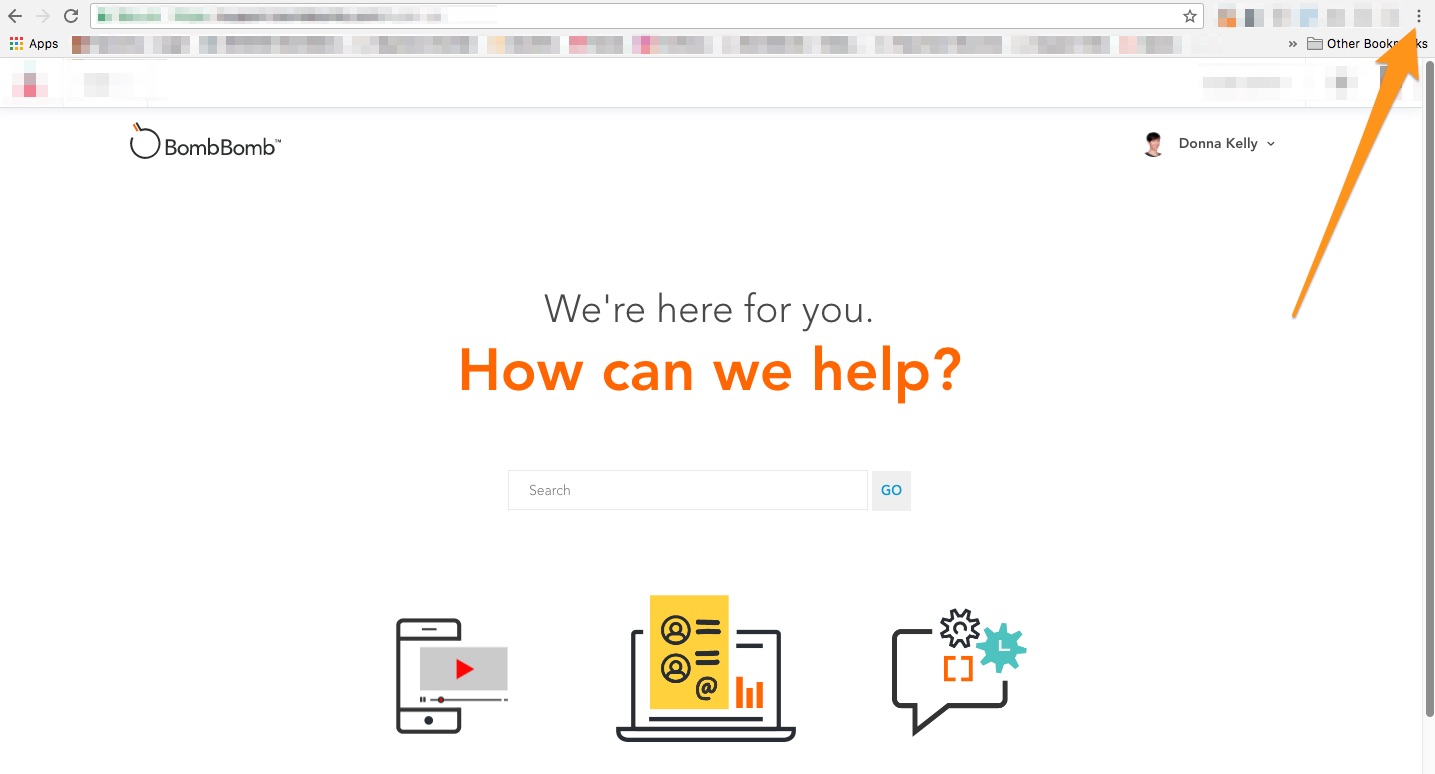 Hover over "More Tools" and click the "Extensions" option.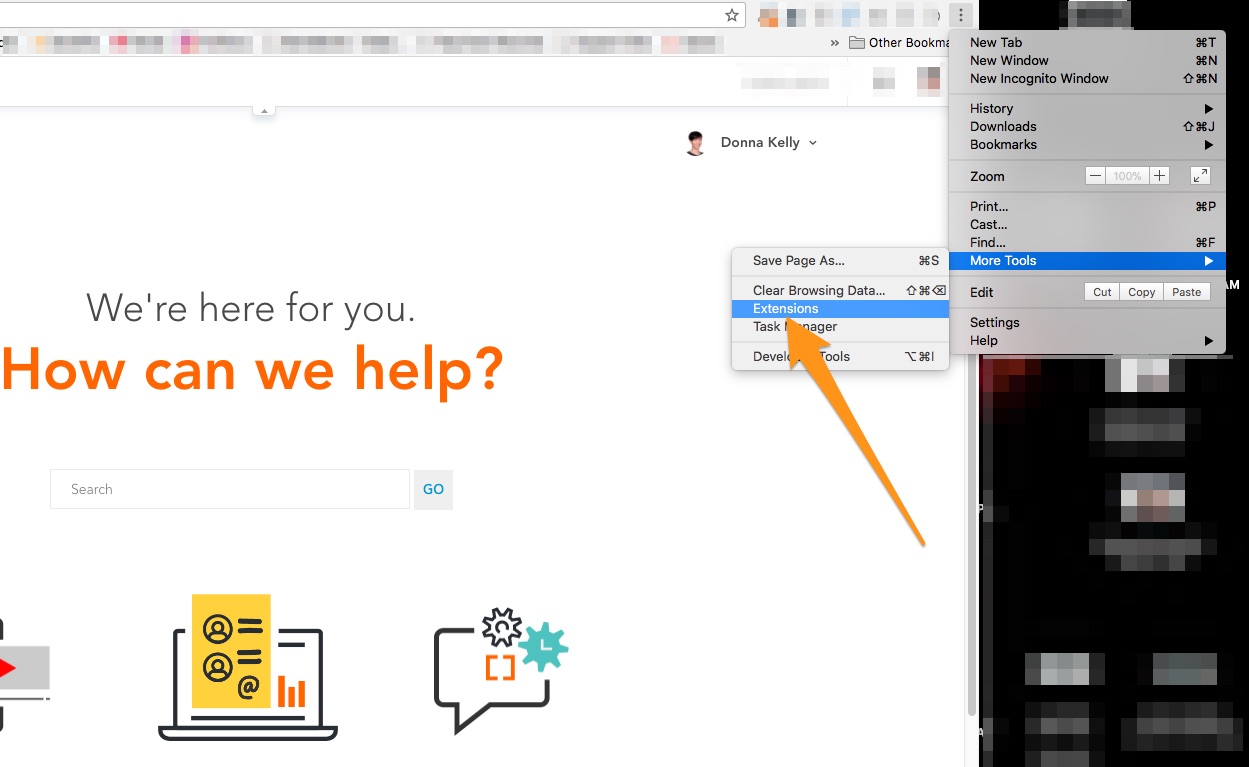 On the Extensions page, find the BombBomb extension and click "Remove." Confirm that you'd like to remove the extension, and it will be uninstalled.
Survey Time: Once you have uninstalled, it will bring you to a quick survey. Please fill it out so that we can improve! In the first question, click "other" and include the reason "reinstall." Thanks! That will help us serve you better.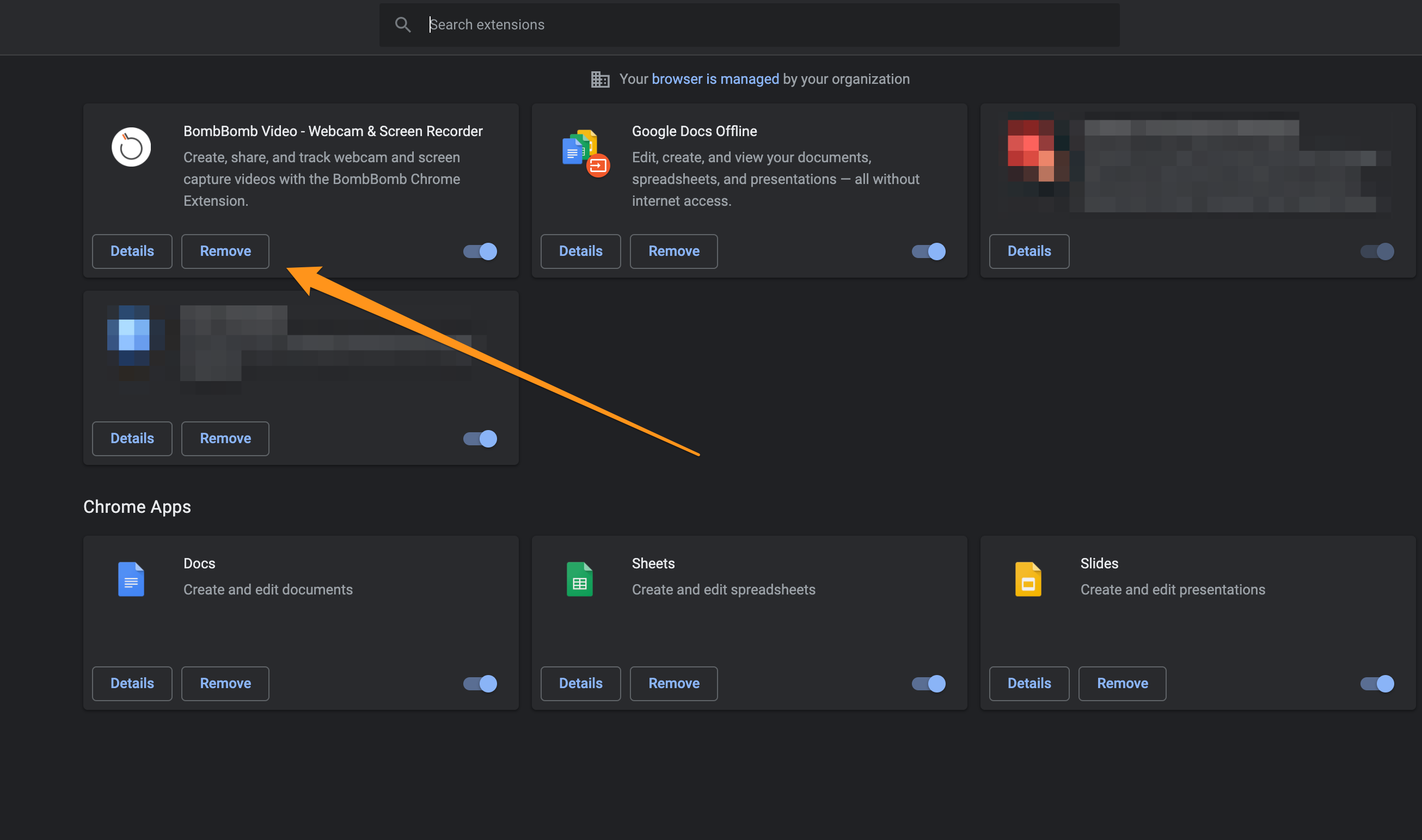 To reinstall follow this link to find the BombBomb Chrome extension. Click the "Add to Chrome" button to the right of the extension and then the "Add Extension" button on the pop-up.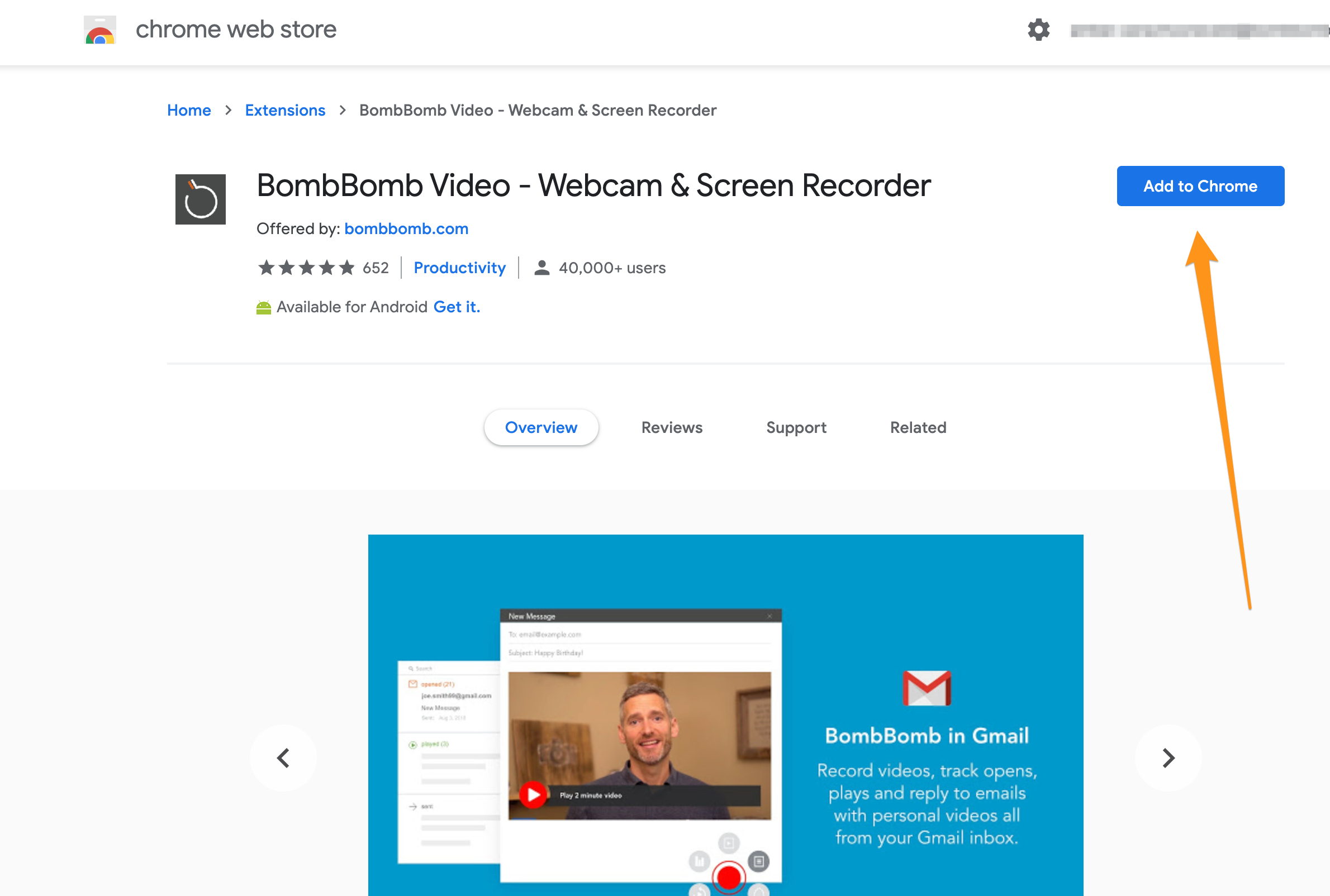 Where Is It? You've installed the extension, but you might be wondering where it is! You can find any extension you've added to Chrome by clicking the puzzle piece icon to the right of your url bar. Then select "BombBomb Video," and it will pop right up. To make sure the extension always shows up on your url bar, click the Pin icon to the right of "BombBomb Video" to permanently pin this extension.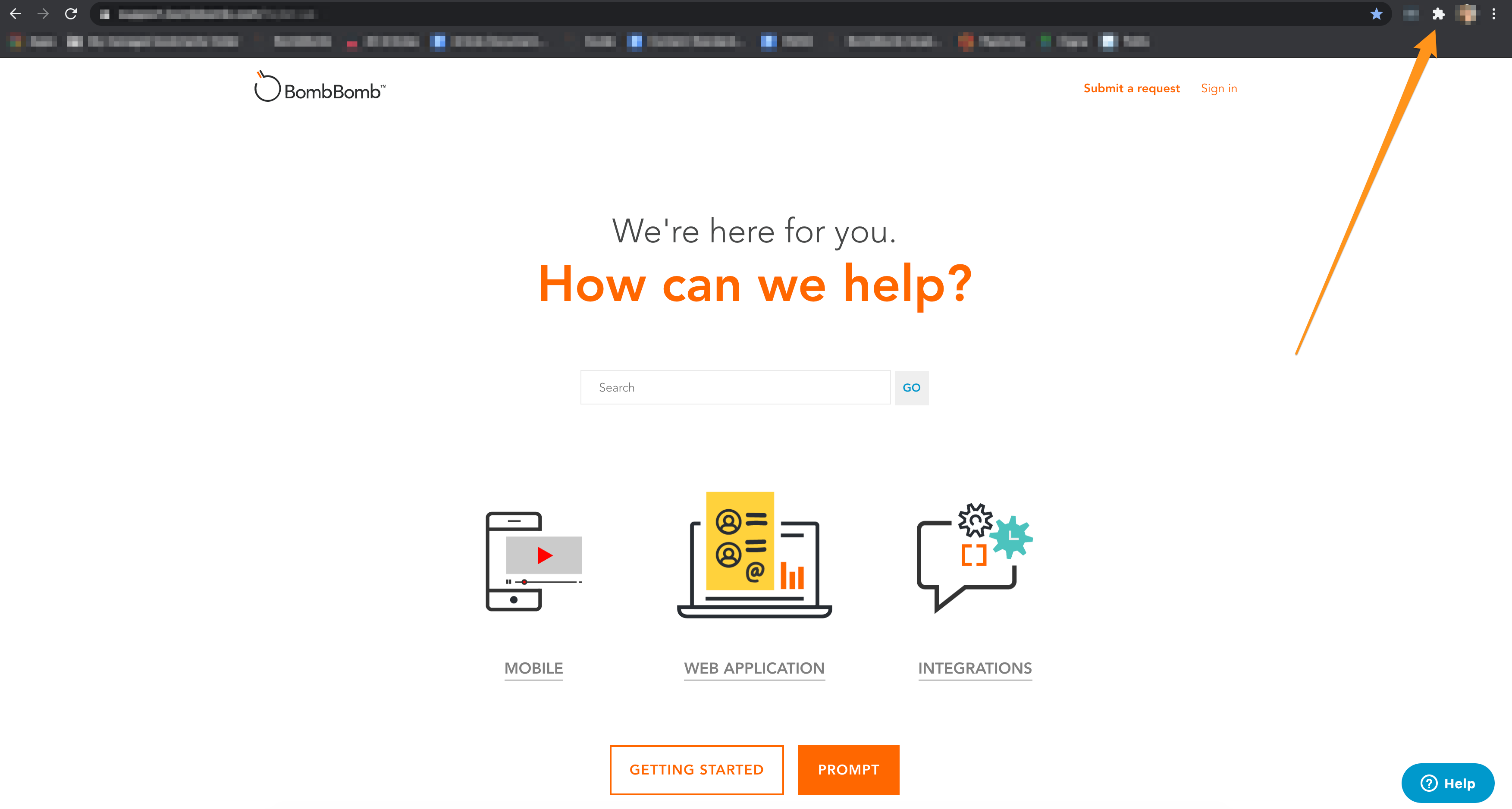 Refresh your page and see if this has fixed your issue.
If you've completed the steps above and are still experiencing issues with the extension, we're so sorry—that must be really frustrating! Send us an email at support@bombbomb.com and we will do our best to get you all set up.