One of the great things about BombBomb is that we integrate with so many of the platforms you use each day.
* How many integrations you have access to will be determined by the membership that you have. Here is a quick overview:
BombBomb Essentials membership then you'll have access to our basic integrations such as Outlook, Gmail, and Google Chrome.
BombBomb Plus or higher membership will give you access to Outlook, Gmail, Chrome and 50+ more CRM, Software, and Email integrations.
If you'd like to take a deeper look on if we integrate with your system click here for the full list.
To see our support articles for our various integrations, visit our integrations page by clicking here.
To find the integrations page, simply click on "your name" in the top right of your account and select "Integrations" from the drop-down.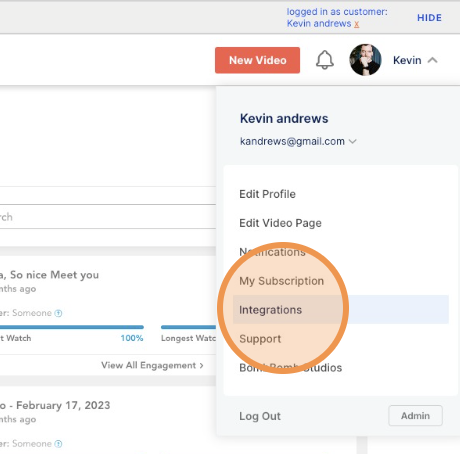 From this page, you can search for the integration you're looking for. Each page will give you details of the integration and how to set it up.