BombBomb's email tracking abilities give users the opportunity to see who has watched their video and when, providing you with information on when to follow up with the people who receive your emails. But how much of your videos are watched? Knowing this metric can be the difference in following up continuing the original conversation, or following up taking the conversation in a different direction with alternative solutions.

You'll now have the ability to see how much of your videos people are watching! With the new "video watched" email notifications, you'll get to better understand who is engaging with your content and for how long. You can send BombBomb video anywhere - Gmail, Outlook, the BombBomb desktop application, mobile, etc. - and you will receive an email notification letting you know who watched your video and how much of it they watched. Use this information to strategize how to best follow-up with your recipient so they can have a relevant and personable experience with you.

To learn more about how this works, check out the explanation below!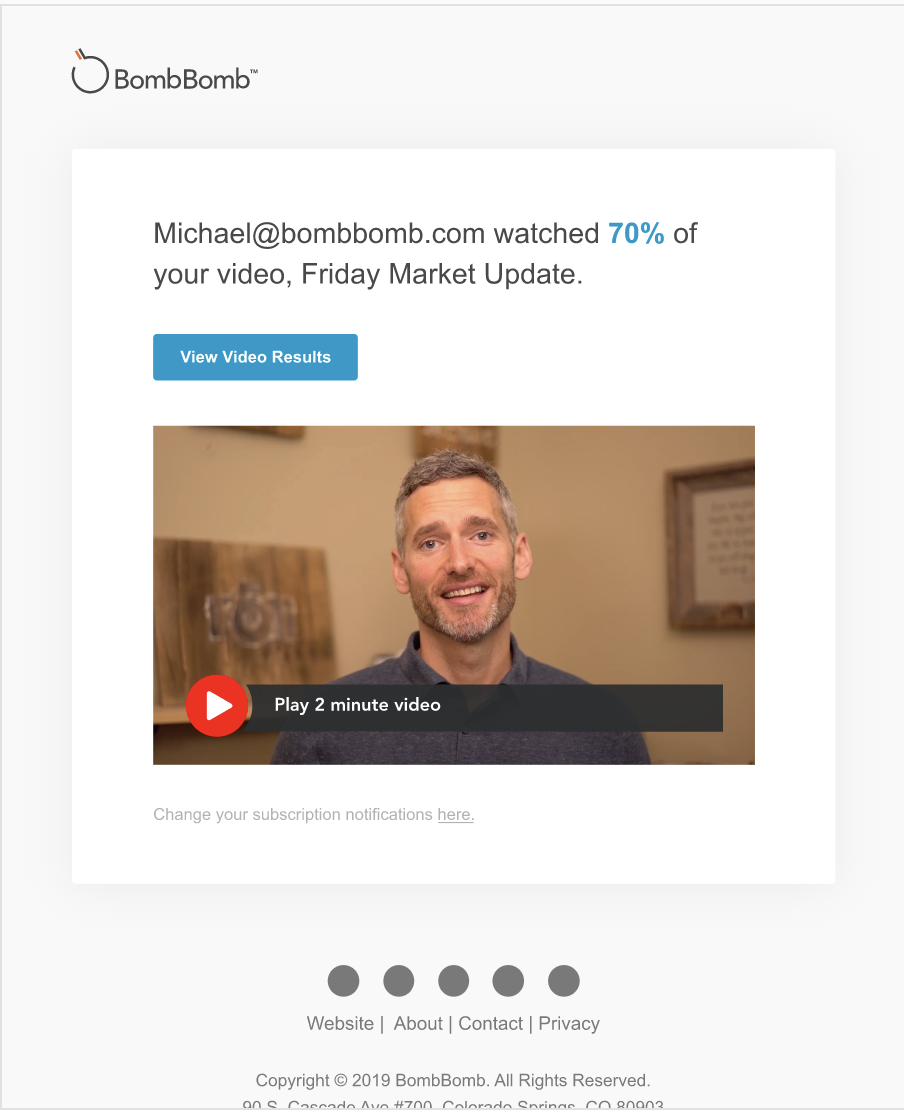 When you send a BombBomb video to one person and they watch your video, you'll receive an email notification that tells you they watched your video and a percentage of how much of the video they watched. Whether the recipient watches all of your video immediately or starts to watch the video and pauses, BombBomb will wait 20 minutes after the recipient hits "play" until determining the video watch session is complete so the notification is not triggered too early. This gives the person the opportunity to come back and finish watching the video if they paused it, and it also lets enough time pass for our system to detect how much of the video they watched.

If the recipient has not finished watching your entire video by that time, BombBomb will still send a notification at the 20 minute mark. To see more detailed tracking information, you can click the "View Video Results" button to view the tracking page.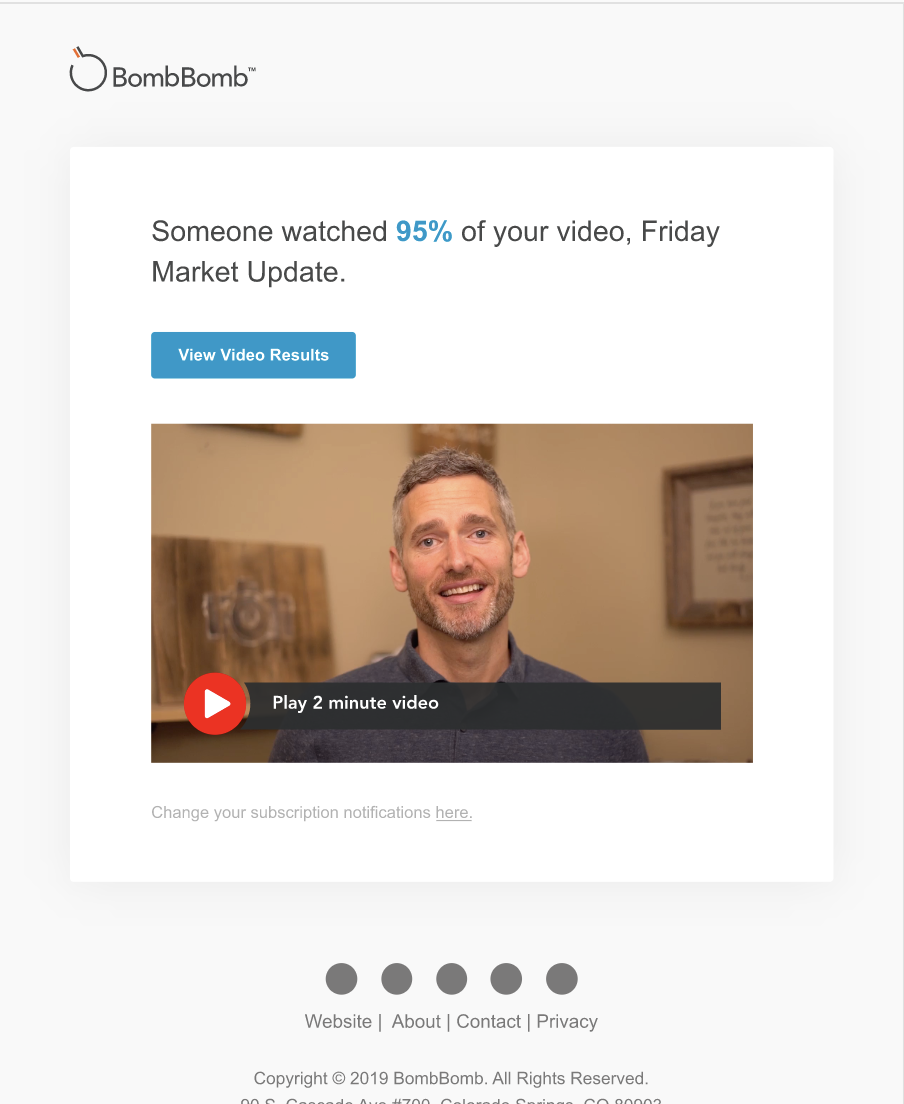 If you send an email to more than one person from Gmail or Outlook or if you shared the video via URL or embedding, BombBomb will identify that "someone" watched your video. (Note: If you do a mass send from the BombBomb application, we will be able to identify the specific recipients who are watching your video.) You will still get an email notification and a percentage of the video that has been watched.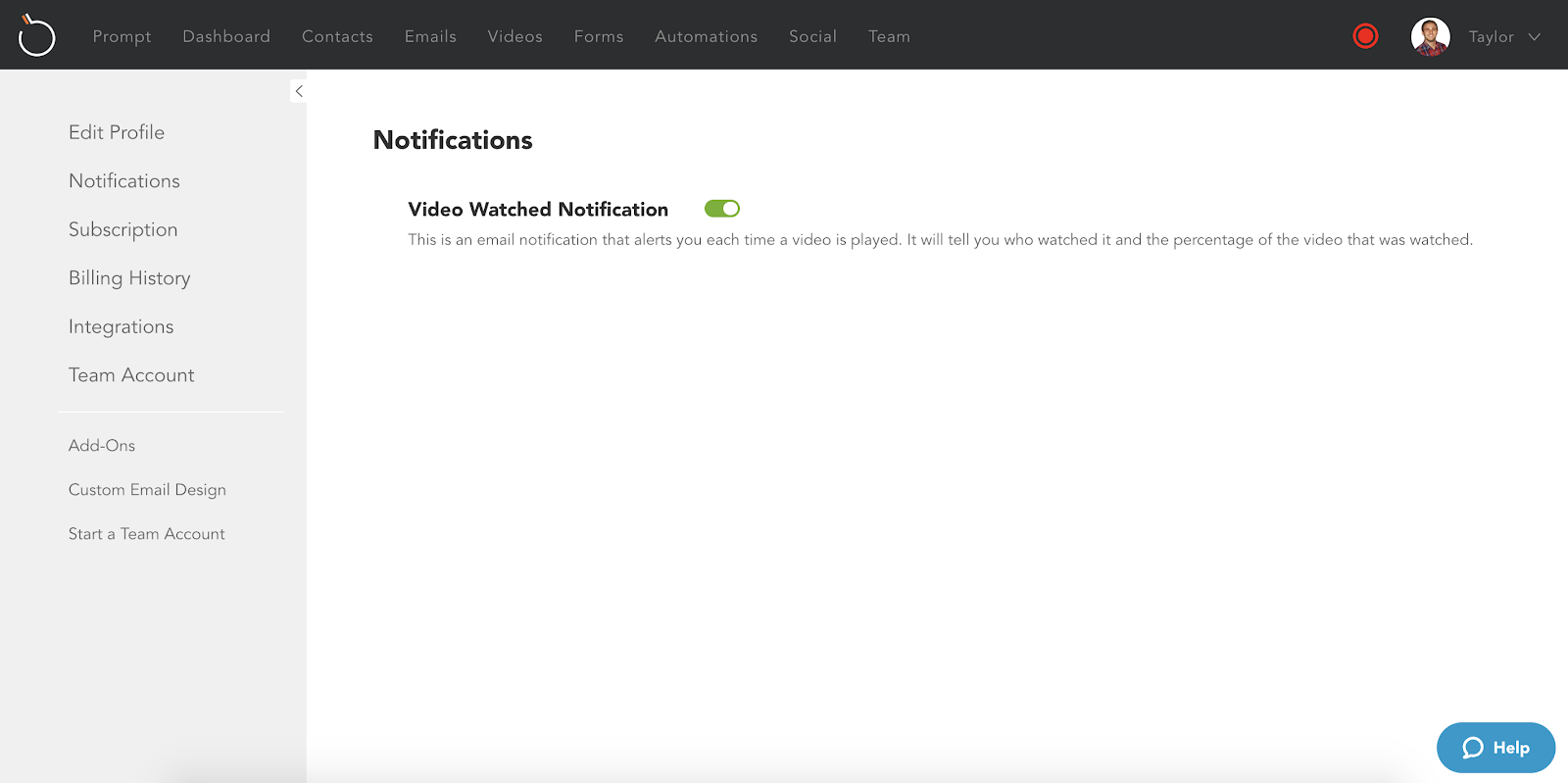 These emails will replace the "real time notification" emails (video plays) you can turn on through your BombBomb settings in the Quick Send and email composer. To turn your "video watched" notifications off for all your emails, hover over your name in the upper right corner of your BombBomb account and click "Notifications." You can then toggle the function on or off on the Notifications page. This function is available for every subscriber at BombBomb, so whether you're on a team or are an individual user, you can utilize this feature! Note: Once you turn this feature on, the function will apply to all BombBomb videos you've sent during your subscription history.