With BombBomb's call-to-action banners, your recipient can click on a hyperlink that appears at the end of your video. A call to action (CTA) is a great way to direct people to your website, send them to a form to fill out, etc. It helps your recipient quickly and easily take the next step you need them to take directly from your video landing page.
Watch the video below or keep reading to learn how.
Here are the step-by-step instructions.
Step 1: Go to your Videos tab and click "New Video." (You can also start recording a new video from an email template, the Quick Send button, or the Chrome extension.)

Step 2: Record your video, and hit the red square button when you're done recording.
Important Note: The CTA will need 30 seconds to display, so be sure to record for at least 30 seconds!
Pro Tip: When recording, direct people to your link and point up, so your recipient knows where to click!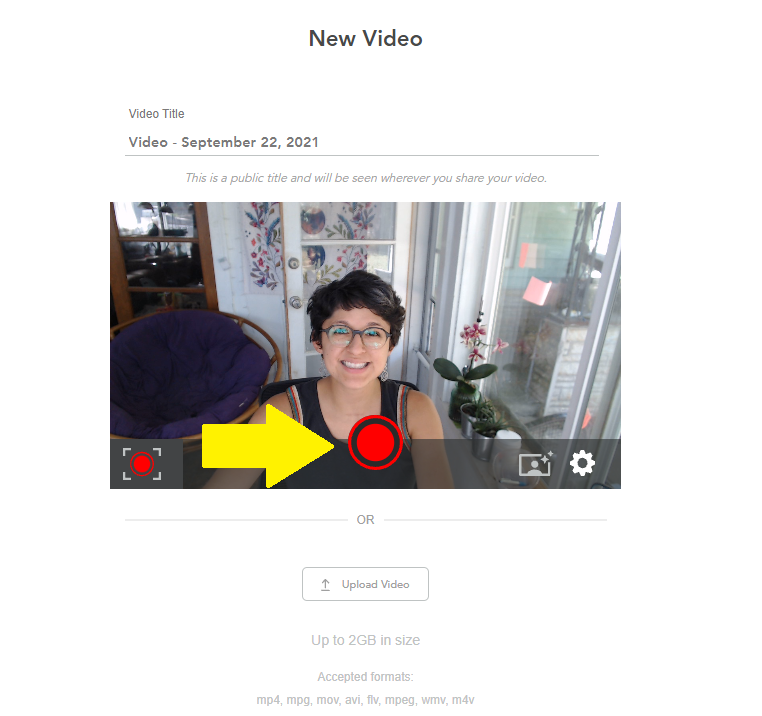 Step 3: On the edit screen, you can either toggle on CTA or click "Add a Call-to-Action Banner."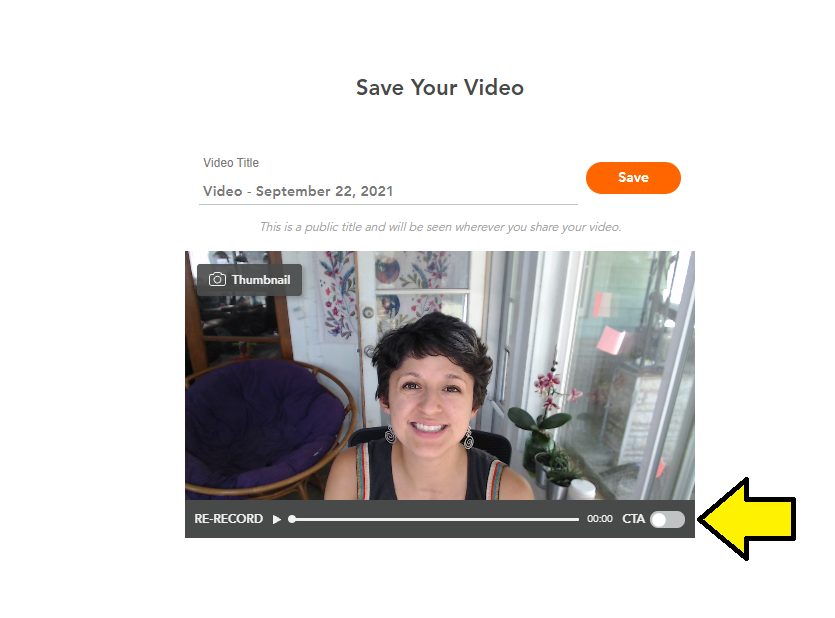 Step 4: Enter your call to action text under Banner Title and add the link you'd like to direct them to.
To direct someone to call you through the CTA, use the link tel:8888888888 (your 10-digit phone number). To direct someone to email you through the CTA, use the link mailto:youremailaddress.com.
After that, click "Save CTA." Then click the orange "Save" button in the top right.
Note: A CTA can take up to five minutes to connect to your selected URL.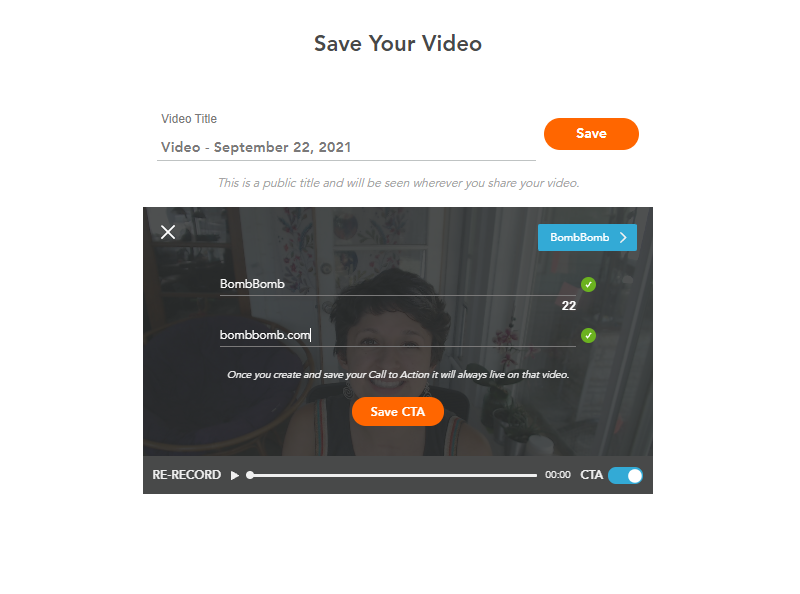 Step 5: To edit your CTA or add a CTA to an existing video, head to your Video Library. Then, click "Edit" next to the video you want to add a CTA to or that contains an existing CTA you want to edit.

Step 6: To add a CTA to an existing video, click "Disabled" to the right of "Call to Action." To edit or remove an existing CTA, click "Enabled" to the right of "Call to Action." From here, you can toggle off your CTA, edit the banner, and edit the selected URL.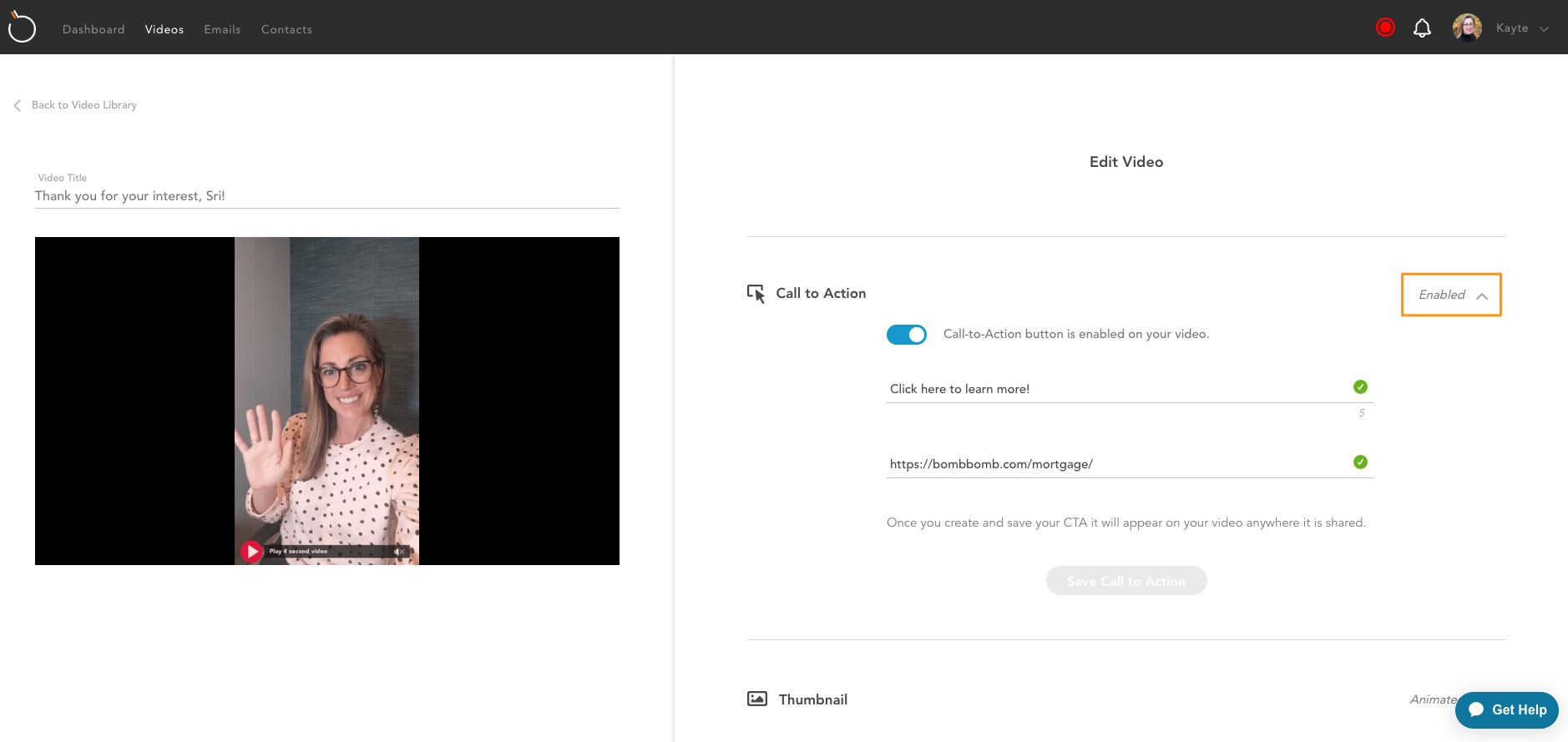 Step 7: Share your video as usual. Now when your recipient views your video, they will see the call to action in the last three seconds of your video in the top right corner.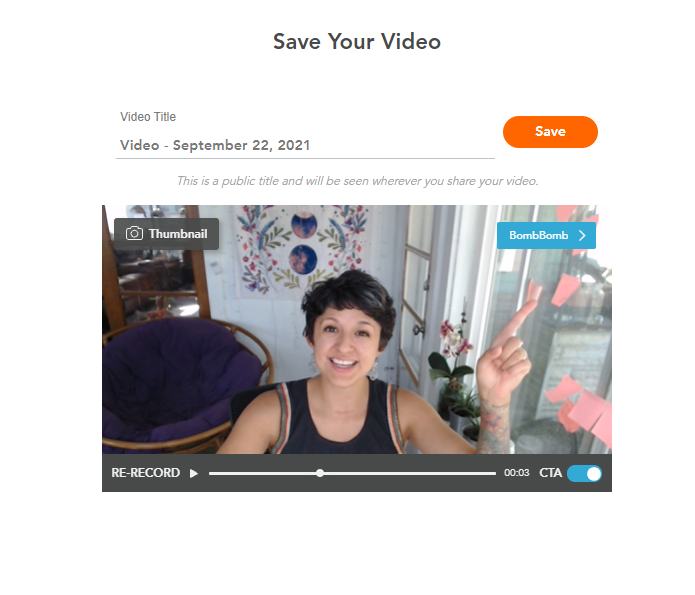 Note: You can see a count of CTA clicks on videos with a CTA in your Videos tab and in Video Engagement! Yay!