Your Video Page is where your recipients watch your videos. You can customize it to create an experience they'll remember. Keep it simple or add elements like your company name, logo, brand color, etc.
Where do Video Pages work? Your branded Video Page will work when you send a video without an email template. For example, it will display when you send a URL link via text or social media, or when you send a video from BombBomb integrations that do not include templates, such as Gmail and Outlook. Your Video Page will not show up on videos sent through BombBomb's email templates.
To learn how to set up your Video Page, watch this video or follow the step-by-step instructions below.
Step 1: Hover over your name in the upper right corner of your BombBomb account and click "Video Page."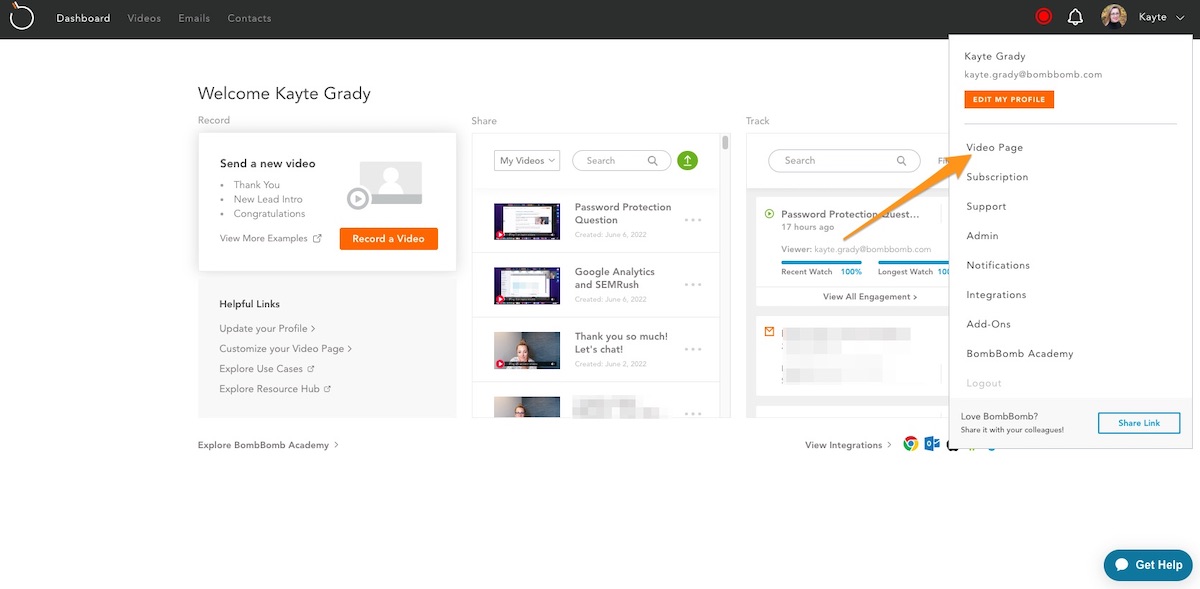 Step 2: On the left panel, you can customize your settings, and on the right side, you will see a preview in real-time of how your Video Page will look. If you want your logo on your Video Page, drag and drop it here and toggle it on. This will be clickable with the website URL you've entered in your profile.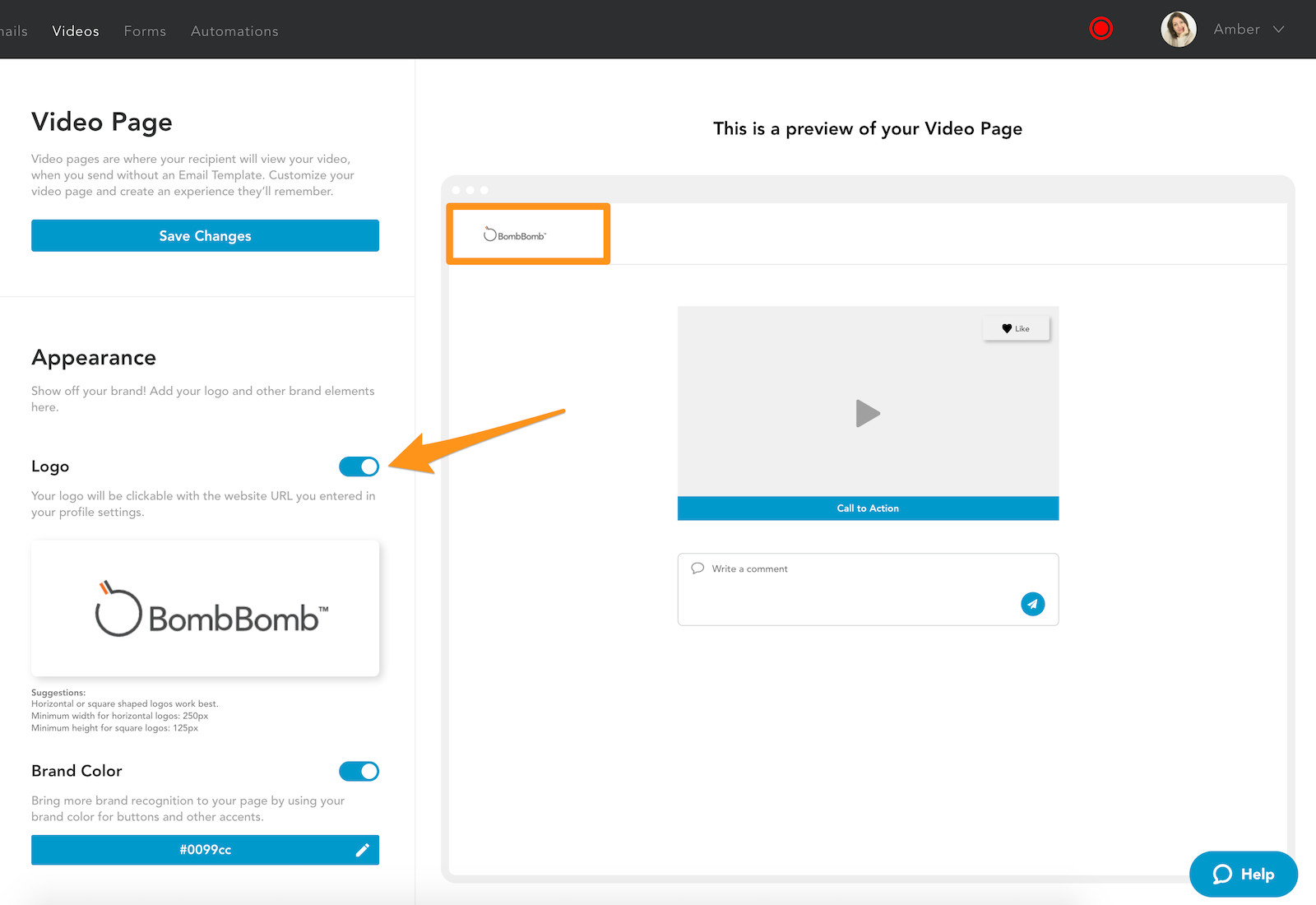 Step 3: If you'd like to change the color of the Video Page to fit your brand, click on the Pencil icon under Brand Color. Click on the arrows next to RGB to access the HSL and HEX color codes, or click on the color bar to select the color you'd like. This color will be applied to the Header Button, In-Video Call to Action (if applicable), Reply icon, Organization website, Social Media icons, and Company Name in your Footer.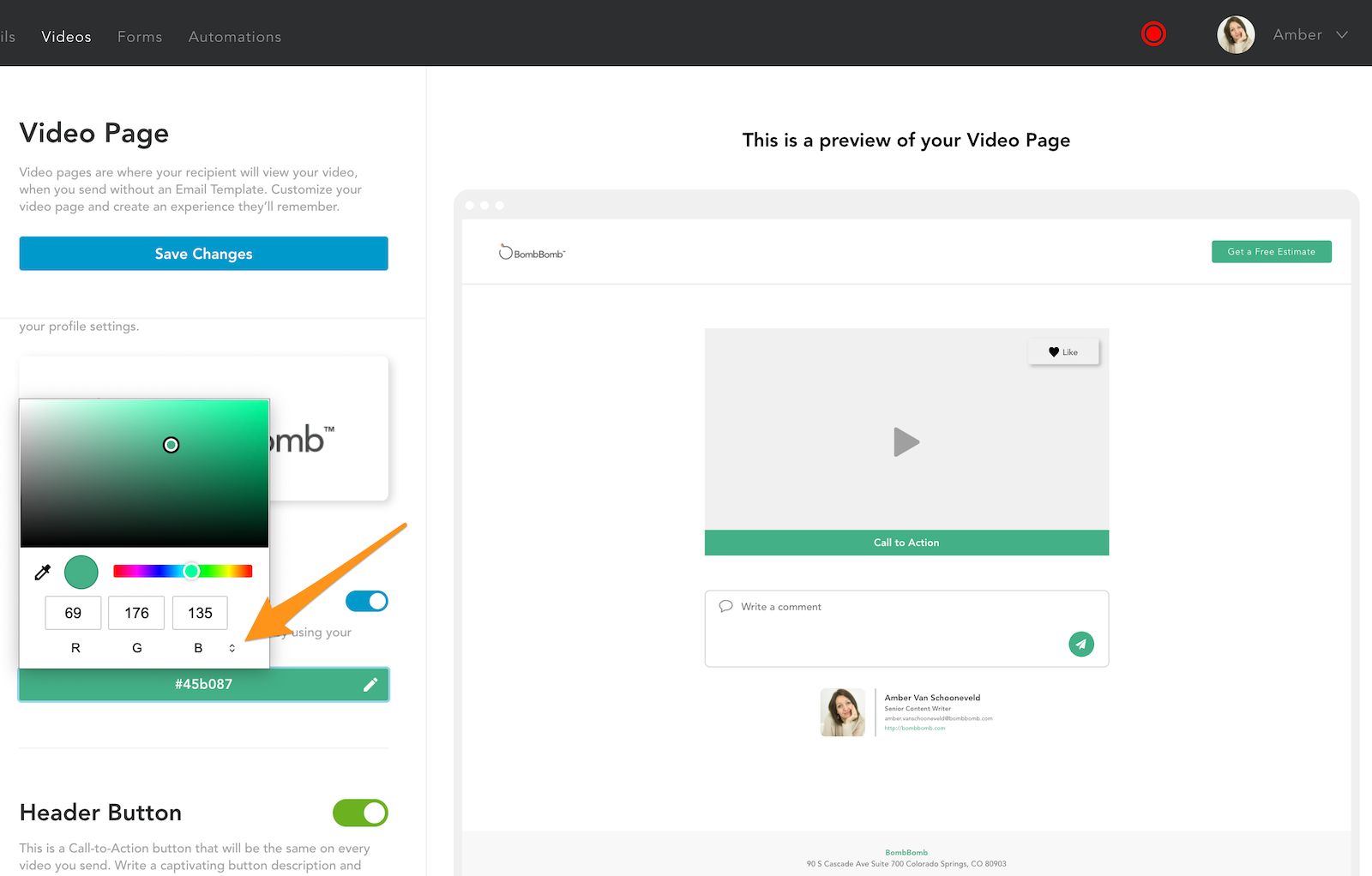 Step 4: The Header Button will add a button to the top right of your Video Page. This is a great way to have a clear and easy call-to-action right on your page. Just add the text and url you'd like.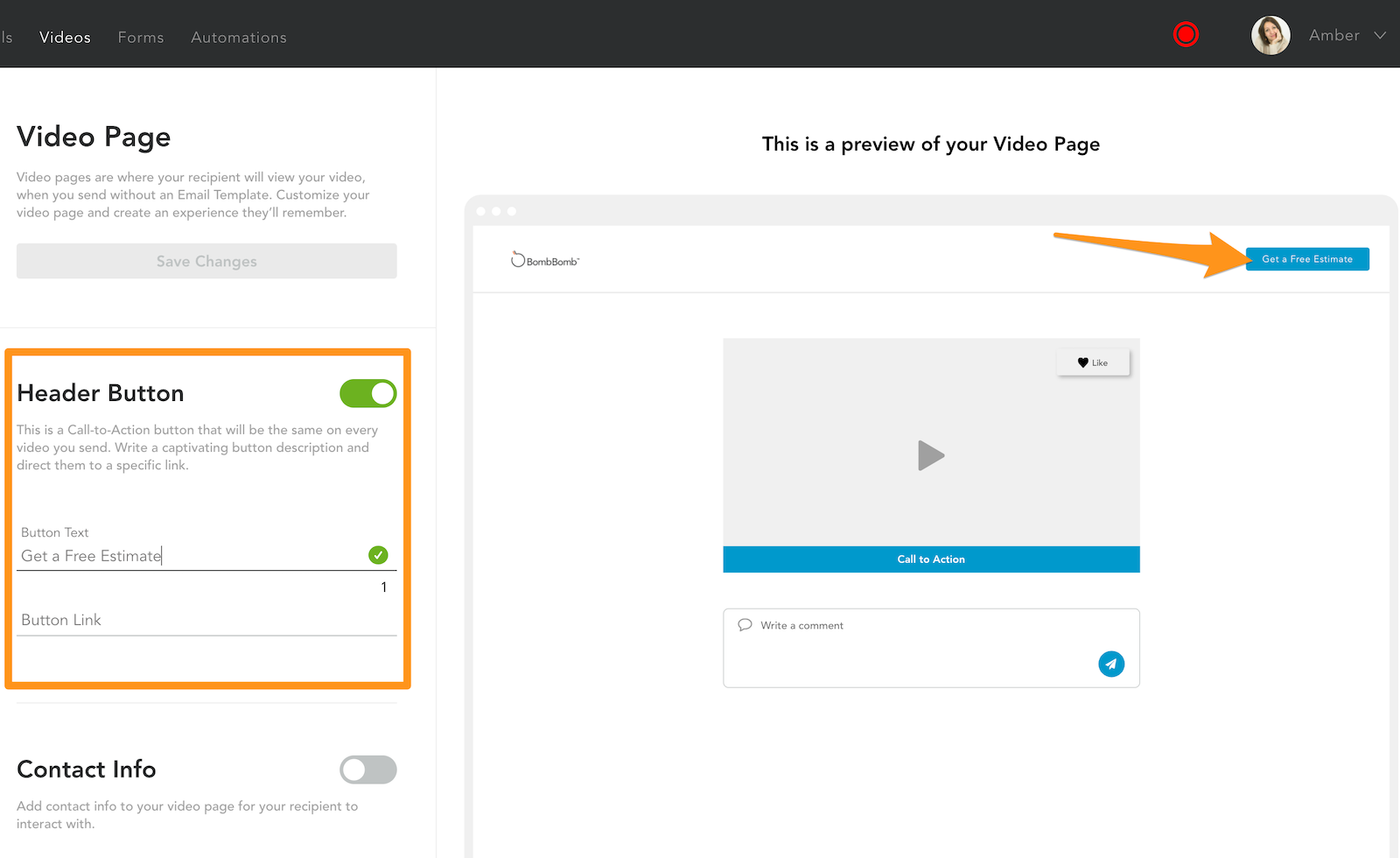 Step 5: Toggle on the Contact Info section to add your information below your video, including picture, title, phone number, email address, organization website, and social media information. This information will pull from your profile, so make sure it is up to date!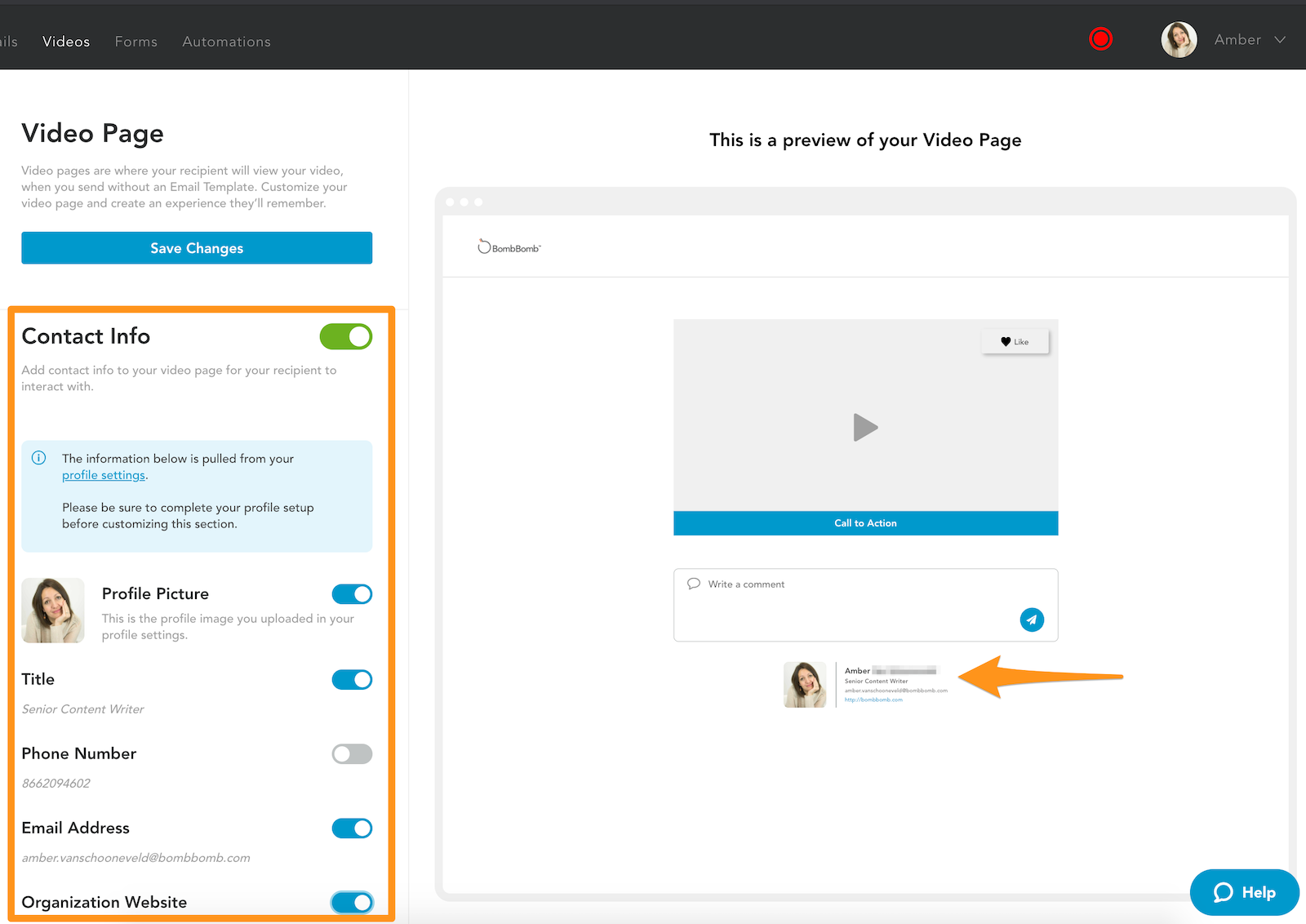 Step 6: Toggle on the Footer Area if you'd like to add information on your organization to the bottom of your page, including organization name, license number, address, and disclaimer. This info will pull from your profile as well.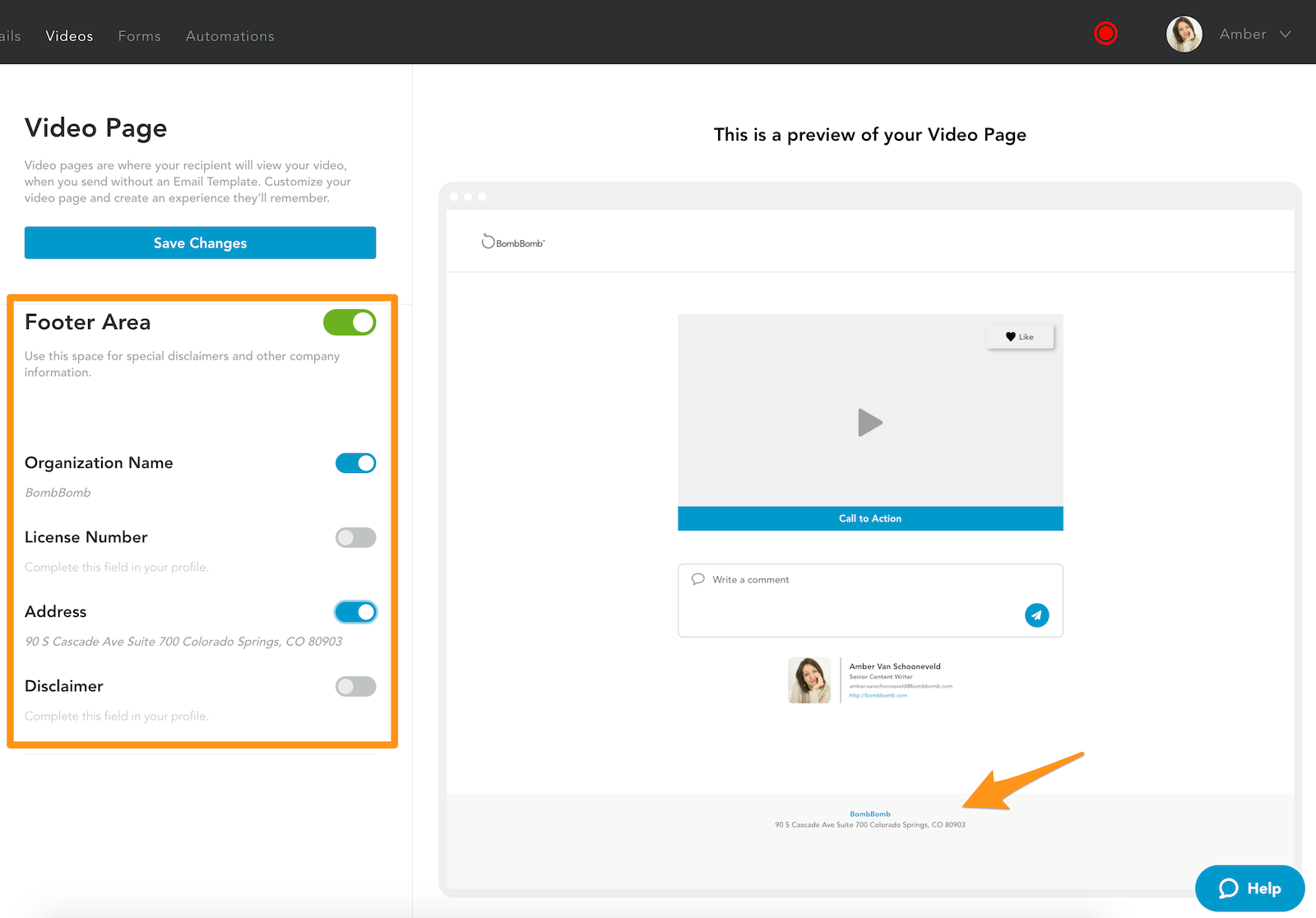 Once you've made all the changes you want, click "Save Changes," and you have a professional, custom Video Page for your recipients, all ready to go!