We know you want to be able to make connections through video even when you're away from your computer. With BombBomb's mobile app for Android, you can record and send videos while you're on the go, so you can keep building relationships at any time.
In this video, we'll show you how easy it is to record, send, and share videos. Or keep reading below for step-by-step instructions!
Jump to:
On an iPhone? Click here for our how-to iPhone app article.
1. Download the App
To access the app, go to the Google Play store and type "BombBomb" in the search bar. Once you've found the app, click "Install."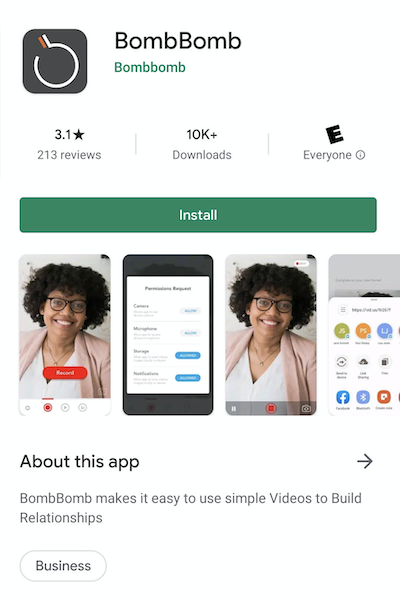 Once you've downloaded the app, open it and log in with your BombBomb credentials. If you forget your password, you can use the "Forgot Password?" link. If you don't have a BombBomb account yet and want to try it out, click here. Once logged in, you may be prompted to give the app permission to use and access your camera, microphone, and storage.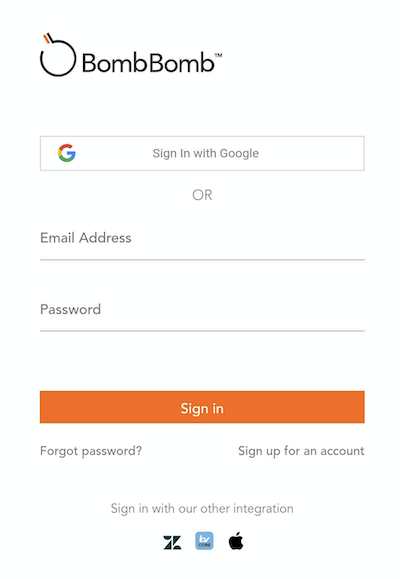 2. Record a Video
Your app home screen is an easy place to record and send videos quickly. When you're ready, just hit the Record icon, and off you go. Just as on our web application, you'll get a countdown before your video starts recording.
Quick Tip: Videos look best in landscape orientation, so rotate your camera before you hit that record button!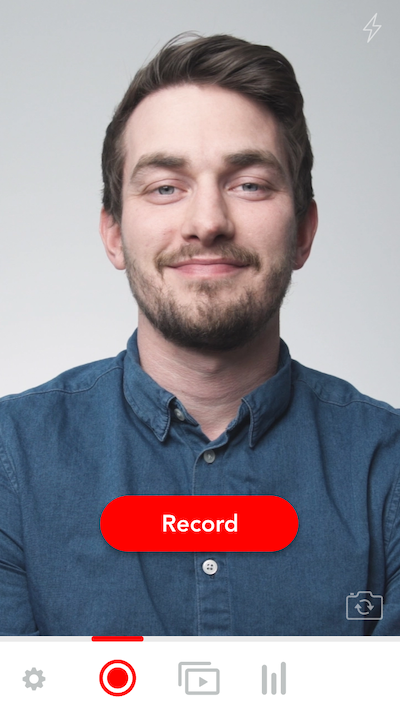 Once recording, you can do a few things:
Pause your video using the Pause icon on the bottom left.
Flip your camera while recording, using the Camera icon on the bottom right. (Note: This is only available when recording in landscape/horizontal orientation.)
Keep an eye on your video length using the timer on the top right.
And, of course, hit the square in the middle when you're done recording.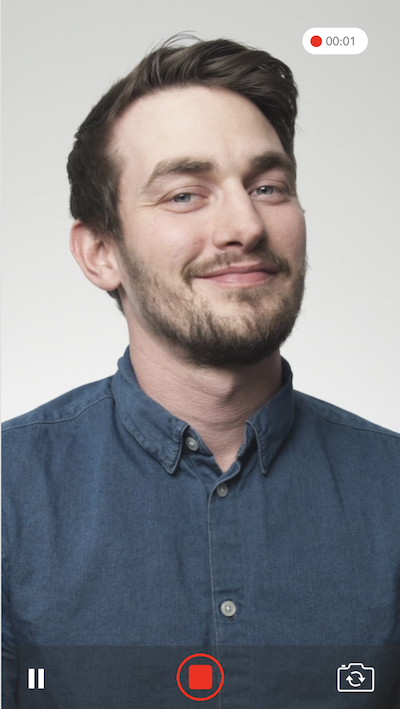 Once you stop recording, your video will start encoding and uploading. You'll know it saved successfully when you see "Uploaded to Video Library" in green at the bottom of your screen.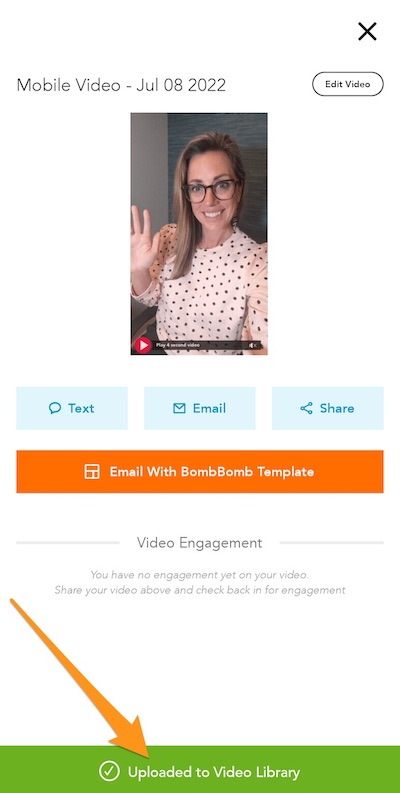 From here, you have a few options:
Re-record by selecting "Re-Record" at the top left. (T

his option is only available while your video uploads.)

Change the video's title or thumbnail by selecting the grey "Edit" button to the right of the default video title.
Add a label to the video by clicking the "Edit" button.
Add a call-to-action banner, or CTA, by selecting the grey "Edit" button to the right of the default video title.
Watch your video by clicking on the video itself.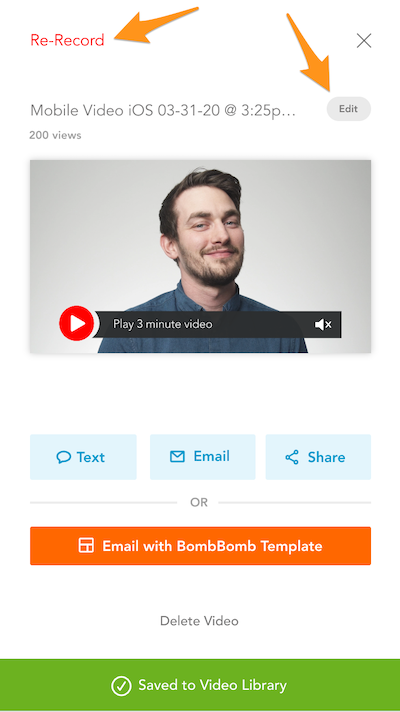 If you watch your video, you will also have an option to select a thumbnail.
Quick Tip: If you select a thumbnail, this will replace the animated 3-second gif. This is a great option when sending videos through apps that only send links rather than gifs. Otherwise, we suggest sticking with the eye-catching animated gif!
3. Share Your Video
Once you've recorded a video or selected a video from your video library, you can share it right from this screen.
Text: Selecting "Text" will take you to your phone's native text messaging app. Select the contact(s) you want, and write a quick message to encourage them to watch your video. (Depending on the system, it will paste a link or an animated preview to your video.)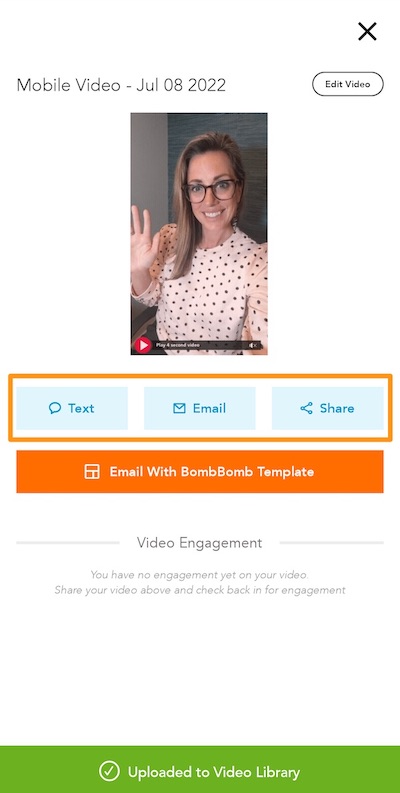 Email: If you select "Email," you'll be prompted to select your email provider. You can also choose "Save as Default" if this is the email provider you would like to use in the future. Click "Next" once you've selected your email provider. This will copy the video link to your clipboard. When your email message opens, simply long-press in the email and tap to paste the link to your video.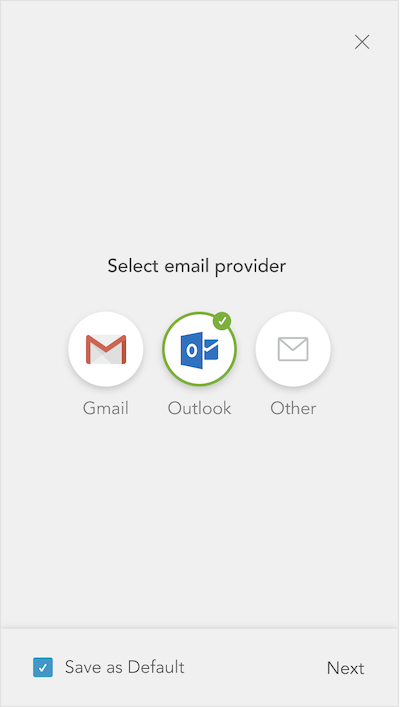 Share: If you select "Share" rather than "Text" or "Email," your phone will bring up several apps that you can share this video through, such as social media sites like LinkedIn and Facebook. Select the app you want, and it will paste a link or animated preview to your video, depending on the app.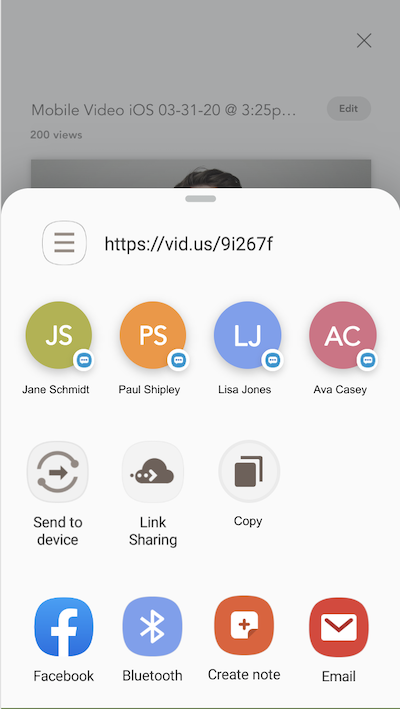 Your last option on this screen is to email your video with a BombBomb template.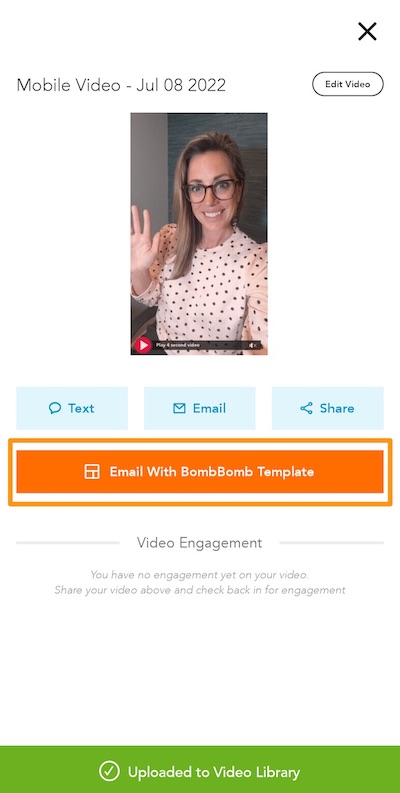 Email With BombBomb Template: With this option, you can send your animated preview with a pre-designed template. From the Quicksender screen, you can enter your recipients, subject line, and message. You can manually enter addresses or hit the down arrow to the right of the recipient field to see a list of your contacts. (Note: This feature isn't available to our basic subscriptions, BombBomb Video/BombBomb Essentials.)
Quick Tip: Don't separate addresses with a comma or semicolon. After entering email addresses, hit "Enter" or "Return" on your keyboard.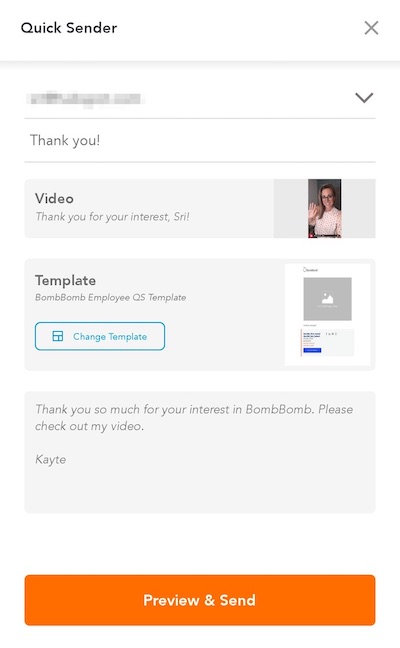 You can preview and send your email by clicking "Preview & Send" on the bottom right of your screen.
Add an Email Template
If you want to add some visual interest to your email, click "Templates" in the bottom left of the Quicksender screen.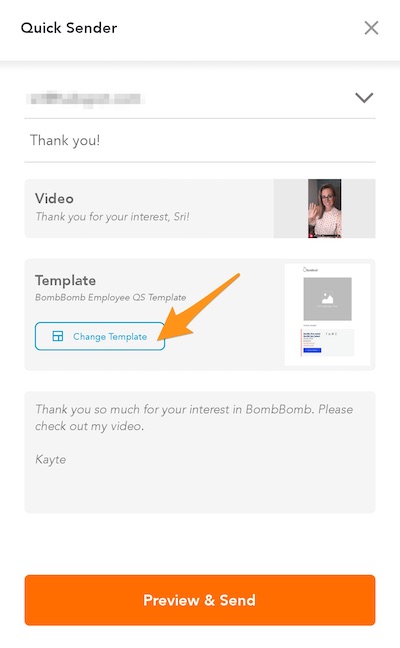 This will take you to your pre-loaded templates to choose from. Click on the circle in the upper right corner of the template you'd like to choose.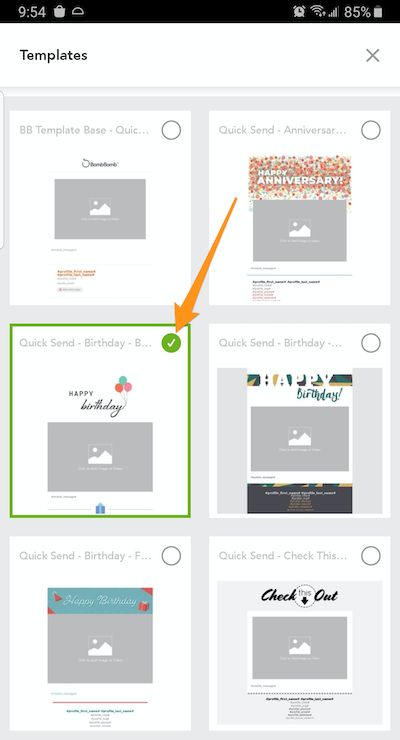 This will take you back to your Quicksender screen. Click "Preview" on the bottom right to check out your message. Click the "X" at the top right to close your preview, and once you're happy with your message, click "Send Email."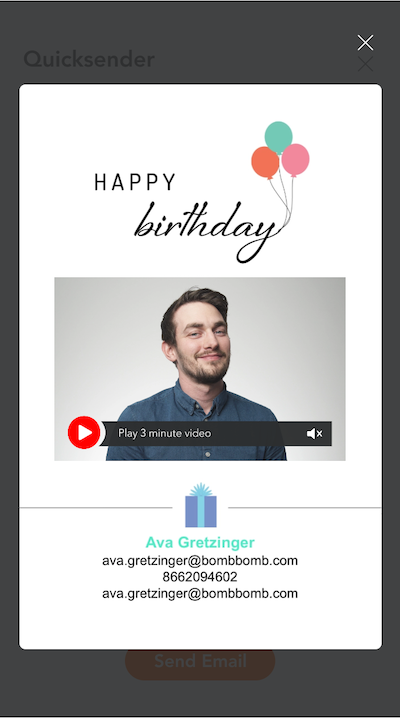 4. Your Video Library
If you want to send a quick pre-recorded video from your app, click on the "Video Library" icon in the bottom middle of your screen. Next, click on the video you'd like to send. From here, follow the instructions for Step 3 to share your video.
Quick Tip: You can search for past videos in the Search field at the top of your screen or use the "All Videos" dropdown to search by label. You can also upload a video from your device by clicking the green icon on the top right of this screen.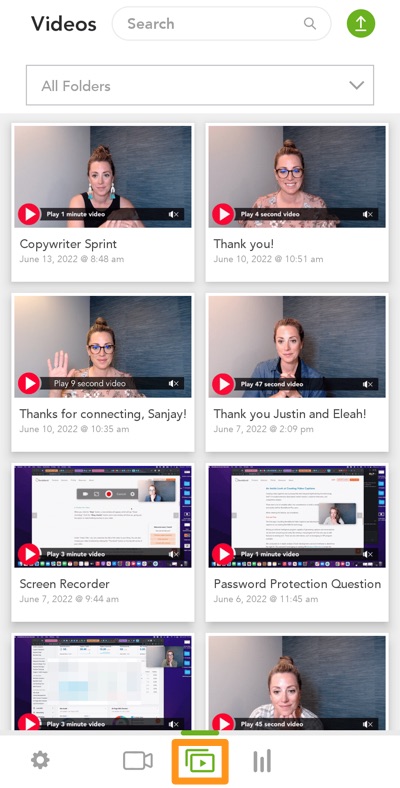 To delete a video: In your video library, just hold your finger down on the video(s) you'd like to erase. Once the video you'd like to delete is selected, click "Delete" at the top left of the screen. A pop-up will ask you to confirm that you want to delete the video(s). If you change your mind or want to exit this screen, just click "Cancel" at the top right of the screen.
5. Track Your Videos
To track your videos, go to the "Tracking" icon on the bottom right of your screen. This will show the latest activity on your messages, including opens, plays, clicks, likes and comments. This way, you can easily see who has interacted with your messages so you can know when to follow up. Click "View More Video Stats" or "View All Engagement" to see all the tracking events for that message.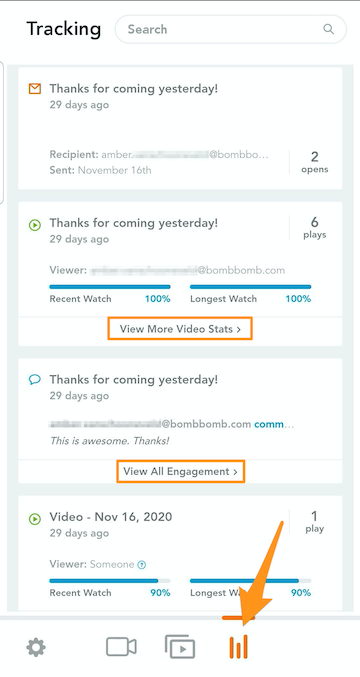 You can also access tracking from your Video Library. Click on the "Video Library" icon in the bottom middle of your screen. Select a video, and you will be taken to the share screen. Below your video preview, you will see your video engagement. To see the complete tracking information, click "See More."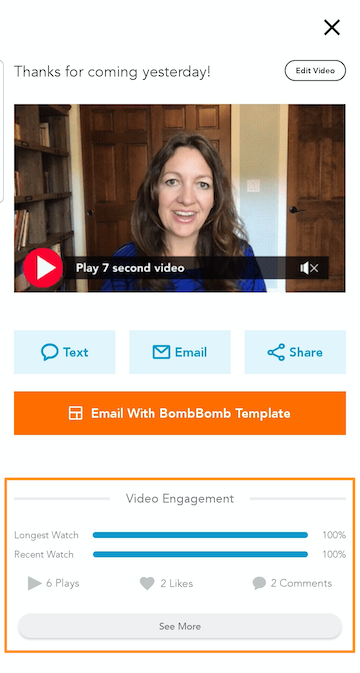 6. Manage Your Settings
Click on the Gear icon on the bottom left of your screen to manage your settings. There are a lot of things you can do from Settings. Let's start from the top!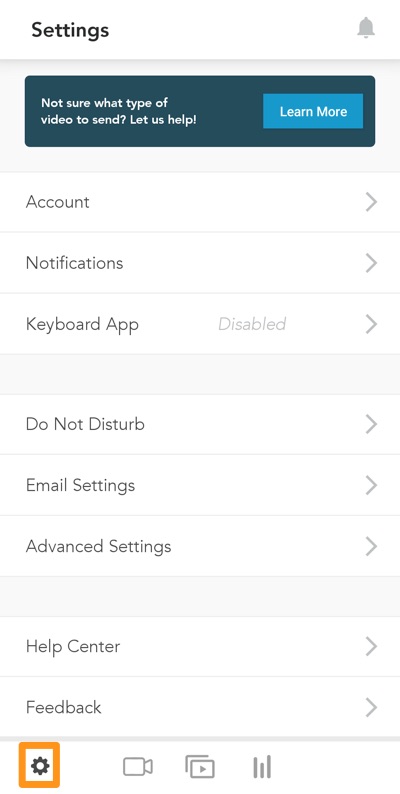 The Bell icon on the top right will allow you to check for any app updates.
You can find example videos by clicking "Learn More" at the top of the Settings screen.
Account

will allow you to view your subscription information, including username, the email address connected to your account, and subscription level.

Notifications

will allow you to manage what types of

notifications

you receive.

Keyboard App

will allow you to enable the

BombBomb Keyboard

.

Do Not Disturb provides instructions for silencing calls and notifications during your recordings.
Email Settings

will allow you to choose your default email server.
Advanced Settings
Save Videos to Device: We recommend keeping this on. If you experience a network interruption, you'll have your video saved on your phone. (But if you're low on storage, you can uncheck this.)
Offline Mode: Turn this

on when you are out of service range. This will save videos to your device so you can upload them into the app when you have better service.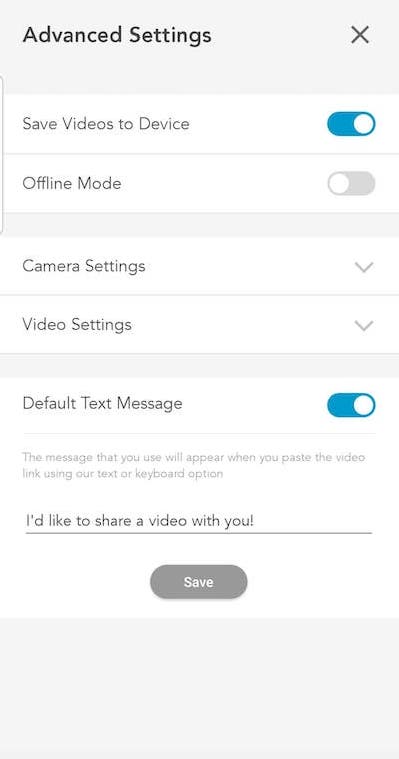 You can also access your Camera and Video Settings from Advanced Settings.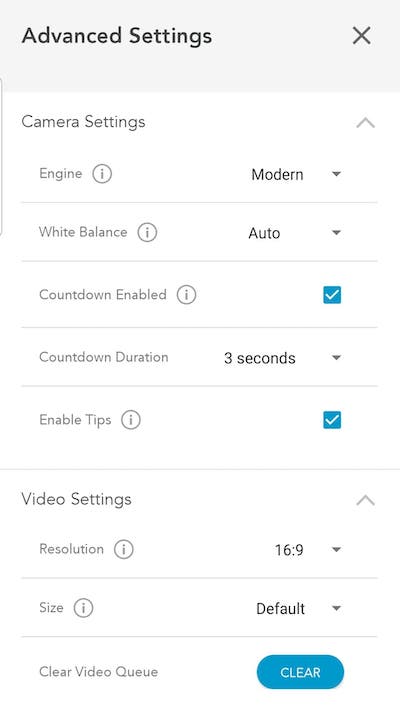 Camera Settings
Engine: If you are on an older phone and your video doesn't look great or isn't working correctly, try switching your camera here.
White Balance: You can change your white balance to compensate for your lighting situation. You can select daylight, cloudy, twilight, or shade. Generally, keep this set to Auto unless you are in challenging lighting.
Countdown Enabled/ Countdown Duration: If you don't want your video countdown turned on or want to change the countdown length, you can adjust that here.
Enable Tips: This setting will turn off the camera tooltips that appear before recording.
Video Settings
Resolution:

You can adjust your video resolution here. If you want your video to be more square, switch to 4:3.

Size:

You can adjust your video size here. We recommend keeping it on Default. But if you want a higher resolution video, you can change that here, although it will take longer to upload. Or, if you have a poor internet connection and need to upload a lower resolution video, you can also change that here.

Clear Video Queue:

If there are pending videos that have not been uploaded yet and you don't want them to upload, you can clear your video queue here.
Default Text Message
From Advanced Settings, you can also set a default message that will accompany any video you text or send through the BombBomb Keyboard.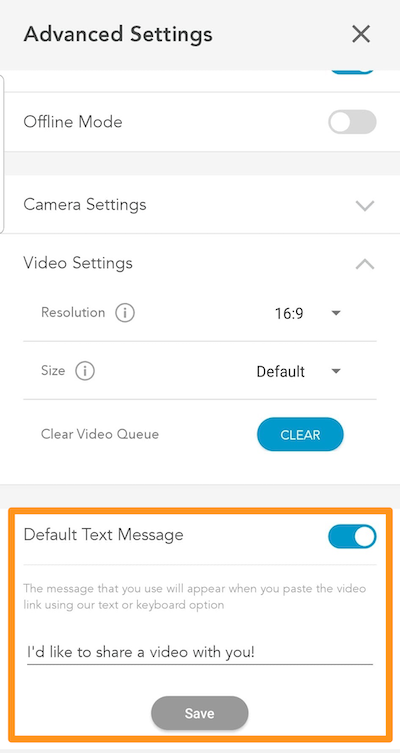 You can also log out from your Settings screen or send us feedback.
Now you're all set to go! Coupling the power of video with the convenience of your phone will allow you to reach new heights in making personal connections and rehumanizing the planet.