BombBomb's Usherpa integration allows you to leverage the power of personal video seamlessly from within your Usherpa account.
This integration will allow you to:
Know who to send a video to and when to send it
Record and send personal marketing videos from within Usherpa
Ensure every video meets compliance standards
Save approved videos for future use to make your life easier
Here's a simple, step-by-step guide to get started!
Step 1: Go to your BombBomb Video page.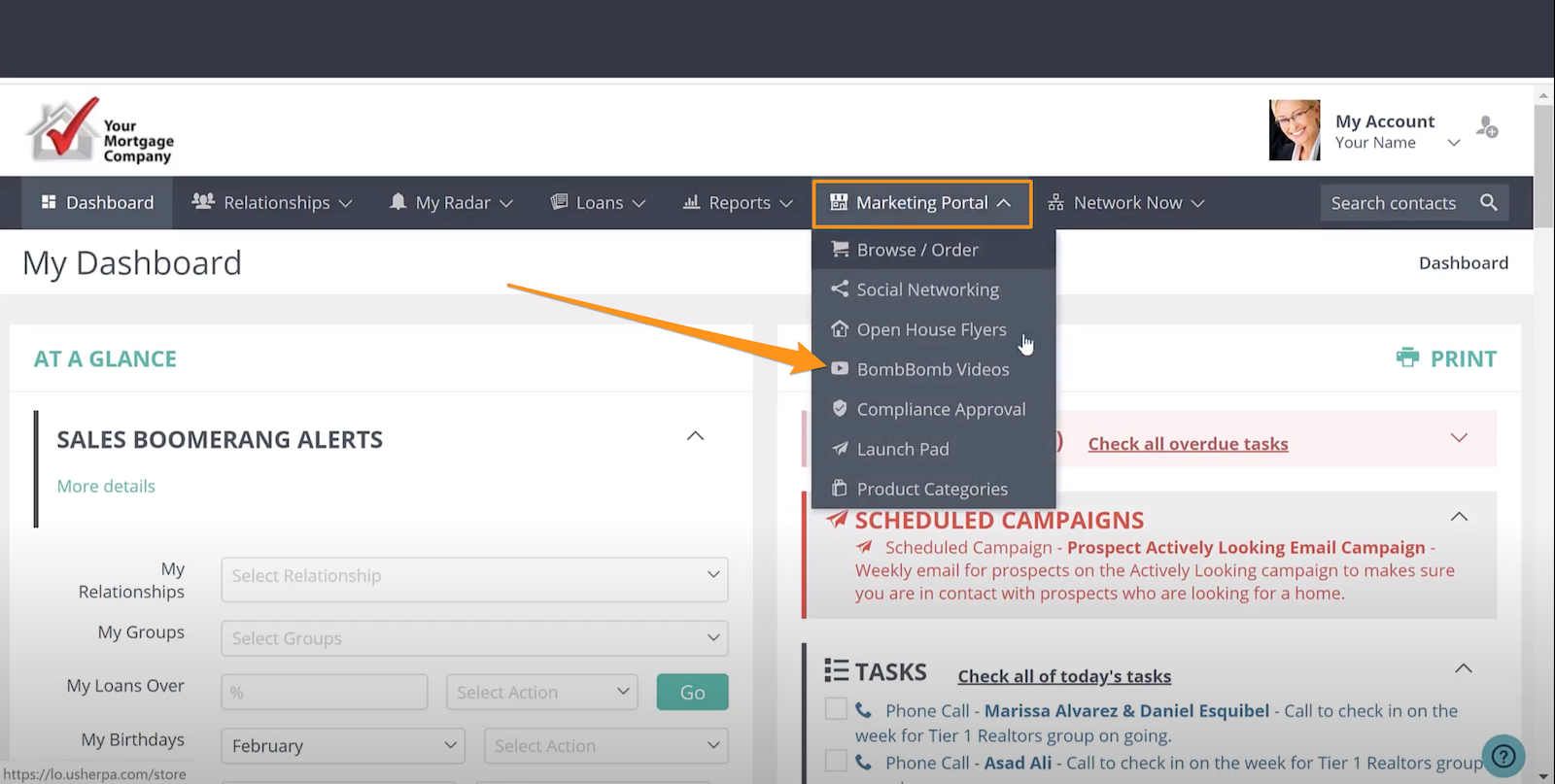 From the Marketing Portal dropdown in your Usherpa account, click "BombBomb Videos." This will bring you to a page with all your previously recorded videos.
Step 2: Record your video.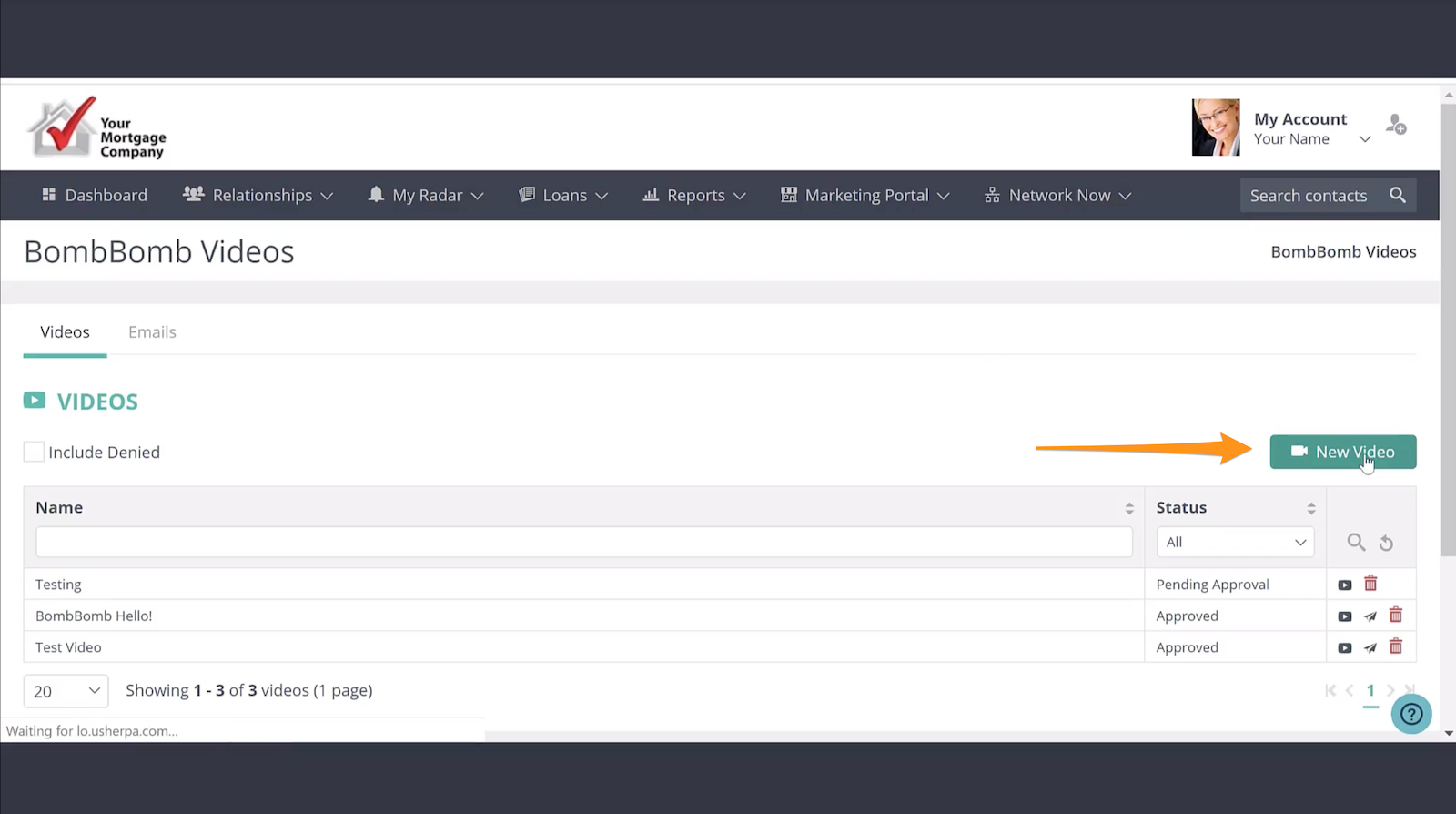 Click on the button that says "New Video."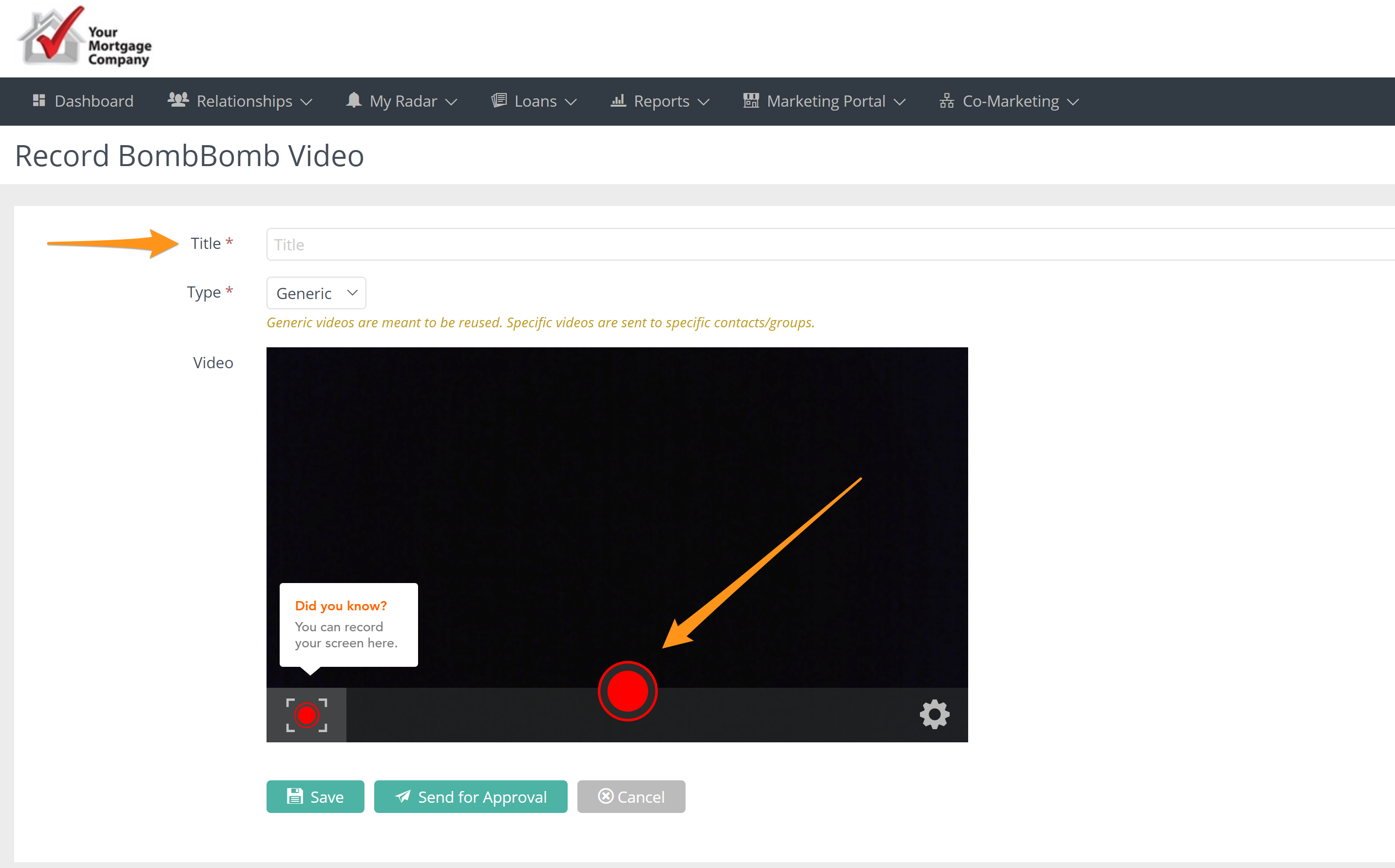 From here, you can title your video. (We recommend naming it something that will be easily searchable in the future!) Record your video by clicking on the red circle at the bottom of the video screen. It will give you a countdown so you know when the video will start. Give a quick wave and a smile, and start your video! Once you are done, hit the square at the bottom middle of the screen to stop your video.
Step 3: Save or edit your video.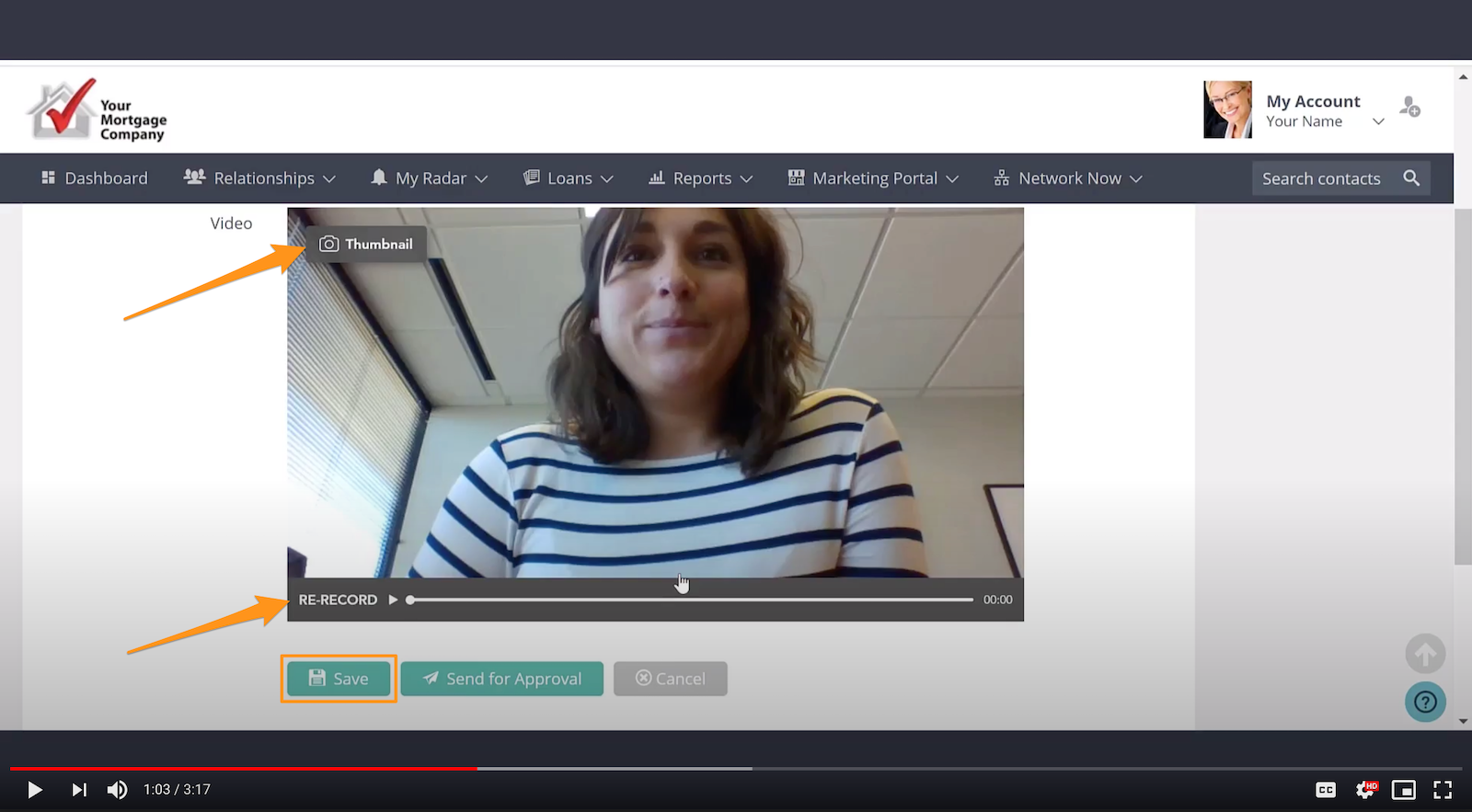 Once you've recorded your video, you can watch it by clicking the Play icon, you can re-record it, or you can choose a thumbnail. Once you're happy with your video, you can either save it or send it for approval.
Quick Tip: If you choose a thumbnail, it will override the 3-second automated gif that is automatically generated. For emails, we recommend sticking with the eye-catching gif!
Step 4: Wait for approval, then send your video.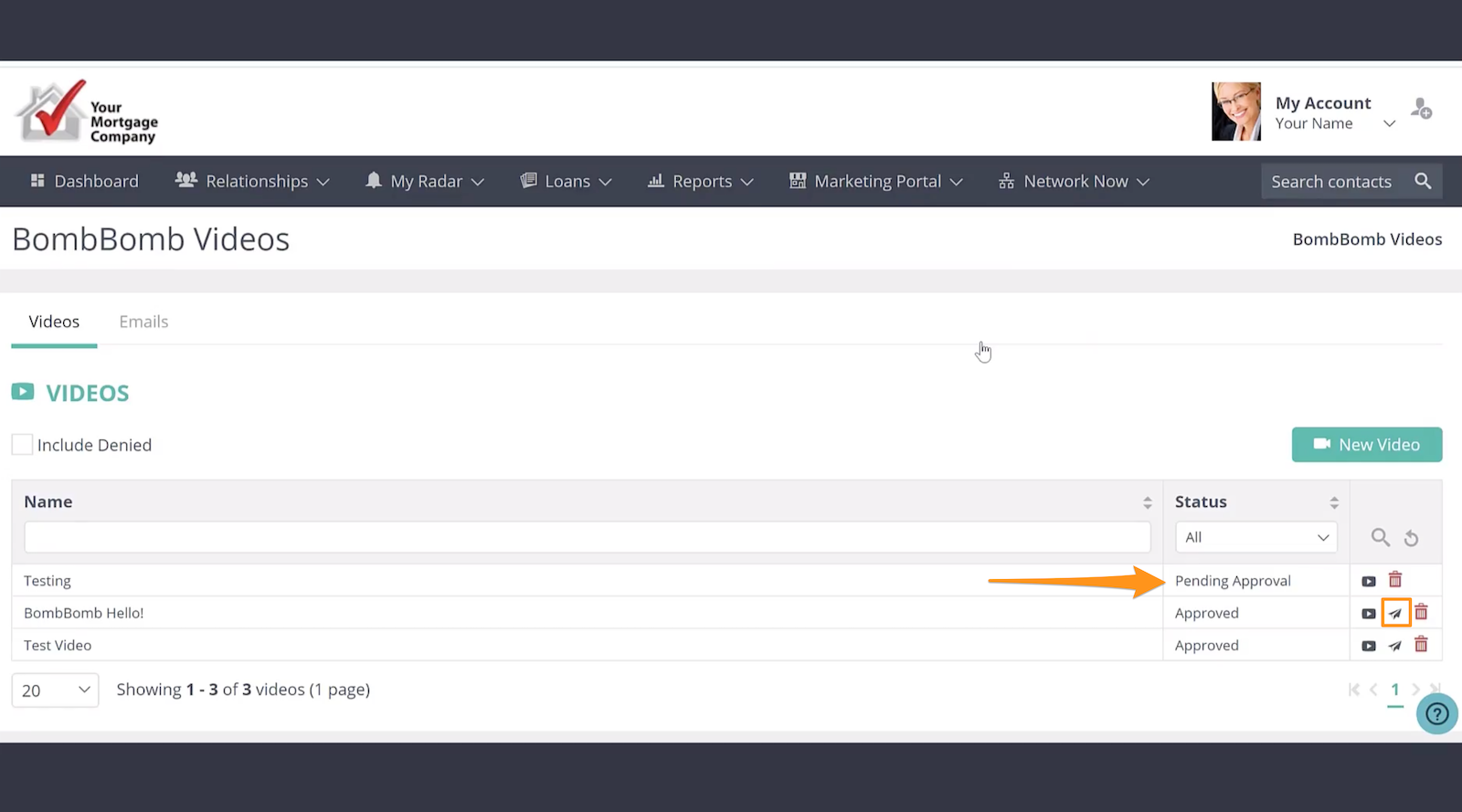 Once you've sent your video for approval, you will be able to see on the BombBomb Video page under the "Status" column once your video is approved. You will also get an email notification letting you know if a video has been approved or denied. If denied, the email will let you know the reason it has been denied.
Once a video is approved, click on the paper airplane Send icon to the right of the video you'd like to send.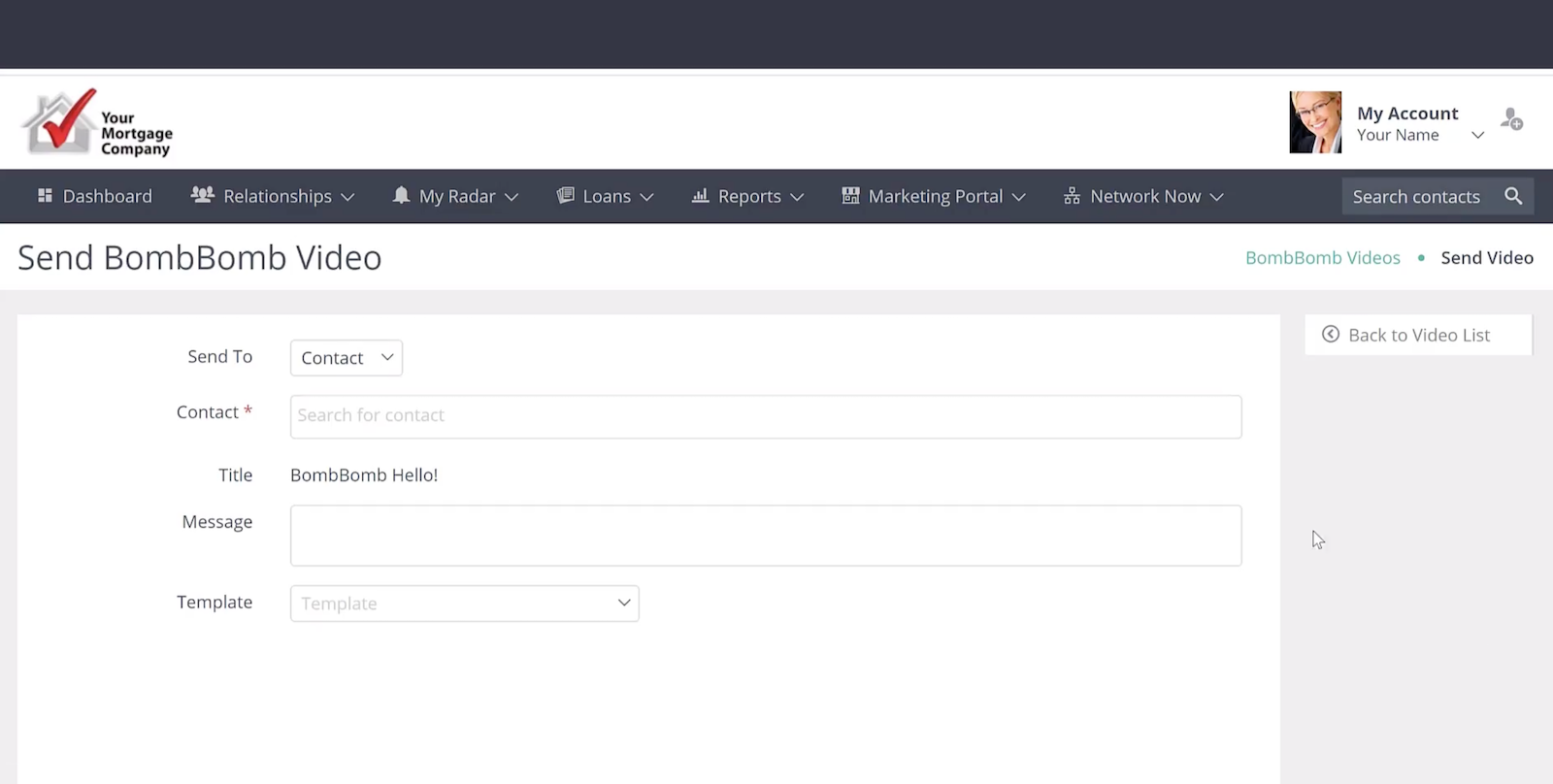 In the "Send to" dropdown, you can choose whether you want to send to an individual contact or a group. Type the name of the contact or group in the field below. Write a quick message encouraging them to watch your video. You can also choose a template to add some visual interest to your email. Depending on your company's settings, you will either be able to send it immediately or submit it for approval.
Step 5: Send to individual contacts.
Another quick and easy way to send a video to an individual contact is to search for their name in the "Search Contacts" field in the upper right corner of your screen. Then click on their name to pull up their record.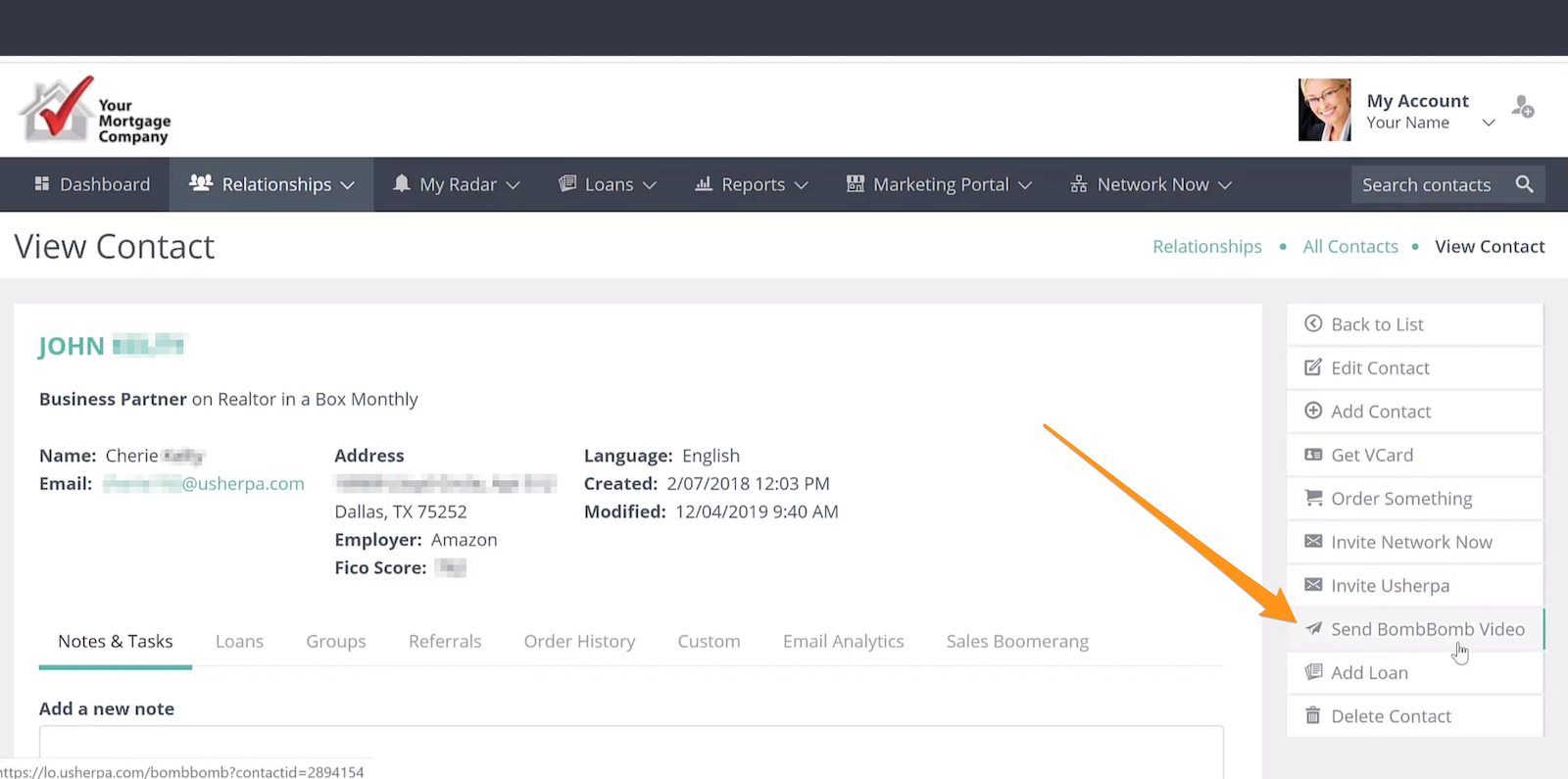 In the righthand menu, you'll see an option to "Send BombBomb Video." Find the video you'd like to send, and click the paper airplane Send icon. Or you can click "New Video" to record a new video for them.
Now you are ready to go! Personalized videos are going to be an amazing way for you to humanize your business and see even more success!